Published 09-03-12
Submitted by Points of Light
Hurricane Isaac slammed into the Louisiana coast on Aug. 28, bringing high winds and severe flooding, leaving more than 800,000 without power. As residents along the Gulf coast assess the damage, Volunteer Louisiana, Mississippi Service Commission, Points of Light and its HandsOn Network affiliates have activated to assess volunteer needs and opportunities to support recovery in the area.
"As Isaac continues to move inland, HandsOn Network affiliates and our partner organizations are working to determine how we can best assist with local recovery efforts," said Kellie Bentz, Points of Light director of disaster services. "Volunteers will play an important role in the coming weeks."
Those wishing to help may register their interest to volunteer in Louisiana with Volunteer Louisiana online, and in Mississippi with the Mississippi Service Commission online. Once you have registered, you will receive updates on volunteer opportunities in these local communities and will be contacted directly by the volunteer action center in the area where you have requested to serve.
Financial contributions are also welcome as the funds can be used by local service organizations to purchase needed items on scene, avoiding costly transport and shipping. Donations may be made through the National Donation Management Network.
Feeding America can provide links to local food banks that are collecting food for those communities affected by Hurricane Isaac.
For more the most up-to-date information on Hurricane Isaac recovery efforts, please visit the HandsOn Network website.  
About Points of Light
Points of Light is the leading volunteer organization with more than 20 years of history and a bipartisan presidential legacy. Our mission is to inspire, equip and mobilize people to take action that changes the world. We connect people to their power to make a meaningful difference by providing access to tools, resources and opportunities to help volunteers use their time, talent, voice and money to meet the critical needs of our communities. We are organized into three divisions: Programs, Civic Incubator and Action Networks, which include HandsOn Network, the largest network of 250 local volunteer centers across the country and around the world; generationOn, the youth service movement that ignites the power of kids to make their mark on the world; AmeriCorps Alums, the national service alumni network that activates the next generation of service leaders; and Points of Light Corporate Institute, which enables companies to engage their employees and customers in service. For more information, visit www.pointsoflight.org.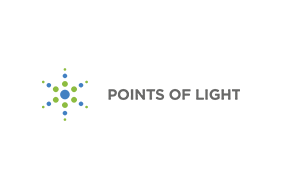 Points of Light
Points of Light
Points of Light is a nonpartisan, global nonprofit organization that inspires, equips and mobilizes millions of people to take action that changes the world. We envision a world in which every individual discovers the power to make a difference, creating healthy communities in vibrant, participatory societies. Through 177 affiliates across 38 countries, and in partnership with thousands of nonprofits and corporations, Points of Light engages 5 million volunteers in 16 million hours of service each year. We bring the power of people to bear where it's needed most.
More from Points of Light