Published 08-25-12
Submitted by 3BL CSRwire
With the first day of school just around the corner, the Office Depot Foundation is donating 2,000 colorful new sackpacks containing essential school supplies to the Gasoline Alley Foundation to give to children attending Springfield Public Schools.  The sackpacks will be distributed during the school district's Back to School Celebration on Saturday, August 25, from 10 a.m. to 2 p.m., at Blunt Park.
The Office Depot Foundation – the independent charitable giving arm of Office Depot® (NYSE:ODP) – announced the donation to the Gasoline Alley Foundation during a recent "Conversation on Community Renewal" in Springfield hosted by CSRwire.  The conversation, which attracted more than a dozen Springfield civic and non-profit leaders, was led by CSRwire CEO Joe Sibilia and Office Depot Foundation President Mary Wong.  Earlier this year, Sibilia was a speaker at the Foundation's Weekend in Boca V Civil Society Leadership Symposium in Boca Raton, Fla.
"When Mary Wong learned about the significant challenges facing Springfield's kids, she immediately offered to include our community in the Office Depot Foundation's 2012 National Backpack Program," said Jack Wysocki, Vice President of Business Development for CSRwire.  "The Office Depot Foundation truly cares about helping children succeed.  We are excited to be able to offer these great new sackpacks to some of our city's most deserving children."
Volunteering at the Back to School Celebration will be Jack Wysocki and Joe Sibilia of CSRwire, and Sabrina Conte of the Office Depot Foundation.
Through the award-winning National Backpack Program, which is now in its 12th year, the Office Depot Foundation plans to help children prepare for school by donating 400,000 sackpacks across the United States and internationally – the most ever in a single year.  The sturdy, specially designed sackpacks come in seven different color combinations with kid-friendly graphics.  By the end of 2012, Office Depot and the Office Depot Foundation will have helped more than 2.9 million children since the inception of the program in 2001.
"In keeping with our mission – Listen Learn Care − we created these fun and exciting sackpacks in response to what kids have told us they like," says Foundation President Mary Wong. "Every year, we have seen our donations bring hope to children whose families might not be able to afford to buy school supplies.  Parents and teachers alike tell us that we truly are helping children to build self-confidence, boost self-esteem and achieve greater success in the classroom – all as a result of being properly prepared for school."
To give sackpacks to children this year, the Foundation is hosting more than 25 "Back-to-School Celebrations" in cities across the U.S. and in Puerto Rico – five of which include Tony Stewart, driver of the No. 14 Office Depot/Mobil 1 Chevrolet in the NASCAR® Sprint Cup Series™.  Award-winning actor, comedian and host of "America's Got Talent" Nick Cannon joined the Foundation for donation events in three cities.  In addition, thousands of sackpacks are being distributed through Office Depot stores in hundreds of local communities and in collaboration with Office Depot's Business Solutions Division in select cities.
For information on the Foundation and its initiatives, go to www.officedepotfoundation.org/.  More information about the National Backpack Program can be found on Facebook at www.facebook.com/officedepotfoundation.  You can also follow the Foundation on Twitter at www.twitter.com/officedepotfndn.  The National Backpack Program's hashtag is #OfficeDepotFndnKids.
About the Office Depot Foundation
The Office Depot Foundation is an independent foundation − tax exempt under IRC Sec. 501(c)(3) − that serves as the independent charitable giving arm of Office Depot, Inc. In keeping with its mission, Listen Learn Care®, the Foundation supports a variety of programs that help children succeed in school and in life; enable civil society (non-profit) organizations to become more efficient and effective; help people and businesses prepare for disasters, then recover and rebuild afterwards; strengthen local communities through grants, product donations and volunteerism; and encourage community development through entrepreneurship and economic innovation. For more information, visit www.officedepotfoundation.org.
About CSRwire
CSRwire is the leading digital media platform for corporate social responsibility and sustainability news. Founded in 1999 to advance the movement towards a more economically-just and environmentally-sustainable society and away from single bottom line capitalism, CSRwire has paved the way for new standards of corporate citizenship, earning the international respect of thought leaders, business leaders, academics, philanthropists, activists and the media community.
CSRwire content reaches a broad and highly engaged audience of over 87 million readers in the international CSR/ESG market. With more than 7,500 corporate, nonprofit and public sector members distributing news, CSRwire provides comprehensive coverage in 25 CSR related categories complimenting traditional newswire services with its customized global distribution, daily alerts, events calendar, thought-provoking editorials, social media channels, popular Talkback blog, report distribution, promotions and searchable archives.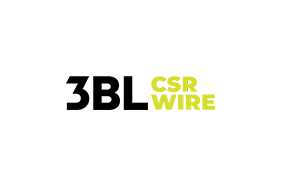 3BL CSRwire
3BL CSRwire
Respected and relied on by journalists, bloggers, business leaders and academics around the world, 3BL CSRwire is a dedicated, real-time source for major news and updates from within the worlds of ESG, corporate social responsibility and sustainability.
3BL CSRwire offers a-la-carte press release distribution to a global network of influential stakeholders and mainstream audiences—perfect for organizations just getting started in CSR or for those looking to get the most out of their corporate communications.
More from 3BL CSRwire