Published 08-06-12
Submitted by Cascades Inc.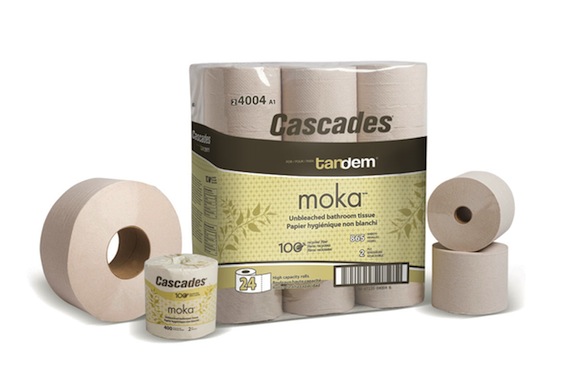 The expanded Cascades Moka line now offers 9-inch jumbo roll and high capacity formats.
North America's fourth largest producer of towel and tissue paper, Cascades Tissue Group, today announced commercial line expansions of their Cascades® MokaTM 100 percent recycled unbleached bathroom tissue offerings. In addition to the single roll offering, launched in January, Cascades Moka is now available in jumbo rolls (9-inch) and a high capacity format for Cascades Tandem® dispensers.
The expansions will help the company meet growing Away-from-Home market demand for a product that is novel for North America and the ultimate in sustainable bathroom tissue.  The larger formats provide more options to use the product in existing dispensers that are intended for less frequent stocking.
Beige in appearance, Cascades Moka offers the highest hygienic qualities and softness while significantly reducing the environmental impact associated with manufacturing a highly common, yet also single-use product. In addition to being North America's first bathroom tissue to eliminate chemical whitening, a process introduced solely to enhance aesthetics, Cascades Moka gets 80 percent of its pulp mix from post-consumer material and 20 percent from recovered corrugated boxes. The new pulp mix used in this product offers a reduction in overall environmental impact by at least 25 percent when compared to the pulp mix used in the Cascades 100% recycled white bath tissue – already regarded as a leading sustainable product. The product is also offset with 100 percent Green-e® certified renewable wind electricity; saving 2,500 pounds of CO2 emissions for each ton produced.
Since its official launch in January 2012, Cascades Moka bath tissue has also been made available to corporate and individual purchasers alike through Office Depot. It recently won the Novae Quebec Eco-design Contest, which recognizes the smartest sustainable design ideas. The interest and growth for Moka is an indication that customers are now willing to forgo their traditional white bathroom tissue for a greener option.
"As tastes continue to evolve and customers continue to seek the most environmentally preferred options available, we knew the time was right to introduce North America's first-ever beige bathroom tissue," said Cascades Tissue Group CEO Suzanne Blanchet, the brainchild and champion of Moka bath tissue's development. "The reception has been really positive and we're thrilled to be at the forefront in this step for greater sustainability."
A projected 3.4 million1 tons of bath tissue are used annually in the U.S., 53 percent of which is made from virgin fiber sources2. Cascades estimates that if a complete conversion was made to their environmentally preferable 100 percent recycled Moka bath tissue, it would save 30.6 million trees and 68 million GJ of energy annually, which is equal to the annual consumption of 619,811 households3.  The new pulp mix in the Cascades Moka innovation goes even further than the standard white recycled pulp because of its lower ecological footprint.
Cascades introduced this concept with the commercial Moka napkin line in the late '90's and sales for the product have experienced double digit growth over the years, as customers became more aware of its environmental benefits. As people evolve their tastes and habits out in public before modifying behaviors at home, the company believes that the commercial market will continue to serve as the first frontier for sustainable innovations. In addition, the company continues to investigate the potential for a retail launch for the product line as well. 
Cascades Offers Alternative Solutions to Virgin Wood Fiber since its Inception
Cascades has always focused on finding alternatives to virgin fiber. As a matter of fact, Cascades has been producing paper products with recycled fiber for half a century and has always been working on reducing the amount of waste sent to our landfills. With Cascades Moka, the company goes one step further.
About Cascades Tissue Group
Cascades Tissue Group, a division of Cascades, ULC, is the fourth largest manufacturer of tissue paper in North America.  Founded in 1964, Cascades produces, converts and markets packaging and tissue products that are composed mainly of recycled fiber. The Company employs more than 12,000 employees, who work in more than 100 units located in North America and Europe. With its management philosophy, half a century of experience in recycling, and continuous efforts in research and development as driving forces, Cascades continues to serve its clients with innovative products. Cascades' shares trade on the Toronto Stock Exchange, under the ticker symbol CAS. For more information about Cascades Tissue Group and its North River environmental line, visit www.afh.cascades.com or www.sustain.cascades.com.
1 US Tissue Production, Converted Product Shipments and Consumption (RISI June 2011).
2 Metafore, The Fiber Cycle Technical Document, Metafore Summary Report, March 2006.
3 Cascades Environmental Calculator and Environmental Paper Network, Paper Calculator (2011).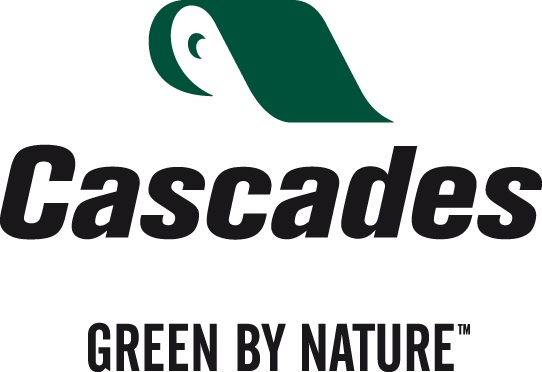 Cascades Inc.
Cascades Inc.
Founded in 1964, Cascades, Inc. manufactures, converts and markets packaging and tissue products composed mainly of recycled fibers. Cascades employs close to 12,500 employees who work in more than 100 production facilities located in North America and Europe. The company's visionary management philosophy, 45 years of experience in pioneering recycled paper and continued efforts in environmental stewardship, research and development are strengths enabling it to create quality new products for its customers. Whether for recycling materials, re-using waste, improving water and air quality or energy efficiency, Cascades has established high standards for each operating unit and closely monitors their steps toward achieving the objectives.

The company's Cascades Tissue Group division is a leading tissue paper manufacturer for retail and away-from-home (commercial) markets, including office buildings, secondary and higher education, health care, hospitality, government and more. With 17 plants, Cascades Tissue Group offers its customers a wide range of sustainable quality products throughout North America. Its North River ivory towels are the first third-party certified 100 percent recycled hand towels, using 100 percent post-consumer content and utilizing 80 percent less water than the North American paper industry average. In the case of its notable North River® towel and tissue products, 100 percent of the electricity used for manufacturing is offset by Green e-certified wind energy, avoiding 43 million pounds of annual carbon dioxide emissions.
More from Cascades Inc.