Published 08-01-12
Submitted by SharedXpertise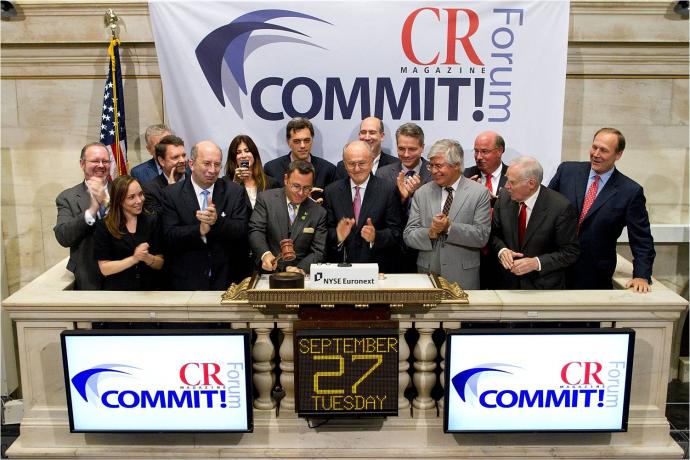 CSR Leaders Ring NYSE Closing Bell at 2011 COMMIT!Forum
The COMMIT!Forum, where the world's leaders will come together to shape the face of corporate responsibility, will take place October 2-3 at the Cipriani Wall Street in New York City. Attendees will receive a 25% discount off the registration rate if they register with ID Code "CSR25" prior to August 31st. 
The COMMIT!Forum agenda will feature:
More than 40 renowned speakers, including: Paul Sarbanes, former U.S. Senator and Co-Author of the Sarbanes-Oxley Act; Charles E. "Ed" Haldeman Jr., former CEO of Freddie Mac;  Joan Blades, Co-Founder of Moveon.org and MomsRising.org; CEOs Jeffrey Joerres of ManpowerGroup and Duncan Neiderauer of NYSE Euronext; Bill Shireman, President of The Future 500; Ernst Ligteringen, Chief Executive of the Global Reporting Initiative (GRI); Environmentalist Robert F. Kennedy Jr.; Authors Phillip K. Howard and Dov Seidman; and others
Special Events:
Responsible CEO of the Year Awards Dinner
Spotlight on Governance Workshop hosted by BrownFlynn Information Communications Technology (ICT) Sustainability Mini-Conference hosted by AT&
Film Premiere in which Green Living Project debuts a series of sustainability-themed short filmsLuncheon hosted by State Street
Right Left UnConvention, a new joint effort between The Future 500 and Corporate Responsibility Magazine to explore areas of conflict and potential common ground on energy, innovation, capitalism, and sustainable prosperity
Executive Summit at the New York Stock Exchange, a gathering of C-Level Executives sharing insights on how to improve the role of business in society
Multiple opportunities for networking and positive environment for discussions
The COMMIT!Forum calls on individuals and organizations to make commitments that change the world by inspiring and educating them. This promises to be an engaging event with over 800 total attendees including corporate, NGO, political and government leaders, investment analysts, heads of corporate responsibility, and academics. The complete COMMIT!Forum agenda can be found at www.commitforum.com.  
Register by August 31st with ID Code "CSR25" for a 25% discount.
Thanks go to Forum sponsors Advantage xPO, AHA!, Allegis Talent2, AT&T, BrownFlynn, Deloitte, Green Mountain Coffee Roasters, Guidant Group, Mosaic, Staff Management, and State Street for their support.
About the COMMIT!Forum (http://www.commitforum.com/)
The COMMIT!Forum, calls people to commit to changing the world. How? By inspiring, educating, and engaging them in ways that prepare them to make the commitments necessary to change themselves and their organizations. The path to COMMIT, which began on April 17th at the New York Stock Exchange with the announcement of CR Magazine's 13th Annual 100 Best Corporate Citizens, culminates October 2-3 in New York City at the Forum and continues well beyond through commitments people make there.  
About CR Magazine (www.thecro.com)
CR Magazine is the voice of the corporate responsibility profession covering case studies, best practices, and trends in the 5 primary segments of the CR profession: a) Governance, Risk, Compliance, b) environmental sustainability c) Corporate Social Responsibility, d) philanthropy, and e) workforce/diversity. 
SharedXpertise
SharedXpertise
About CR Magazine www.thecro.com CR Magazine is the only print publication covering the full range of corporate responsibility, providing decision-makers with the data and insights they need to maximize their positive impact while reducing or eliminating the negative. CR covers case studies, best practices, and trends across the CR field: a) governance, b) environmental sustainability c) employee relations, d) human rights, e) financial performance, and f) philanthropy.
More from SharedXpertise