Published 07-30-12
Submitted by GREENPLAY ORGANICS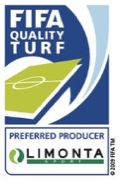 Recently completed outdoor testing at the ISA Sport USA Lab in Lubbock, TX further substantiates the fact that Limonta Sport synthetic turf with organic InfillPro Geo© greatly reduces the surface temperature of the synthetic playing field to the point where it is compatible to playing on natural grass.
This latest temperature comparison testing was deliberately staged outdoors in some of the most extreme high temperatures and arid atmosphere available in the South West, measured with and without water, to more accurately simulate real world conditions for practical sports field evaluations.  The four test bed samples included natural grass, synthetic turf with organic InfillPro Geo©, synthetic turf with rubber only and synthetic turf with rubber/sand combined.  In every instance, the organic InfillPro Geo© filled turf was well within 20°F of the natural grass sample as compared to the  combined rubber/sand filled turf that measured as much as 76°F hotter than the natural grass. 
Prolonged retention of moisture
An average of 12 ounces of water per square foot was applied to each of the four test samples to achieve a uniform 5% moisture content. After little more than an hour in the hot sun, it was clear that neither of the samples containing rubber was able to maintain moisture while the sample with organic InfillPro Geo© was still reading 4.5% on the moisture meter.  It was also noted that with sustained 20 - 30% relative humidity, the organic infill still maintained up to 2% moisture even after three days with no added water.  This absorptive/retentive characteristic is due to the porosity of the natural cork and stabilized with the ideal blend of coconut fibers (coir).  InfillPro Geo© by Limonta Sport is world patented for the use of cork and coir as an infill for synthetic turf.  In the USA, this natural blend is sometimes referred to as "corkonut".
Tester's summary
Rusty Abell, a principal of ISA Sport USA who conducted the tests, stated in his report:
"This product performs very well compared to every other product on the market today. When all moisture content and amounts are comprehended by the field technician, this product would take the massive heat issue completely away from the all-weather turf field installation.   As you will notice on the reports, once the moisture level knowledge was obtained, it would be no problem to keep the athletic field within 10% on average of the ambient temperature, and this accounts for full sun and wind".
About Limonta Sport and InfillPro Geo©
Limonta Sport, known for its quality and innovation in the synthetic turf industry since 1979, is a division of the Limonta Textile Group; a family owned and operated company since 1893. As a testament to the quality of research, manufacture and customer support, Limonta Sport is an ISO 14001:2004 Certified Company serving over 50 countries.  Limonta Sport products are endorsed in the US by the National Green Energy Council by virtue of their environmental compatibility and sustainability.
Limonta Sport is an original FIFA Preferred Producer as well as the IRB Preferred Producer for International Rugby.   Many professional sports fields have certified FIFA 2 Star with InfillPro Geo©, including a re-certification for three consecutive years.  Rigorously tested for a decade and commercially available since 2006, there are now over 200 successful full sized fields with InfillPro Geo© worldwide, with the majority for professional sports.  There are currently 11 installations in North America utilized by municipalities and schools.  InfillPro Geo© is guaranteed to last eight years. 
Limonta Sport USA
STC member Limonta Sport USA, also known as GeoTurf and based in NY, is the North American Distributor of all Limonta Sport products.  Currently, they are in discussions with several of their largest competitors in the US to evaluate opportunities to expeditiously provide greater consumer access to these safer systems and limit the injuries and fatalities currently associated with extreme temperatures on synthetic turf playing fields.

GREENPLAY ORGANICS