Published 07-10-12
Submitted by Ceres
During the 2012 proxy voting season, investors successfully used shareholder resolutions to spur action on corporate sustainability challenges such as climate change, hydraulic fracturing and supply chain and water availability risks. Of the nearly 110 resolutions tracked by Ceres in 2012, 44 proposals resulted in U.S. companies making commitments to tackle environmental and social risks in their operations and supply chains.
A full listing of Ceres-tracked resolutions, including information on filers, votes and complete resolution text, is available at http://www.ceres.org/resolutions. Highlights of the 2012 season include:
Colgate and Smucker's agreeing to source 100 percent certified sustainable palm oil to mitigate greenhouse gas (GHG) impacts and protect threatened habitats and species.
Commitments from Anadarko, EOG Resources, Chesapeake Energy, Penn Virginia, Range Resources and Stone Energy to improve risk disclosure and increase transparency on the impacts of hydraulic fracturing in their natural gas drilling operations.
Commitments from Apple, Dell, HP and Intel to encourage or require sustainability reporting by their major suppliers.
Agreements from consumer brands Crocs, DSW, Garmin, Celgene and PF Chang's China Bistro to issue sustainability reports on pertinent environmental challenges.
Filers of the resolutions include some of the nation's largest public pension funds, such as those overseen by the New York State and New York City Comptrollers' Offices, the California State Teachers' Retirement System (CalSTRS) and religious, labor and socially responsible investors. Collectively the 28 lead filers manage over $485 billion in assets.
"Each year, more investors ask corporations to look beyond simple short-term profits to sustainable, long-term performance. You can see the consensus building in this year's shareholder resolutions," said Mindy S. Lubber, president of Ceres, which helped coordinate the shareholder filings. "The 2012 proxy season showed strong progress from a wide range of companies that face sustainability challenges related to climate change, water scarcity and growing supply chain risks."
As investor pressure for corporate sustainability builds, a recent analysis by Ernst & Young shows that environmental and social shareholder resolutions led all other major proposal categories on 2012 proxy ballots, accounting for approximately 45 percent of resolutions. Just two years ago, environmental and social resolutions made up 30 percent of proposals.
During the 2012 season, Ceres-tracked resolutions focused on several key areas:
Responsible Sourcing: Palm Oil and GHGs
In 2012, investors continued to focus attention on an important—and surprising— source of greenhouse gas emission impacts: palm oil. Palm oil is used in approximately 50 percent of supermarket products, and U.S. imports have increased by more than 550 percent since 2002. One of the key drivers for this increase is the campaign to replace trans-fat oils with healthier palm oil.

Though palm oil itself is not a direct source of emissions, oil palms are often cultivated on large-scale plantations created by clear-cutting and burning carbon-storing rainforest and peat lands, which results in significant emissions of greenhouse gases and endangers rare species such as orangutans.
Through shareholder action, Calvert Investments and the New York State Comptroller's Office successfully negotiated commitments with Colgate and Smucker's, respectively, to source 100 percent certified sustainable palm oil for their products. In addition, 37 percent of shareholders of Yum! Brands – the parent company of Taco Bell, KFC and Pizza Hut – supported a shareholder resolution filed by Trillium Asset Management requesting that the company source 100 percent certified sustainable palm oil.
Hydraulic Fracturing and Water Impacts
The increasing use of hydraulic fracturing, or fracking, in natural gas and oil development has vastly increased U.S. production of fossil fuels. It has also increased risks, especially those related to water supplies and potential contamination. Increased community concerns have in some cases resulted in bans, moratoria and increased regulatory scrutiny that impose a wide range of costs and risks that must be disclosed to investors.
Investors drew attention to community concerns surrounding this water-energy nexus and secured agreements from major drilling firms Anadarko, EOG Resources, Chesapeake Energy, Penn Virginia, Range Resources, Noble Energy and Stone Energy to improve disclosure around the risks associated with their fracking operations, including water risks. In total, shareholders filed 10 proposals and garnered a 30 percent average vote at the companies that declined to negotiate withdrawals in advance of annual meetings. Lead filers included As You Sow, Green Century Capital Management, Miller/Howard Investments, Mercy Investment Services, New York State Comptroller's Office and Trillium Asset Management.
"The high votes and corporate commitments on fracking disclosure send strong messages to companies that significant numbers of their shareholders require increased disclosure on this issue," said Larisa Ruoff, Director of Shareholder Advocacy for Green Century Capital Management, which negotiated withdrawal agreements with EOG and Noble Energy. "We are pleased to see that momentum toward increasing transparency and reducing risks is building, but we believe that all companies still have room to improve in order to fully address community and investor concerns." 
Other water and energy-related resolutions received particularly strong support from investors. A resolution filed by the Midwest Coalition for Responsible Investment asked Arch Coal to report on its efforts to reduce environmental and health hazards from its Appalachian mining operations, which can significantly damage rivers and streams by altering water flows and introducing contaminants. The resolution garnered 44.7 percent support from shareholders.
A sustainability reporting request filed with Cabot Oil & Gas by Miller/Howard earned nearly 40 percent support. That measure included a specific request to formulate plans to manage both GHG emissions and water risks.  In addition, the Office of the New York State Comptroller secured agreements with Patriot Coal to issue a sustainability report and CMS Energy to reduce its GHG emissions intensity by 20 percent by 2025, using a baseline of 2008 emissions. Patriot Coal engages in mountaintop removal mining, while CMS is the corporate parent of Michigan electric power and natural gas utility Consumer's Energy.
Sustainable Supply Chains in the Technology Sector
Last year, the technology sector faced significant risks as flooding in Thailand wiped out one–third or more of global hard drive manufacturing capacity and Apple came under fire for working conditions at its suppliers. Shareholders successfully encouraged corporations to address these risks through 2012 resolutions.
Most significantly, the New York City Comptroller's Office secured agreements from Apple, Dell, HP and Intel, who agreed to encourage, and in many cases require, their major suppliers to issue sustainability reports encompassing both environmental and social issues. Together, these firms represent more than 50 percent of the personal computer market, making them some of the most exposed to risk.
"As long-term investors we must be concerned about financial and reputational risk as well as alignment with basic values like workers' rights and environmental concerns," said New York City Comptroller John C. Liu.  "Dell, Apple, and Hewlett Packard have taken concrete steps to uphold international standards of environmental management, workplace safety and human rights in their supply chains. They have set an example that we expect other companies will follow as we expand this effort."

Corporate Sustainability Reporting
Sustainability reporting and management resolutions represented more than a quarter of all resolutions tracked by Ceres during the 2012 season, and numerous consumer brands responded with strong commitments.
Shareholders convinced Crocs, DSW, Garmin, Celgene and PF Chang's China Bistro to issue sustainability reports, among other commitments from large corporations. These reports typically include GHG reduction goals, water risk mitigation measures and a host of other sustainability metrics relevant to each business's specific operations. The resolutions also recommend that companies use Global Reporting Initiative (GRI) guidelines to help ensure comprehensive governance, disclosure and management of social and environmental risks.
When urging companies to issue sustainability reports, investors are asking for more than just disclosure, but rather an outline for sustainable business strategies for long-term growth. For example, shareholder action in previous years helped to encourage KB Home, a leading homebuilder, in its decision to build all new homes to ENERGY STAR certification with advanced energy-saving features. As investor interest in sustainability reporting has grown, leading financial data firm Bloomberg has also decided to offer comprehensive environmental, social and governance data on thousands of companies on its market data terminals.
Additional case studies on Ceres's work with shareholders can be found in Investor Power, a publication highlighting action on palm oil, hydraulic fracturing, the homebuilding sector and the electric power industry.
For more information:
Brian Bowen, 617-247-0700 x148, bowen@ceres.org
About Ceres
Ceres is an advocate for sustainability leadership.  Ceres mobilizes a powerful coalition of investors, companies and public interest groups to accelerate and expand the adoption of sustainable business practices and solutions to build a healthy global economy. Ceres also directs the Investor Network on Climate Risk (INCR), a network of 100 institutional investors with collective assets totaling more than $10 trillion.
For more information, visit http://www.ceres.org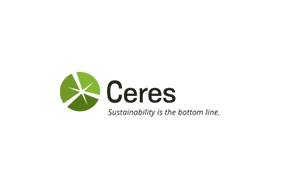 Ceres
Ceres
Our Mission: Ceres is transforming the economy to build a just and sustainable future for people and the planet. 
Ceres is a nonprofit organization working with the most influential capital market leaders to solve the world's greatest sustainability challenges. Through our powerful networks and global collaborations of investors, companies, and nonprofits, we drive action and inspire equitable market-based and policy solutions throughout the economy to build a just and sustainable future. For more information, visit ceres.org and follow @CeresNews. 
More from Ceres