Published 07-03-12
Submitted by Bayer
The Bayer USA Foundation has awarded a combined total of $176,000 to two Pennsylvania programs that extend science learning throughout the summer for high school students: The Pennsylvania State University's Upward Bound Math and Science Program (UBMS) and RiverQuest.
UBMS fosters science, technology, engineering and math (STEM) diversity and education, while RiverQuest provides environmental education through the Bayer International Summer Sustainability Camp. 

"We are proud to support these unique, innovative youth programs that help us address two of our key Bayer USA Foundation giving areas – education and workforce development as well as environment and sustainability," said Rebecca Lucore, executive director, Bayer USA Foundation. 
"Our funding of Penn State's Upward Bound Math and Science Program is helping to develop a more diverse, well-educated and highly trained generation of scientists and engineers," Lucore continued. "While with our latest grant to RiverQuest, we are once again supporting a program that educates today's students about their role as tomorrow's environmental stewards."  
Penn State Upward Bound Math And Science Program 
The Bayer USA Foundation grant provides Penn State with the necessary support to expand the UBMS Program for the first time to high school students located near Churchill, Pa., a suburb of Pittsburgh.
Founded in 2000, Penn State's UBMS Program encourages underrepresented ninth to 11th grade students to enter math- and science-related careers through intensive, hands-on, relevant, year-round intervention.  Ten students from Woodland Hills High School will attend the UBMS Summer Academy, a six-week residential program running June 17 – July 27, 2012 in State College, Pa.  Once school begins in the fall, they will participate in the Academic Year Program. 
The Woodland Hills students will join students from Harrisburg, Reading and Philadelphia and six additional urban high schools from across the state in the program.  UBMS boasts a 100 percent post-secondary education acceptance rate and a 100 percent high school graduation rate for program participants. 
For the fifth consecutive year, Bayer will provide funding to five 14-16 year old students to attend the two-week Bayer International Summer Sustainability Camp.  Students hail from communities across the U.S. where Bayer has key site operations including Pittsburgh, Raleigh, N.C., Morristown, N.J. and Berkeley, Calif.  Organized and run by RiverQuest, the camp will host approximately 10 students from the U.S. and abroad to experience the organization's unique river-based and science education experiences.  RiverQuest uses Pittsburgh's rivers as learning laboratories and provides hands-on, group learning about environmental science, sustainability and climate change. 
The fun, academically-challenging and physically-engaging camp runs July 21 – August 2, 2012.
For Social Media Users:
Facebook: facebook.com/BayersMSMS
Twitter: twitter.com/BayerUSNews
YouTube: youtube.com/BayerChannel
About the Bayer USA Foundation
The Bayer USA Foundation is an endowed 501(c)(3) entity and is the primary source of Bayer Corporation's philanthropy in the United States.  With a programmatic focus on the environment and sustainability; education and workforce development; arts and culture; and health and human services, the foundation creates and supports organizations that improve communities in which Bayer employees live and work, as well as society at large.  The Bayer USA Foundation is one of three Bayer corporate foundations worldwide, including the Bayer Science & Education Foundation and the Bayer Cares Foundation.
About Bayer Corporation
Bayer Corporation, headquartered in Pittsburgh, is a subsidiary of Bayer AG, an international health care, nutrition and high-tech materials group based in Leverkusen, Germany. As an inventor company, it sets trends in research-intensive areas. The company's products and services are designed to benefit people and improve their quality of life. The Corporation is committed to the principles of sustainable development and to its role as a socially and ethically responsible corporate citizen. Economy, ecology and social responsibility are corporate policy objectives of equal rank. In North America, Bayer had 2011 net sales of EUR 8,177 million ($11,366 million) and employed 15,800 at year-end. For more information, go to www.bayerus.com.
Forward-Looking Statements
This news release may contain forward-looking statements based on current assumptions and forecasts made by Bayer Group or subgroup management. Various known and unknown risks, uncertainties and other factors could lead to material differences between the actual future results, financial situation, development or performance of the company and the estimates given here. These factors include those discussed in Bayer's public reports which are available on the Bayer website at www.bayer.com. The company assumes no liability whatsoever to update these forward-looking statements or to conform them to future events or developments.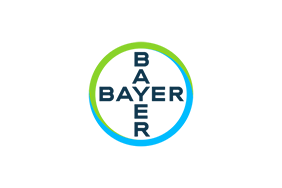 Bayer
Bayer
Bayer: Science For A Better Life
Bayer is a global enterprise with core competencies in the Life Science fields of health care and agriculture. Its products and services are designed to benefit people and improve their quality of life. At the same time, the Group aims to create value through innovation, growth and high earning power. Bayer is committed to the principles of sustainable development and to its social and ethical responsibilities as a corporate citizen. In fiscal 2015, the Group employed around 117,000 people and had sales of EUR 46.3 billion. Capital expenditures amounted to EUR 2.6 billion, R&D expenses to EUR 4.3billion. These figures include those for the high-tech polymers business, which was floated on the stock market as an independent company named Covestro on October 6, 2015. For more information, go to www.bayer.com.
More from Bayer