Published 06-19-12
Submitted by Points of Light
Today, Points of Light honored three companies for their exceptional employee volunteer programs, leading the charge to inspire corporations to solve our communities' largest challenges. Cbeyond Inc., Kraft Foods Inc. and Timberland, LLC were each awarded the 2012 Corporate Engagement Award of Excellence for building innovative volunteer programs designed to create positive change in their communities. Adding to the excitement, the Central Indiana Corporate Volunteer Council and the Calgary Corporate Volunteer Council each received 2012 Corporate Volunteer Council Awards for supporting businesses with employee volunteer programs.
"It's our hope that this award will encourage corporate America to place the same value on their financial performance as they do social and environmental responsibilities," said Michelle Nunn, CEO, Points of Light. "Consumers want to work alongside brands and corporations devoted to solving the world's problems through purposeful employee volunteer programs."
2012 Corporate Engagement Award of Excellence
Cbeyond's founding leaders strived to create a culture that encouraged an entrepreneurial spirit and reflected a passion for service for both customers and communities. That culture is embodied in its employee-driven approach to community involvement, which encourages employees to follow their passion and volunteer in areas of personal interest. In an effort to support its employees' volunteer initiatives, the company shares its time, talent and technology with organizations in which employees are actively involved. Cbeyond's employee volunteer program (EVP) includes general and skills-based volunteer projects for departments, teams and individuals, an annual day of service, as well as nonprofit board training and volunteer-driven professional development opportunities. In 2011, Cbeyond expanded its annual day of service to its first ever "Cbeyond Week of Service," which engaged employees in all 15 of its markets in volunteer projects based on employee interests and community needs. 
One of the world's largest food companies, Kraft Foods, has made fighting hunger and encouraging healthy lifestyles the focus of its global community involvement strategy. Over the past 25 years, the company and the Kraft Foods Foundation have donated more than $1 billion in cash and food to hunger-relief organizations worldwide. Through support of local partners, including Save the Children, Feeding America, INMED Partnerships for Children and many more, the company and Foundation support programs on almost every continent. The company is even fighting hunger from its own backyard at its global headquarters in Northfield, Ill. The Kraft Foods Garden, launched last year, is an organic fruit and vegetable garden that produces thousands of pounds of food every year for local hunger-relief organizations. Kraft has designed a completely holistic EVP, engaging employees, partners, vendors and more, to promote healthy lifestyles and fight hunger across the globe. Last October, Kraft celebrated its largest employee volunteer event in history, Delicious Difference Week, with 26,000 employee volunteers in 72 countries.
Timberland has a long-standing commitment to service that is rooted in the belief that everyone has a strength and passion to help positively transform communities – a belief put into action with 79 percent of employees serving in 2011. The company's EVP, Path of Service™, which celebrates its 20th anniversary this September, gives full-time staff an annual benefit of up to 40 paid hours and 20 hours to part-time staff. As of March 2012, this commitment alone has yielded more than 868,000 hours of service in more than 30 countries. In addition, to help employees use their Path of Servicetm hours, Timberland produces two global days of service each year, Earth Day and its "Serva-a-palooza" in the fall. Through its sabbatical program, Timberland encourages long-term commitments to service. All of these channels of engagement unite employees, partners, stakeholders, consumers and communities in a service pledge synonymous with the brand.
Nominees for the Corporate Engagement Award of Excellence are evaluated by an independent panel of judges. Each company is evaluated separately based on how well it met the goals and objectives it set for its own program.
Since its inception in 1993, the Points of Light Corporate Engagement Award of Excellence has been recognized as one of the most prestigious awards for EVPs. The awards are designed to honor a company's overall employee and retiree volunteer effort highlighting the strategic vision, organizational policies and practices and community services programs. Points of Light has honored 67 companies for their volunteer engagement efforts.
Corporate Volunteer Council Awards
Corporate Volunteer Councils (CVCs) are local networks that businesses join to share effective practices and address community needs through workplace volunteering.
The Corporate Volunteer Council Awards seeks to honor the outstanding performance of CVCs with two prestigious categories – CVC of the Year and the Fast Start Award.  Both awards recognize a CVC's success in employing the CVC Principles of Excellence, but the Fast Start Award is specifically for those CVCs established within the past three years. The CVC Principles of Excellence are benchmarks to help CVCs strive to maximize their operations, effectiveness and accomplishments.
2012 Corporate Volunteer Council of the Year Award
Formed in 1995, the Central Indiana Corporate Volunteer Council (CICVC) engages business members in six central Indiana counties surrounding the greater Indianapolis area. CICVC prides itself on keeping members informed on national and local EVP best practices, community needs and local engagement opportunities based on community assessments, emerging trends and nonprofit partner reports. CICVC designates resources to tracking its member satisfaction, member statistics and overall volunteer activity impact to ensure it is constantly enhancing the experiences of its members and local community.
2012 Corporate Volunteer Council Fast Start Award
The Calgary Corporate Volunteer Council (CCVC) is a collaborative body of individuals from Calgary businesses working to respond to the critical needs of the community by developing and advocating for workplace volunteerism. Calgary is home to an enormous appetite for employee volunteerism and, as a result, individuals, companies and nonprofits are re-evaluating how they serve in order to be successful. CCVC is focused on providing tools and resources for companies and nonprofits to understand each other and work collaboratively to achieve the most success. 
The nearly 100 CVCs in the United States and Canada are the primary local resource for encouraging, educating and connecting businesses that support EVPs. Successful councils promote volunteerism in the workplace and provide a place for networking and idea exchange for those who manage EVPs.
About Points of Light
Points of Light is the leading volunteer organization with more than 20 years of history and a bipartisan presidential legacy. Our mission is to inspire, equip and mobilize people to take action that changes the world. We connect people to their power to make a meaningful difference by providing access to tools, resources and opportunities to help volunteers use their time, talent, voice and money to meet the critical needs of our communities. We are organized into three divisions: Programs, Civic Incubator and Action Networks, which include HandsOn Network, the largest network of 250 local volunteer centers across the country and around the world; generationOn, the youth service movement that ignites the power of kids to make their mark on the world; AmeriCorps Alums, the national service alumni network that activates the next generation of service leaders; and Points of Light Corporate Institute, our enterprise that enables companies to engage their employees and customers in service. For more information, visit www.pointsoflight.org .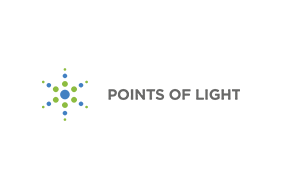 Points of Light
Points of Light
Points of Light is a nonpartisan, global nonprofit organization that inspires, equips and mobilizes millions of people to take action that changes the world. We envision a world in which every individual discovers the power to make a difference, creating healthy communities in vibrant, participatory societies. Through 177 affiliates across 38 countries, and in partnership with thousands of nonprofits and corporations, Points of Light engages 5 million volunteers in 16 million hours of service each year. We bring the power of people to bear where it's needed most.
More from Points of Light