Published 06-14-12
Submitted by Points of Light
The 2012 National Conference on Volunteering and Service, convened by Points of Light in Chicago June 18-20, will bring together 5,000 service leaders to learn and cultivate new ideas for service, discuss challenges and work together to create solutions through the power of people.
"Being in Chicago, a city with a great history of driving and embracing progressive, social change – at a turning point in our civic life – represents an important opportunity for our service community," said Michelle Nunn, CEO of Points of Light. "The National Conference on Volunteering and Service will capitalize on this and lead the call for a new generation of service."
With leadership from honorary co-chairs Illinois Governor Pat Quinn and Chicago Mayor Rahm Emanuel, this year's Conference will look at how a new generation of citizens is making their mark – young people, veterans and civic entrepreneurs who are creating new solutions. These individuals are creating new pathways for direct action and social enterprise to make a difference and unleashing their optimism with new levels of speed and scale.
Attendees will be able to participate in large moments of inspiration with three all-Conference plenary sessions, more than 100 targeted workshops and intimate gatherings with Civic Fellows and time to celebrate and reconnect with colleagues and peers. This year's Conference will be rich with opportunities for thought-provoking conversations about national service, social entrepreneurship and hands-on action.
"We will examine new ideas that lead to bigger possibilities for activate 21st century volunteers, helping them use all of their assets to build strong, vibrant communities around the world," said Nunn.
Featured speakers include: actor, musician and founder of SixDegrees.org Kevin Bacon; Dr. Jill Biden; first lady Barbara Bush; General George W. Casey Jr.; U.S. Secretary of Education Arne Duncan; Illinois Sen. Dick Durbin; Israel Idonijie, Chicago Bears and founder of the Israel Idonije Foundation; journalist and author Laura Ling; veteran and actor J.R. Martinez; CNN's Soledad O'Brien; Eboo Patel, founder and president of Interfaith Youth Core; Mark Shriver, senior vice president for U.S. programs for Save the Children; and Corporation for National and Community Service CEO Wendy Spencer.
For more information, please visit www.volunteeringandservice.org.
About Points of Light
Points of Light is the leading volunteer organization with more than 20 years of history and a bipartisan presidential legacy. Our mission is to inspire, equip and mobilize people to take action that changes the world. We connect people to their power to make a meaningful difference by providing access to tools, resources and opportunities to help volunteers use their time, talent, voice and money to meet the critical needs of our communities. We are organized into three divisions: Programs, Civic Incubator and Action Networks, which include HandsOn Network, the largest network of 250 local volunteer centers across the country and around the world; generationOn, the youth service movement that ignites the power of kids to make their mark on the world; AmeriCorps Alums, the national service alumni network that activates the next generation of service leaders; and Points of Light Corporate Institute, which enables companies to engage their employees and customers in service. For more information, visit www.pointsoflight.org.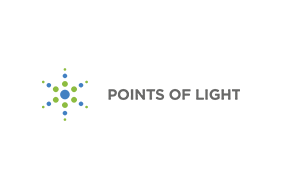 Points of Light
Points of Light
Points of Light is a nonpartisan, global nonprofit organization that inspires, equips and mobilizes millions of people to take action that changes the world. We envision a world in which every individual discovers the power to make a difference, creating healthy communities in vibrant, participatory societies. Through 177 affiliates across 38 countries, and in partnership with thousands of nonprofits and corporations, Points of Light engages 5 million volunteers in 16 million hours of service each year. We bring the power of people to bear where it's needed most.
More from Points of Light