Published 06-15-12
Submitted by 3BL CSRwire
Each month csrwire.com will celebrate  analytics. Blogs that were most widely read, reports that received the highest exposure and news with the best conversion rates.   Bloggers and journalists are welcomed to use this data in developing stories.  The report will also demonstrate the interest among our over one million global audience of professionals interested in the topics of corporate social responsibility and sustainability.  More in depth analysis of what topics and categories our audience is following can be obtained by contacting editor@csrwire.com.
TOP 3 REPORT - Blogs, News and Reports for May 2012 
This new monthly report celebrates analytics. Blogs that were most widely read, reports that received the highest exposure and news with the best conversion rates.
Top Blogs:
Top News:
Top Reports:
Where CSRwire will be:

CSRwire Summer Specials (Between Now and August 31):


UPGRADE your membership and receive a 50% discount. 
Ask about EDITORIAL SERVICES that strengthen the impact of your message and maximize your social media exposure.

Only one member can SPONSOR this report.
Call for details +1.802.251.0110 (sales@csrwire.com)


"The New Economy" 
-       Joe Sibilia
Each month CSRwire CEO Joe Sibilia will share his insights on interesting developments in the new economy.
There is so much going on; synthesizing it into bit-sized pieces becomes a full time job.   Fortunately, among our members, editors, bloggers and staff, we're keeping up to date and sharing the news with you.  Every category in the CSR/Sustainability Movement is growing – trade shows, educational events, web sites, contests, innovation, news, reports, research, movies, celebrities, product development, activism, investing and comedy http://www.wastingwaterisweird.com/.
For me, research continues to fascinate my sensibilities.  Since we've been at it for over thirty years, we have the luxury of time and content to apply analysis and come to pragmatic objective conclusions instead of theoretical subjective conclusions.  The business case for a new economy is getting stronger with every new piece of research.  It won't be long before the connection between good corporate citizenship and increased shareholder value becomes a contest between companies applying business principles to solving social and environmental challenges.  As the nation state declines and war becomes a weak means of solving disputes, partnerships among business, social and environmental service providers, and governments will blur the lines between civil society institutions.
The new economy will finally accept the notion that we are all interconnected and what one person or enterprise does has an impact on others.  We live in interesting times with a unique opportunity to improve conditions for the common good.  The Internet has connected us in ways unforeseen and will continue to advance civilization.  We are witness to a new economy and participants in a new beginning.
Comment on Joe's article here.
About CSRwire
CSRwire is the leading global source of corporate social responsibility and sustainability news. Founded in 1999 to advance the movement towards a more economically-just and environmentally-sustainable society and away from single bottom line capitalism, CSRwire has paved the way for new standards of corporate citizenship, earning the international respect of thought leaders, business leaders, academics, philanthropists, activists and the media community.
CSRwire content reaches a broad and highly engaged audience of over 87 million readers in the international CSR/ESG market. With more than 7,500 corporate, nonprofit and public sector members distributing news, CSRwire provides comprehensive coverage in 25 CSR related categories complimenting traditional newswire services with its customized global distribution, daily alerts, events calendar, thought-provoking editorials, social media channels, popular Talkback blog, report distribution, promotions and searchable archives.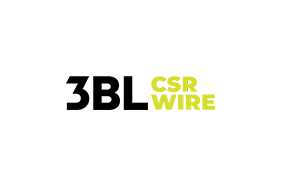 3BL CSRwire
3BL CSRwire
Respected and relied on by journalists, bloggers, business leaders and academics around the world, 3BL CSRwire is a dedicated, real-time source for major news and updates from within the worlds of ESG, corporate social responsibility and sustainability.
3BL CSRwire offers a-la-carte press release distribution to a global network of influential stakeholders and mainstream audiences—perfect for organizations just getting started in CSR or for those looking to get the most out of their corporate communications.
More from 3BL CSRwire