Published 06-07-12
Submitted by Points of Light
The National Conference on Volunteering and Service has a legacy of active engagement with its host cities' communities. This year's service program, Seeds for Change sponsored by Chase, showcases the Chicago motto "Urbs in Horto (City in a Garden)" as a model for how environmental and economic success can be achieved through service.
The Seeds for Change program engages students, parents, businesses, local nonprofit leaders and grassroots community organizers, all serving to meet the growing concern regarding access to healthy food options.
"Access to healthy, fresh food is an important part of building strong, healthy individuals and communities," said Glenn Tilton, chairman of the midwest region for JPMorgan Chase. "These gardens will help Chicago's students learn the value of a healthy lifestyle and feel the satisfaction of providing for themselves and their families."
On Monday, June 18, registered volunteer attendees will work alongside students, parents, teachers and other Chicago community members to create a community garden at Theophilus Schmid Elementary School in Chicago.
Volunteers will build plots, plant seedlings and construct greenhouses and benches, and learn how to overcome the challenges of finding fresh produce in various parts of the city known as "food deserts." More than 609,000 Chicago residents live in these areas, which lack access to grocery stores and healthy food options.
On Monday evening during the Welcome to Chicago all-Conference celebration, attendees will assemble seed packets, seedlings, implementation guides, service learning materials and gardening supplies to create 500 "Seeds of Change: Community Garden Kits" to be given to schools throughout the city.
Chicago public schools with access to a garden will receive at least one of the 500 community garden kits. The installation, seeding and upgrading of these gardens will engage thousands of volunteers including youth, community and conference volunteers. Chase and Points of Light will also provide specialized training and implementation guides for other communities to replicate the program.
For more information about the Conference, please visit www.volunteeringandservice.org.
About Points of Light
Points of Light is the leading volunteer organization with more than 20 years of history and a bipartisan presidential legacy. Our mission is to inspire, equip and mobilize people to take action that changes the world. We connect people to their power to make a meaningful difference by providing access to tools, resources and opportunities to help volunteers use their time, talent, voice and money to meet the critical needs of our communities. We are organized into three divisions: Programs, Civic Incubator and Action Networks, which include HandsOn Network, the largest network of 250 local volunteer centers across the country and around the world; generationOn, the youth service movement that ignites the power of kids to make their mark on the world; AmeriCorps Alums, the national service alumni network that activates the next generation of service leaders; and Points of Light Corporate Institute, which enables companies to engage their employees and customers in service. For more information, visit www.pointsoflight.org.
About Chase
Chase is the U.S. consumer and commercial banking business of JPMorgan Chase & Co. (NYSE: JPM), a leading global financial services firm with assets of $2.3 trillion and operations in more than 60 countries. Each year, thousands of JPMorgan Chase employees volunteer their time and expertise to help nonprofit organizations, charities and underserved communities.  JPMorgan Chase actively promotes volunteerism and service within the company through its Good Works program, which offers company-organized volunteer opportunities, grants and matching monetary gifts to charities of employees' choosing. www.jpmorganchase.com.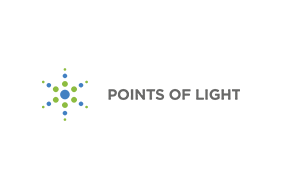 Points of Light
Points of Light
Points of Light is a nonpartisan, global nonprofit organization that inspires, equips and mobilizes millions of people to take action that changes the world. We envision a world in which every individual discovers the power to make a difference, creating healthy communities in vibrant, participatory societies. Through 177 affiliates across 38 countries, and in partnership with thousands of nonprofits and corporations, Points of Light engages 5 million volunteers in 16 million hours of service each year. We bring the power of people to bear where it's needed most.
More from Points of Light