Published 06-01-12
Submitted by Points of Light
Throughout the economic downturn and continuing recovery, individuals and organizations have looked to the volunteer sector to address community needs. While nonprofits have stepped in to help, the challenge of how civic engagement can build a stronger economy, more highly skilled and versatile workers, and create economic benefits for communities remains.
Chase, the official economy track sponsor of the 2012 National Conference on Volunteering and Service, is hosting "Civics Service, Helping to Drive Economy Through Action." This super session will bring together thought leaders, corporations and individuals that are making an impact in their local economies and setting the stage for significant change in society through service that provides a tangible economic benefit.
"Leading and supporting effective collaborations between nonprofits, governments, foundations and companies, and encouraging social innovation, is critical in creating new ways to establish sustainable economic solutions and social well-being," said Glenn Tilton, chairman of the Midwest for JPMorgan Chase. "Our participation, inspiring and supporting active community and civic engagement of our employees, is central to our role as a corporate citizen."
Super session speakers will share their experiences, key learnings and best practices. Featured speakers include:
Jackie Lynn Coleman, executive director and vice president, Center for Economic Progress, National Community Tax Coalition
Carol Cone, global vice chairman of Edelman Business + Social Purpose, Edelman
Randall S. Kroszner, Norman R. Bobins professor of economics, University of Chicago, former governor of the Federal Reserve System
Stan Litow, vice president corporate citizenship and corporate affairs and president of the IBM Foundation
Jenné Myers, chief service officer, city of Chicago
Joe Sibilia, CEO, CSRwire
Glenn Tilton, chairman of the midwest, JPMorgan Chase
Panelists will discuss our most pressing economic issues and how we can use service to partner, leverage resources and engage communities across the country through innovative asset development programs, financial literacy, job empowerment, coaching and readiness.
As a company that continues to demonstrate leadership in social responsibility, financial literacy and economic stability in communities around the world, Chase lends an important voice to the nonprofit dialogue on economic opportunity and long-term organizational planning.  
For more information about the Conference, please visit www.volunteeringandservice.org.
# # #
About Points of Light
Points of Light is the leading volunteer organization with more than 20 years of history and a bipartisan presidential legacy. Our mission is to inspire, equip and mobilize people to take action that changes the world. We connect people to their power to make a meaningful difference by providing access to tools, resources and opportunities to help volunteers use their time, talent, voice and money to meet the critical needs of our communities. We are organized into three divisions: Programs, Civic Incubator and Action Networks, which include HandsOn Network, the largest network of 250 local volunteer centers across the country and around the world; generationOn, the youth service movement that ignites the power of kids to make their mark on the world; AmeriCorps Alums, the national service alumni network that activates the next generation of service leaders; and Points of Light Corporate Institute, which enables companies to engage their employees and customers in service. For more information, visit www.pointsoflight.org.
About Chase
Chase is the U.S. consumer and commercial banking business of JPMorgan Chase & Co. (NYSE: JPM), a leading global financial services firm with assets of $2.3 trillion and operations in more than 60 countries. Each year, thousands of JPMorgan Chase employees volunteer their time and expertise to help nonprofit organizations, charities and underserved communities.  JPMorgan Chase actively promotes volunteerism and service within the company through its Good Works program, which offers company-organized volunteer opportunities, grants and matching monetary gifts to charities of employees' choosing. www.jpmorganchase.com.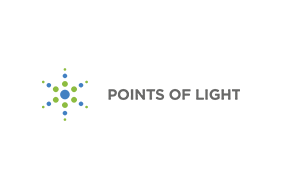 Points of Light
Points of Light
Points of Light is a nonpartisan, global nonprofit organization that inspires, equips and mobilizes millions of people to take action that changes the world. We envision a world in which every individual discovers the power to make a difference, creating healthy communities in vibrant, participatory societies. Through 177 affiliates across 38 countries, and in partnership with thousands of nonprofits and corporations, Points of Light engages 5 million volunteers in 16 million hours of service each year. We bring the power of people to bear where it's needed most.
More from Points of Light