Published 05-31-12
Submitted by SharedXpertise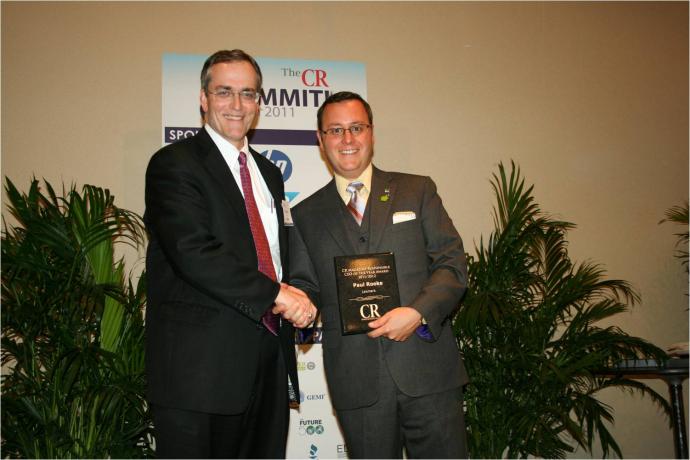 Paul Rooke, CEO of Lexmark receiving a 2011 Responsible CEO of the Year Award from Richard Crespin, COMMIT!Forum Chairman
Corporate Responsibility (CR) Magazine is requesting nominations for the 5th annual Responsible CEO of the Year Awards by June 15th.  All award winners are nominated by fellow members of the CR community and selected by an independent panel of judges. The 2012 recipients will be honored at CR Magazine's Responsible CEO of the Year Awards Dinner taking place at the COMMIT!Forum, Wednesday October 3rd at Cipriani in New York City from 7:00-9:30pm.
These awards are presented to CEOs — from companies, NGOs, and governments — who, during the previous year, put themselves at personal and professional risk in order to deliver on corporate responsibility promises. This is unique among business honors because it recognizes how individual CEOs have aligned their organization's interests with that of thousands of stakeholders to do well by doing good and acknowledges leadership in progress, since corporate responsibility represents a discipline that is ever to be improved upon.
New for 2012, Responsible CEO of the Year award nominations will be accepted in each of the following categories, aligned with CR Magazine's 100 Best Corporate Citizens List methodology areas:
Employee Relations
Environmental
Human Rights
Philanthropy
Overall Corporate Responsibility
"Our 100 Best Corporate Citizens List has been used for over a decade to recognize outstanding companies in the area of CR transparency, whereas this award lets us shine the light at the individual level," said Editor-in-Chief Dirk Olin. "We are excited to recognize the CEOs from across multiple sectors that have been courageously leading the way in the ever-changing field of corporate responsibility this past year."
Nominations are also being accepted for the Corporate Responsibility Lifetime Achievement Award, established last year to recognize an individual whose risk-taking, vision and pioneering spirit have led to significant achievement in the field over the course of their career.  Last year's winner, Jeffrey Joerres, President and CEO of ManpowerGroup, will host the 2012 Awards Dinner.
Awardees will be selected by an independent judging panel composed of previous winners and other recognized leaders including 2011 Responsible CEOs Jeffrey Joerres of ManpowerGroup, Donald Knauss of The Clorox Company, Fred Krupp of the Environmental Defense Fund, and Paul Rooke of Lexmark International, Inc.  The judges will consider several dimensions: scope of the nominee's impact on their organization and community; extent to which the nominee drove this initiative; and the individual reputation or professional risk taken by the nominee.
The nominations form can be accessed by clicking here or visiting the "Resources" page at www.commitforum.com.  Deadline for completed nominations is June 15th.
About the COMMIT!Forum  www.commitforum.com  The COMMIT!Forum, calls people to commit to changing the world. How? By inspiring, educating, and engaging them in ways that prepare them to make the commitments necessary to change themselves and their organizations. The path to COMMIT, which began on April 17th at the New York Stock Exchange with the announcement of the 13th Annual CR Magazine's 100 Best Corporate Citizens List, culminates October 2-3 at the Forum in New York City and continues well beyond through commitments people make there. 

About CR Magazine www.thecro.com CR Magazine is the voice of the corporate responsibility profession covering case studies, best practices, and trends in the five primary segments of the CR profession: a) Governance, Risk, Compliance, b) environmental sustainability c) Corporate Social Responsibility, d) philanthropy, and e) workforce/diversity.  
SharedXpertise
SharedXpertise
About CR Magazine www.thecro.com CR Magazine is the only print publication covering the full range of corporate responsibility, providing decision-makers with the data and insights they need to maximize their positive impact while reducing or eliminating the negative. CR covers case studies, best practices, and trends across the CR field: a) governance, b) environmental sustainability c) employee relations, d) human rights, e) financial performance, and f) philanthropy.
More from SharedXpertise