Published 05-30-12
Submitted by 3BL CSRwire

On May 29, 2012, Campbell Soup Company released its latest CSR report, Nourishing.  The new report emphasizes the company's integrated approach to consumers, community, employees and the environment.
In keeping with its commitment to transparency and stakeholder engagement, on June 5, 2012, Campbell will hold a live Twitter chat in collaboration with CSRwire to offer an in-depth discussion about the new report.
The live Twitter chat will focus on Campbell's 2012 CSR Report, key metrics, and how the company is using the report as a tool to lead positive change internally with employees, and externally with its suppliers, customers and regulators.
The chat will be led by David Stangis, VP Public Affairs and Corporate Responsibility and include other Campbell associates. CSRwire's Editorial Director Aman Singh will help facilitate the chat, providing an opportunity for journalists, bloggers, industry analysts and other interested parties to get an in-depth look at the updates and content of the report.
Details:
Date: June 5, 2012
Time: 3:00pm – 4:00pm ET
Where:  To register, drop us an email at aman@csrwire.com and join us on Twitter at #CampbellCSR12
About David Stangis
David Stangis joined Campbell Soup in September 2008 as the Company's first Vice President for Corporate Social Responsibility (CSR) and Sustainability.  In 2011, his role was expanded to include oversight of Community Affairs and the Campbell Soup Foundation. Mr. Stangis designs Campbell's overarching CSR, sustainability and community affairs strategy, including its efforts to drive environmental sustainability and make a measureable impact on the health of young people in Campbell communities. Working closely with other senior leaders, he advances Campbell's operational and communication strategies in these areas and oversees the development of CSR and sustainability goals, policies and programs for the company. 
About Campbell Soup Company
Campbell Soup Company is a global manufacturer and marketer of high-quality foods and simple meals, including soup and sauces, baked snacks and healthy beverages. Founded in 1869, the company has a portfolio of market-leading brands, including "Campbell's," "Pepperidge Farm," "Arnott's" and "V8." Through its corporate social responsibility program, the company strives to make a positive impact in the workplace, in the marketplace and in the communities in which it operates. Campbell is a member of the Standard & Poor's 500 and the Dow Jones Sustainability Indexes. For more information, visit http://www.campbellsoup.com.
About CSRwire
CSRwire is the leading global source of corporate social responsibility and sustainability news. Founded in 1999 to advance the movement towards a more economically-just and environmentally-sustainable society and away from single bottom line capitalism, CSRwire has paved the way for new standards of corporate citizenship, earning the international respect of thought leaders, business leaders, academics, philanthropists, activists and the media community.
CSRwire content reaches a broad and highly engaged audience of over 87 million readers in the international CSR/ESG market. With more than 7,500 corporate, nonprofit and public sector members distributing news, CSRwire provides comprehensive coverage in 25 CSR related categories complimenting traditional newswire services with its customized global distribution, daily alerts, events calendar, thought-provoking editorials, social media channels, popular Talkback blog, report distribution, promotions and searchable archives.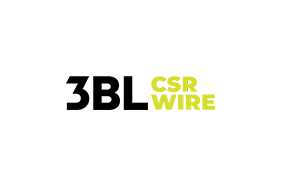 3BL CSRwire
3BL CSRwire
Respected and relied on by journalists, bloggers, business leaders and academics around the world, 3BL CSRwire is a dedicated, real-time source for major news and updates from within the worlds of ESG, corporate social responsibility and sustainability.
3BL CSRwire offers a-la-carte press release distribution to a global network of influential stakeholders and mainstream audiences—perfect for organizations just getting started in CSR or for those looking to get the most out of their corporate communications.
More from 3BL CSRwire