Published 05-14-12
Submitted by Ceres
The three largest mutual fund companies in the U.S. – American Funds, Fidelity, and Vanguard – managing over $1.6 trillion in U.S. securities in 2011, voted on dozens of shareholder resolutions last year seeking to improve corporate environmental and financial performance related to climate change. But in no case did any of the three firms cast an affirmative vote. That's one of the major findings of a new analysis of proxy votes cast in 2011 by 44 of the largest U.S. mutual fund companies. Other major mutual fund companies such as TIAA-CREF and Wells Fargo performed much better, voting for a majority of such resolutions (see Appendix 1). 
"Mutual fund companies have a fiduciary duty to vote in the best interest of their clients, but in the case of climate change, many are not doing so," said Mindy Lubber, president of the sustainability advocacy group Ceres, which commissioned the analysis. "The dearth of support by industry giants – American Funds, Fidelity and Vanguard – is especially disturbing."
"Most large companies face significant climate-related risks, including physical and regulatory impacts, but many are ignoring them," Lubber added. "Shareholder resolutions are a key mechanism for shareholders to strongly encourage companies to disclose these risks and actions for managing them."
A growing number of institutional investors – many of them part of the Investor Network on Climate Risk comprised of 100 institutional investors collectively managing about $10 trillion in assets – have publicly signaled that they view information about climate change risks as material to their investment decisions.
Many of these same investors filed dozens of shareholder resolutions in 2011 and 2012 requesting that companies disclose climate risks and strategies for managing those risks. Among those are the New York State and New York City Pension Funds and the California State Teachers' Retirement System (CalSTRS), which together filed or co-filed 17 climate-related resolutions in 2011. All told, the Ceres study tracked 111 resolutions filed with 81 U.S. and Canadian companies during the 2011 proxy season on climate change and related sustainability issues.
In 2010, the U.S. Securities and Exchange Commission issued formal guidance requiring publicly traded companies to disclose material climate risks in their financial filings.
Although American Funds' proxy voting guidelines call for a case-by-case voting strategy on issues such as climate change, the firm voted against every single climate-related resolution filed in 2011 with companies held in its mutual fund portfolios, according to the new analysis done by Jackie Cook of Fund Votes.
Fidelity abstained on 89 percent of the resolutions and voted against 11 percent even though its proxy voting guidelines state that abstentions are used mainly when information on economic impact is lacking. Yet there is a great deal of financial and analytical information available on the impacts of climate change and climate risk management strategies from highly respected institutions such as Deutche Bank, Generation Investment Management, and many others.
Vanguard's 88 percent abstention rate (12 percent against) reflects a policy of deferral to corporate management on such issues even though Vanguard's proxy voting guidelines call for action where an issue can have "a significant, tangible impact on the value of a fund's investment and management is not responsive to the matter."
"The movement over the last few years by Fidelity and Vanguard from voting against all shareholder resolutions related to climate change to abstaining on most is a very small step in the right direction," Lubber said. "But it also a very passive strategy that simply defers responsibility to management. These mutual funds should be leveraging their influence to ensure the companies they invest in are taking their climate-related risks and opportunities seriously, and disclosing material climate-related information to their shareholders. As fiduciaries for their customers they have an obligation to do better."
In some cases, according to the Fund Votes analysis, mutual fund voting is misaligned with the firms' publicly stated positions on issues related to climate change. For instance, signatories to the Principles for Responsible Investment (PRI), BlackRock and AllianceBernstein supported less than five percent of climate-related resolutions on which they voted in the 2011 proxy season. PRI signatories publicly endorse six PRI principles, including Principle 2, which states:  "We will be active owners and incorporate environmental, social and governance (ESG) issues in our ownership policies and practice," including proxy voting.  The preamble to the principles states "…we believe that ESG issues can affect the performance of investment portfolios…"
Another example of misalignment is between Fidelity's voting record and its recent on-line advertisements featuring water scarcity and 'peak water' as a key investment theme. Despite these ads Fidelity failed to vote for a single water-risk-related resolution that was part of the study. 
Though the proxy voting record of the Big Three is lacking, many large fund companies do have proxy-voting records that show strong concern for the financial impacts of climate change. Some have voted in favor of more than 50 percent of shareholder climate-related resolutions at large US corporations (See Appendix 1 below for specific voting records). Firms with the best voting records in 2011, all supporting more than half of the climate resolutions, were: TIAA-CREF, Wells Fargo, Fifth Third, Credit Suisse, Oppenheimer, GMO and Delaware.
Appendix:
Percent of votes cast 'for' and abstained by 44 Large Mutual Fund Families on 2011 climate-related resolutions
About Ceres
Ceres is an advocate for sustainability leadership. Ceres mobilizes a powerful coalition of investors, companies and public interest groups to accelerate and expand the adoption of sustainable business practices and solutions to build a healthy global economy. Ceres also directs the Investor Network on Climate Risk (INCR), a network of 100 institutional investors with collective assets totaling more than $10 trillion.
For more information, visit http://www.ceres.org and http://www.incr.com.
###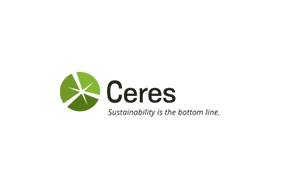 Ceres
Ceres
Our Mission: Ceres is transforming the economy to build a just and sustainable future for people and the planet. 
Ceres is a nonprofit organization working with the most influential capital market leaders to solve the world's greatest sustainability challenges. Through our powerful networks and global collaborations of investors, companies, and nonprofits, we drive action and inspire equitable market-based and policy solutions throughout the economy to build a just and sustainable future. For more information, visit ceres.org and follow @CeresNews. 
More from Ceres