Published 04-23-12
Submitted by Humana Inc.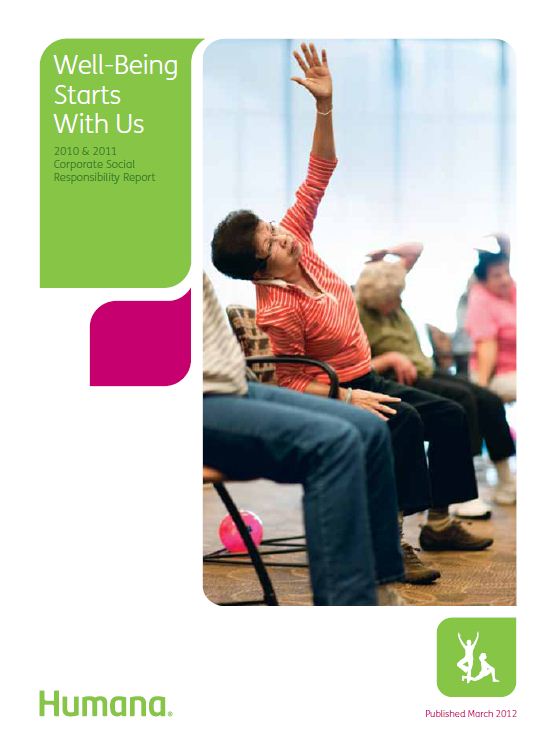 Humana Inc. (NYSE: HUM), one of the nation's leading health care companies, today released its 2010-2011 corporate social responsibility (CSR) report. It is the first such publication among major U.S. health insurers to use Global Reporting Initiative (GRI) guidelines, the world's most recognized standards for environmental, social and governance reporting.
The report focuses on Humana's CSR platform – Healthy People, Healthy Planet, Healthy Performance – and introduces the company's energy-saving targets for 2012. The report also illuminates a range of specific ways Humana is helping people achieve lifelong well-being, such as an innovative well-being pilot program in Kentucky and Humana's partnership with Walmart to make prescription drugs more affordable for Medicare beneficiaries.
"This report marks an important milestone in our CSR journey," said Humana Chairman and CEO Mike McCallister. "Through this report, we share our efforts and aspirations to further integrate CSR into our business strategy and operations across the U.S."
The "Well-Being Starts with Us: 2010 & 2011 CSR Report" highlights that Humana:
Pledges to reduce building energy consumption, greenhouse gas emissions and annual energy expenses by 10 percent each, over the course of 2012, from a 2009 baseline
Obtained ENERGY STAR® certification for its Louisville headquarters building, the Humana Building
Has begun a Veterans Initiative, with plans to hire 1,000 military veterans and/or their spouses for roles across the company (in addition to veterans currently employed by Humana)
Has created four Network Resource Groups, for African-American; Hispanic; caregivers; and gay, lesbian, bisexual and transgender associates
Vastly improved its standing in the 2011 Newsweek Green Index, ranking No. 72 in 2011 – up from No. 317 in 2010
Doubled its score on the Human Rights Campaign's 2012 Corporate Equality Index, to 90 of 100 from a score of 45 in 2010
The GRI is a network-based organization that pioneered the world's most widely used sustainability reporting framework. Humana self-declared its report to comply with GRI's Level C criteria, in which it reports on all profile disclosures and 10 performance indicators.
View the full 2010 & 2011 CSR report.
View a condensed version of the report.
About Humana
Humana Inc., headquartered in Louisville, Kentucky, is a leading health care company that offers a wide range of insurance products and health and wellness services that incorporate an integrated approach to lifelong well-being. By leveraging the strengths of its core businesses, Humana believes it can better explore opportunities for existing and emerging adjacencies in health care that can further enhance wellness opportunities for the millions of people across the nation with whom the company has relationships.
More information regarding Humana is available to investors via the Investor Relations page of the company's web site at www.humana.com, including copies of:
Annual reports to stockholders
Securities and Exchange Commission filings
Most recent investor conference presentations
Quarterly earnings news releases
Replays of most recent earnings release conference calls
Calendar of events (including upcoming earnings conference call dates and times, as well as planned interaction with research analysts and institutional investors)
Corporate Governance information

Humana Inc.
Humana Inc.
Humana Inc. is committed to helping our millions of medical and specialty members achieve their best health. Our successful history in care delivery and health plan administration is helping us create a new kind of integrated care with the power to improve health and well-being and lower costs. Our efforts are leading to a better quality of life for people with Medicare, families, individuals, military service personnel, and communities at large.
To accomplish that, we support physicians and other health care professionals as they work to deliver the right care in the right place for their patients, our members. Our range of clinical capabilities, resources and tools - such as in-home care, behavioral health, pharmacy services, data analytics and wellness solutions - combine to produce a simplified experience that makes health care easier to navigate and more effective.
More from Humana Inc.