Published 04-23-12
Submitted by Bayer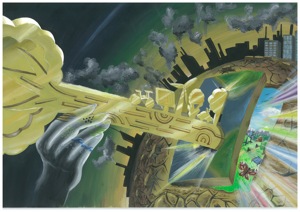 Bayer Corporation and the United Nations Environment Programme in North America (UNEP RONA) today announced the winners of the 21st annual International Children's Painting Competition on the Environment (ICPC) in North America.
Thirteen-year old Michelle Lai of Toronto has been named first place winner and 11-year old Vellia Zhou of New York City has received second prize for their paintings that illustrate this year's ICPC theme, "Green Communities." A panel of judges selected the winners from among more than 800 students who submitted artwork in UNEP's North American region, which includes the United States and Canada.
Lai attends Toronto's Beware Wet Paint Progressive Art School and took the top prize for an acrylic painting that depicts her strategy for creating a green community. With a polluted city on the outskirts, Lai's artwork is dominated by an enormous key made of a tree with cuts of an electric car, a solar panel, wind turbine and bicycle that "unlocks" the door to a new pristine community.
Using watercolors, New York's Zhou delineates an Atlas-style superhero who is literally lifting out of a polluted city a new planet Earth filled with green towns and cities.
"We congratulate both winners on their thoughtful, vivid portrayals that convey their solutions to environmental issues," said Rebecca Lucore, Executive Director, Bayer USA Foundation, and Head, Corporate Social Responsibility, Bayer Corporation. "Our partnership with UNEP RONA on this innovative painting competition is one of the key ways we're able to help students who may not be on a science path become more science literacy and environmentally responsible."
Both Lai and Zhou will receive all-expense paid trips to Washington for World Environment Day. First place winner Lai also will receive a $1,000 cash prize and an all-expense paid trip for her and a chaperone to UNEP's TUNZA International Children's Conference to be held Rio de Janiero, Brazil, on June 20-22, 2012. While there, she will compete against other first place ICPC winners from UNEP's six global regions for the top ICPC global prize.
"Once again this year, Michelle and Vellia have shown us that art is a powerful tool for expressing ideas – both good and bad, happy and sad – about the environment," said Amy Fraenkel, Director, UNEP RONA. "And it's also demonstrated for us just how powerful the International Children's Painting Competition is for helping students understand their roles, both present and future, as environmental stewards."
"Clearly, all the participants in this year's ICPC art contest had an articulate and passionate message that they wanted to convey, from one generation to another, about their concern for the environment," said Jim Toomey, the creator of syndicated newspaper cartoon "Sherman's Lagoon" who served as an ICPC judge.
The ICPC, a signature event of UNEP's World Environment Day (WED) celebrations held annually on June 5, is sponsored globally by Bayer AG and regionally in North America by Bayer Corporation. Bayer also is a sponsor of WED.
In North America, Bayer Corporation's partnership with UNEP RONA is bringing ICPC to communities across the U.S. where Bayer, through its Making Science Make Sense® program, has partnerships with local school districts.
Fifth Annual ICPC Exhibition to Open in U.S. on World Environment Day
More than 50 artworks, including the winning entries, will be on display at the Bayer-sponsored 2012 ICPC North American Exhibition scheduled to open at the Martin Luther King Jr. Memorial Library in Washington on June 5.
In addition to attending the exhibition opening and awards ceremony at the library, Lai and Zhou will participate in the other Bayer-sponsored WED youth program, an interactive environmental workshop for Washington students led by Dr. Mae C. Jemison at Woodrow Wilson High School. Former director of the Jemison Institute of Environmental Studies at Dartmouth College and founder of an international science camp The Earth We Share, Jemison is a scientist, educator and the nation's first African-American woman astronaut.
About Bayer Corporation and Making Science Make Sense®
Bayer Corporation, headquartered in Pittsburgh, is a subsidiary of Bayer AG, an international health care, nutrition and high-tech materials group based in Leverkusen, Germany. As an inventor company, it sets trends in research-intensive areas. The company's products and services are designed to benefit people and improve their quality of life. The Corporation is committed to the principles of sustainable development and to its role as a socially and ethically responsible corporate citizen. Economy, ecology and social responsibility are corporate policy objectives of equal rank. In North America, Bayer had 2011 net sales of EUR 8,177 million ($11,366 million) and employed 15,800 at year-end. For more information, go to www.bayerus.com.
Making Science Make Sense® (MSMS) is Bayer's company-wide initiative that advances science literacy through hands-on, inquiry-based science education, employee volunteerism and a public education campaign. Currently, 12 Bayer sites around the U.S. operate local MSMS programs, which together represent a national volunteer corps of more than 1,000 employees.
About United Nations Environment Programme and World Environment Day
Established in 1972 following the United Nation's Conference on the Human Environment, UNEP's mission is to provide leadership and encourage partnership in caring for the environment by inspiring, informing, and enabling nations and peoples to improve their quality of life without compromising that of future generations.

World Environment Day is one of the principal vehicles through which the United Nations stimulates world-wide awareness of the environment and enhances political attention and action. With thousands of events in the six UNEP regions, World Environment Day is considered the largest environmental event of its kind.
About UNEP Regional Office for North America
The mission of UNEP's Regional Office for North America (RONA), which is located in Washington, D.C. and comprises Canada and the United States, is: to build support in the region for UNEP's work; to promote effective responses to international environmental challenges; and to foster cooperation on environmental issues between North America and the broader international community. To achieve this mission, RONA's strategy is to promote collaboration between UNEP and all sectors of North American society, including U.S. and Canadian governmental institutions, the private sector and civil society groups, and to provide UNEP with North American perspectives. For more information on UNEP RONA, go to: www.unep.org/rona.
About Bayer and UNEP
Bayer AG is the first company in the world to forge a long-term partnership with UNEP in the area of youth and environment. The partners first began cooperating on youth environmental projects in Asia in the late 1990s. In 2004, Bayer and UNEP signed a framework agreement to globalize this partnership. The partners have jointly organized a dozen environmental projects for young people around the world, including the TUNZA International Youth and Children's Conference, regional youth networks, the Bayer Young Environmental Envoy Program, the International Children's Painting Competition, the photo competition Ecology in Focus in Eastern Europe and TUNZA Magazine. In addition, Bayer Corporation in the United States supports UNEP's World Environment Day activities in North America. Further information on the partnership between UNEP and Bayer is available on the Internet at: www.unep.bayer.com.
Social Media Users:
Facebook: facebook.com/BayersMSMS
Twitter: twitter.com/BayerUSNews
YouTube: youtube.com/users/BayerChannel
Forward-Looking Statements
This release may contain forward-looking statements based on current assumptions and forecasts made by Bayer Group or subgroup management. Various known and unknown risks, uncertainties and other factors could lead to material differences between the actual future results, financial situation, development or performance of the company and the estimates given here. These factors include those discussed in Bayer's public reports which are available on the Bayer website at www.bayer.com. The company assumes no liability whatsoever to update these forward-looking statements or to conform them to future events or developments.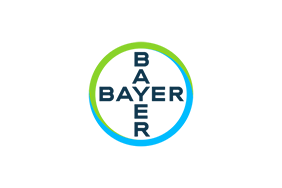 Bayer
Bayer
Bayer: Science For A Better Life
Bayer is a global enterprise with core competencies in the Life Science fields of health care and agriculture. Its products and services are designed to benefit people and improve their quality of life. At the same time, the Group aims to create value through innovation, growth and high earning power. Bayer is committed to the principles of sustainable development and to its social and ethical responsibilities as a corporate citizen. In fiscal 2015, the Group employed around 117,000 people and had sales of EUR 46.3 billion. Capital expenditures amounted to EUR 2.6 billion, R&D expenses to EUR 4.3billion. These figures include those for the high-tech polymers business, which was floated on the stock market as an independent company named Covestro on October 6, 2015. For more information, go to www.bayer.com.
More from Bayer