Published 04-19-12
Submitted by Carlson Wagonlit Travel
Carlson Wagonlit Travel (CWT), a global leader specialized in managing business travel and meetings and events, has been recognized nationally by PR News' CSR Awards in the Event: CSR/Green Focus category.
In 2011, CWT decided to shift the focus of its annual client event toward a greater purpose that would create meaningful stakeholder connections, and "Impact on the Gridiron" was born. CWT partnered with Habitat for Humanity to create a "celebration with intention," that allowed participants to become fully engaged in the cause.
The interactive event, which was planned and executed in partnership with CWT Meetings & Events, took place at Sports Authority Field in Denver during the Global Business Travel Association's (GBTA) annual convention last August. Participants had the opportunity to engage with Habitat, make their mark on the home being built by CWT, and even meet the local family who would soon live in the home.
"CWT's partnership with Habitat solved a business as well as a community need in an innovative way. It was designed to influence the greater good and increase our capacity to give more, while impacting the communities where our employees live and work," said Barbara Barnard, senior vice president, CWT U.S. Corporate Clients. "We received an overwhelmingly positive response from all involved in the event, and look forward to expanding upon CSR efforts in the future."
CWT addresses CSR issues both internally and on behalf of its clients and partners by upholding a focus on community involvement, diversity and the environment. 
PR News' CSR Awards honor the most influential socially responsible green campaigns. Winners of these awards represent corporations, agencies and nonprofits who have taken remarkable strides and understand CSR's important function to an organization's success. CWT is honored to be among a truly amazing group of winners, which include Coca-Cola, Kraft Foods, The Campbell Soup Company, Best Buy, and many more.
About Carlson Wagonlit Travel CWT is a global leader specialized in managing business travel and meetings and events. CWT serves companies, government institutions and non-governmental organizations of all sizes in more than 150 countries and territories. By leveraging both the expertise of its people and leading-edge technology, CWT helps clients derive the greatest value from their travel program in terms of savings, service, security and sustainability. The company is also committed to providing best-in-class service and assistance to travelers. CWT services and solutions comprise Traveler & Transaction Services, Program Optimization, Safety & Security, Meetings & Events and Energy Services.
In 2011, sales volume for wholly owned operations and joint ventures totaled US$28.0 billion. For more information about CWT, please visit our global website at  www.carlsonwagonlit.com. Follow us on Twitter @CarlsonWagonlit and @CWTNorthAmerica.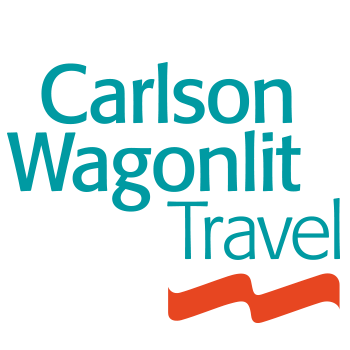 Carlson Wagonlit Travel
Carlson Wagonlit Travel
Carlson Wagonlit Travel (CWT) is a global leader specialized in managing business travel and meetings and events. CWT serves companies, government institutions and non-governmental organizations of all sizes in more than 150 countries and territories. By leveraging both the expertise of its people and leading-edge technology, CWT helps clients derive the greatest value from their travel program in terms of savings, service, security and sustainability. The company is also committed to providing best-in-class service and assistance to travelers. CWT services and solutions comprise Traveler & Transaction Services, Program Optimization, Safety & Security, Meetings & Events and Energy Services. In 2010, sales volume for wholly owned operations and joint ventures totaled US $24.3 billion. For more information about CWT, please visit our global website at www.carlsonwagonlit.com
More from Carlson Wagonlit Travel