Published 03-19-12
Submitted by Aflac Incorporated
/PRNewswire/ Aflac, a member of the 2011 Dow Jones Sustainability Index North America list and a top 10 company in the financial sector for Newsweek 2011 Green Rankings, announced today that it has donated $1 million to the Chattahoochee River Restoration project in the company's home city of Columbus, GA.
"Aflac is committed to investing in this project because it will help ensure that the Chattahoochee Valley remains a terrific place to live and raise a family," Aflac Foundation President Kathelen Amos said. "Restoring the river signifies a rebirth of a historic part of our country, creating a significant economic impact, dazzling recreational activities and an overall enhancement of the image of our community. The Aflac Foundation stands firmly behind the success of this project."
The restoration project, spearheaded by Uptown Columbus Inc., combines several projects such as the Riverwalk, the Rails-to-Trails Project, and the 14th Street Bridge and plaza project. The crowning achievement will come in transforming 2.5 miles of the Chattahoochee River to its original splendor, creating environmental benefits for the fish and vegetative habitats along this stretch of the river and a world-class white-water track for rafting and kayaking, the longest such urban white-water venue in the world.
Aflac's commitment to sustainability is best reflected by the company's Smart Green plan that promotes environmental awareness and contributes to the health and well-being of employees and the community. A significant part of Aflac's Smart Green program includes environmental education and advocacy for employees and the public. It is supported by an employee led Green Committee that reports directly to the company's board of directors.
"As a company that cares dearly for sustainability and protecting our environment, the river restoration project is a great opportunity for the nearly 4,000 Aflac employees in Columbus and their families to engage in a smart green mission that will produce untold benefits for the community," Aflac Vice President of Facilities and Chair of Aflac's Green Committee Alfred Blackmar said. "This $1 million donation is an investment in the future of our environment and our economic vitality, which often can and do go hand-in-hand."
John Turner, Chair of the River Restoration Committee, noted that the Aflac donation will be a tremendous boost to the project.
"Dan and Kathelen Amos were some of the earliest supporters of this project as they were able to envision how much it would accomplish for the environment, economic development and quality of life in our entire region," Turner said.  "Since Aflac put its roots down in Columbus in the 1950s, the company has been front and center with just about every important initiative in our community. In this particular case, their gift will not only change this river forever; it will change this community forever.  We are grateful for all the support we've received from Aflac, which is critical to ensuring the total success of this project."
About Aflac
When a policyholder gets sick or hurt, Aflac pays cash benefits fast. For more than 55 years, Aflac insurance policies have helped provide a safety net and given policyholders the opportunity to focus on recovery, not financial stress. In the United States, Aflac is the number one provider of guaranteed-renewable insurance. In Japan, Aflac is the number one life insurance company in terms of individual policies in force. Aflac insurance products provide protection to more than 50 million people worldwide. For six consecutive years, Aflac has been recognized by Ethisphere magazine as one of the World's Most Ethical Companies and by Forbes magazine as one of America's Best-Managed Companies in the Insurance category. In 2012, FORTUNE magazine recognized Aflac as one of the 100 Best Companies to Work For for the 14th consecutive year. Also, Fortune magazine included Aflac on its list of Most Admired Companies for the 11th time in 2012. Aflac Incorporated is a Fortune 500 company listed on the New York Stock Exchange under the symbol AFL. To find out more about Aflac, visit aflac.com or aflacenespanol.com.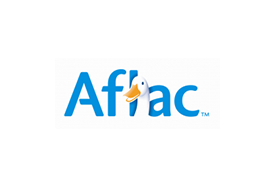 Aflac Incorporated
Aflac Incorporated
Aflac is a Fortune 500 company, providing financial protection to more than 50 million people worldwide. When a policyholder or insured gets sick or hurt, Aflac pays cash benefits fairly, promptly and directly to the insured. For more than six decades, Aflac voluntary insurance policies have given policyholders the opportunity to focus on recovery, not financial stress.
More from Aflac Incorporated