Published 03-07-12
Submitted by CSRwire
On March 23, 2012, SAP will release its new state-of-the-art and completely redesigned sustainability report, combining rigorous standards of data collection and transparency with the human story with the goal of making the world run better and improving people's lives. The new report emphasizes the company's integrated approach, visualization of metrics, and storytelling aimed at increasing understanding and engagement by all relevant stakeholders – from employees and customers to investors, partners and others throughout the world.
In keeping with its commitment to transparency and stakeholder engagement, SAP will hold a live webinar and Twitter chat in collaboration with CSRwire to offer an in-depth sneak peek of its new report on March 21, 2012.
The live webinar will focus on integrated reporting, storytelling and content sharing through social media channels. SAP will discuss its sustainability strategy and vision, with a concentration on the company's commitment to holistically manage SAP's social, environmental and economic risks and opportunities for short- and long-term profitability.
With Rami Branitzky, SAP senior vice president of Sustainability, presenting and CSRwire's Editorial Director Aman Singh facilitating, the webinar and concurrent Twitter chat will be an opportunity for journalists, bloggers, industry analysts and other interested parties to get an in-depth sneak peek of the exciting new features and content of the report.
SAP has reported on its sustainability performance since 2008 and has been a strong proponent of non-financial and integrated reporting. The company has received numerous recognitions for its forward-looking, multimedia approach. The 2011 Sustainability Report marks yet another step forward in its sustainability journey.
For viewers, this live webinar will be a rare opportunity to participate in an open dialogue on the challenges and best practices of SAP's sustainability report with senior leadership.
Details:
Date: March 21, 2012
Time: 11:00am – 12:15pm ET
To register, please email evan.welsh@sap.com
Engage with the presenters on Twitter at #sustainableSAP
About Rami Branitzky
As senior vice president of Sustainability, Rami Branitzky is responsible for defining and executing SAP's sustainability strategy – both for its market solutions and for the company's internal performance, which enable customers to achieve greater sustainability performance. He also ensures the execution of the sustainability strategy across all functions within SAP. Branitzky represents SAP on boards of multiple thought leadership organizations such as the Silicon Valley Leadership Group and Churchill Club.
In his prior role as the managing director of SAP Labs North America (Palo Alto), Branitzky was responsible for the strategy and operations of SAP Labs locations in the United States and Canada. There he fostered greater cooperation among these SAP Labs locations and tighter alignment on a regional level. Branitzky also drove SAP Labs strategy and operations, connected SAP to local ecosystem, supported the field organization and helped deliver value to the company's development organization and to partners and customers.
About SAP
As market leader in enterprise application software, SAP (NYSE: SAP) helps companies of all sizes and industries run better. From back office to boardroom, warehouse to storefront, desktop to mobile device – SAP empowers people and organizations to work together more efficiently and use business insight more effectively to stay ahead of the competition. SAP applications and services enable more than 183,000 customers (includes customers from the acquisition of Sybase) to operate profitably, adapt continuously, and grow sustainably. For more information, visit www.sap.com.
About CSRwire
CSRwire is the leading global source of corporate social responsibility and sustainability news. Founded in 1999 to advance the movement towards a more economically-just and environmentally-sustainable society and away from single bottom line capitalism, CSRwire has paved the way for new standards of corporate citizenship, earning the international respect of thought leaders, business leaders, academics, philanthropists, activists and the media community.
CSRwire content reaches a broad and highly-engaged audience of over 87 million readers in the international CSR/ESG market. With more than 7,000 corporate, nonprofit and public sector members distributing news, CSRwire provides comprehensive coverage in 25 CSR related categoriest complimenting traditional newswire services with its customized global distribution, daily alerts, events calendar, thought-provoking editorials, social media channels, popular Talkback blog, report distribution, promotions and searchable archives.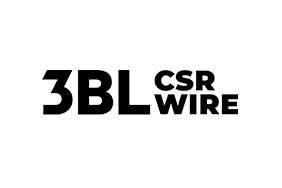 CSRwire
CSRwire
Trusted since 1999, 3BL CSRwire is a dedicated, real-time source for major news and updates pertaining to corporate social responsibility and sustainability. CSRwire is part of the 3BL network.

Explore the latest news below.
More from CSRwire