Published 02-24-12
Submitted by Points of Light
Points of Light today announced the launch of its new Leadership Partner Program to recognize and engage companies and business leaders whose social responsibility investments have resulted in significant advancement of its mission to inspire, equip and mobilize people to take action that changes the world.
"Points of Light's corporate partnerships are critical in helping us develop programming and capacity to connect people to their power as change agents," said Michelle Nunn, Points of Light CEO. "As our nation strives to create solutions to address critical economic and social challenges, corporate support provides the scaffolding needed to help meet needs ranging from support for our veterans to preparing youth for success to helping communities prepare and recover from disasters. These partners have helped us mobilize 2.7 million people each year, train thousands of volunteer leaders and develop innovative strategies for community change."
Points of Light leadership partners are companies making important, strategic investments in the communities where they live and work through their partnership with Points of Light. These companies not only provide employee volunteers' time and talent, they provide thought leadership and significant financial support.
Companies at the $1 million-plus tier of the Leadership Partner Program for fiscal year 2011 include:
American Express, recognized for its commitments to developing next generation leaders, preserving and sustaining historic places and encouraging service in communities where its employees and customers live and work, is an important and strategic Points of Light partner. In 2011, American Express was the lead national contributor to the I WILL campaign, promoting volunteerism as part of the 10th anniversary of the 9/11 Day of Service and Remembrance. The company engaged more than 1,000 employees in volunteer service as part of its 9/11 commitment, and launched the first-of-its-kind Facebook I WILL Volunteer app to make it easy for people to search, register and share volunteer opportunities. Over the past three years, Points of Light and American Express have engaged thousands of students, employees, teachers and community members through Travel with Your Mind, a HandsOn Schools program designed to help revitalize deserving schools through a series of travel-themed, transformational projects and multicultural initiatives across several U.S. cities. American Express also brings its acclaimed American Express Leadership Academy to the National Conference on Volunteering and Service, providing in-depth leadership development opportunities to 24 emerging leaders each year. 
Hasbro's philanthropic work strives to bring "the sparkle of Hope, the joy of Play and the power of Service" into the lives of children worldwide that need it most through the Hasbro Children's Fund and other initiatives aimed to help children worldwide. As a founding partner and more than $5 million lead investor in Points of Light's youth enterprise, generationOn, Hasbro is helping to inspire, equip and mobilize youth to take action that changes the world and themselves through the power of service. This includes support for scaling generationOn youth service clubs in schools and community organizations nationwide; the creation and dissemination of tools and resources for teachers, families and nonprofits; as well as support for high impact engagement campaigns and youth leadership initiatives.  Over the last two years, 12 inspiring young people have been celebrated as Hasbro Community Action Heroes, a generationOn program created to recognize the amazing service work done by youths worldwide. Hasbro's founding support of generationOn has resulted in hundreds of thousands of young people having committed to make their mark on the world through service, and hundreds of young service leaders and social entrepreneurs having  been identified, recognized and supported in their efforts to inspire more youth.
Since 1946, Target has given 5 percent of its income to support and enrich the communities it serves. Today that equals more than $3 million every week to support education, the arts, social services and volunteerism, plus a commitment to contribute $1 billion for education by 2015. Target's community investments include a six-year partnership with Points of Light as lead and title sponsor of the National Conference on Volunteering and Service, serving as presenting sponsor of the Excellence in Education track that provides programming focused on innovative, citizen-driven solutions that are making an impact on the challenges of America's K-12 education system. Target and Points of Light have also joined together on a variety of cause-related efforts including leadership support and promotion of National Volunteer Week, the initial launch of Target's nationally recognized School Library Makeover program and the I WILL 9/11 tenth anniversary education programming that engaged tens of thousands of teachers and youth.
The University of Phoenix serves a diverse student population at campuses and learning centers around the world to meet is mission to provide access to education. In 2011, its parent company, Apollo Group, and the University of Phoenix Foundation committed more than $20 million to local community initiatives with a focus on school and workforce readiness, community engagement and sustainability. Over the past three years, University of Phoenix has made significant contributions to advance the work and mission of Points of Light. University of Phoenix's strategic investments have mobilized volunteers across the country through innovative programming like the Road to the Gulf, which trained 6,300 service leaders and engaged 14,000 in community projects addressing education needs in just six months. It also developed and funded the Serve It Forward® scholarship program, encouraging community-minded individuals to pursue academic and personal development. As a top sponsor of the National Conference on Volunteering and Service, University of Phoenix enables Points of Light to bring together the largest gathering of social innovators, cultivating new solutions for our communities' toughest challenges.
The UPS Foundation has led the company's corporate citizenship efforts for more than 60 years. In 2011, UPS and its employees, active and retired, invested more than $93 million in charitable giving and 1.6 million volunteer hours around the world. The company's investments in community involvement nationally and globally have significantly shaped the service movement and continue to pave the way for innovation, action and impact. For more than a decade, The UPS Foundation has been a significant contributor to Points of Light, helping build capacity to mobilize volunteers and engage individuals, communities, business and nonprofits in volunteer leadership. UPS and Points of Light are also developing innovative new technologies and training to better mobilize volunteers in times of disaster. In addition, UPS serves as a leading sponsor of the National Conference on Volunteering and Service.
Leadership partners at the $500,000 to $999,999 level include Altria Group, Best Buy, GlaxoSmithKline, Google and JPMorgan Chase.
About Points of Light
Points of Light is the leading volunteer organization with more than 20 years of history and a bipartisan presidential legacy. Our mission is to inspire, equip and mobilize people to take action that changes the world. We connect people to their power to make a meaningful difference by providing access to tools, resources and opportunities to help volunteers use their time, talent, voice and money to meet the critical needs of our communities. We are organized into three divisions: Programs, Civic Incubator and Action Networks, which include HandsOn Network, the largest network of 250 local volunteer centers across the country and around the world; generationOn, the youth service movement that ignites the power of kids to make their mark on the world; AmeriCorps Alums, the national service alumni network that activates the next generation of service leaders; and Points of Light Corporate Institute, our enterprise that enables companies to engage their employees and customers in service. For more information, visit www.pointsoflight.org .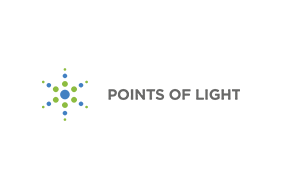 Points of Light
Points of Light
Points of Light is a nonpartisan, global nonprofit organization that inspires, equips and mobilizes millions of people to take action that changes the world. We envision a world in which every individual discovers the power to make a difference, creating healthy communities in vibrant, participatory societies. Through 177 affiliates across 38 countries, and in partnership with thousands of nonprofits and corporations, Points of Light engages 5 million volunteers in 16 million hours of service each year. We bring the power of people to bear where it's needed most.
More from Points of Light