Published 02-13-12
Submitted by CSRwire
What is the relationship between voluntarily disclosing your Greenhouse Gas Emissions (GHG) and CSRwire? According to a new study conducted by the University of California Davis and Berkeley, companies saw significant increases in their stock prices just days after issuing corporate social responsibility (CSR) releases through CSRwire.
Titled Going Green: Market Reactions to CSR Newswire Releases, the study was conducted by two University of California management professors Paul Griffin, Ph.D. and Yuan Sun, Ph.D.
Their motivation: "A lot of people were saying we need to engage in a climate change strategy but there was little or no evidence that this was improving shareholder value," says Dr. Griffin, adding, "We wanted to look at whether there was an association between voluntary disclosure and shareholder price."
Top Findings: It Pays To Be Green (with CSRwire)
By using CSRwire as a source for voluntary disclosures comparable over a decade, the study determines: 
Companies' market values increased following CSRwire release: Sample of disclosing companies received an aggregate market value boost following their CSRwire releases of approximately ten billion dollars, independent of differences in public information availability. 

Voluntary green disclosure produce positive returns to shareholders: As predicted, the study found that shareholders on average respond positively to a CSRwire release by 0.468 percent over the three-day window (of the posting).

Small companies tend to benefit more: Shareholders of smaller companies with limited public information availability benefit the most from voluntary green disclosure [with prices increasing as much as 2.32 percent].
"Making the connection between voluntary disclosure and increased shareholder value demonstrates investors appetite for increased transparency where everyone wins," says CSRwire CEO Joe Sibilia.
Methodology
172 GHG releases by 84 companies from a total of 18,588 releases on CSRwire between 2000 and 2010 containing the phrases "greenhouse gas emissions," "carbon emissions," or "CO2 emissions."
Criteria:
The study examined shareholders' response to a unique set of disclosures about climate change made by U.S. companies through CSRwire based on the following criteria:
Companies' CSR releases meet the criteria of a voluntary disclosure since companies decide on the content, timing, and the dissemination (CSR in this case) of a disclosure.
CSRwire is the global leader in disseminating news about corporate social responsibility and sustainability, currently with one-quarter of one million page views every month. This enabled the researchers to study a large sample of disclosures over several years for a wide range of industries made through a single channel.
CSRwire conveys fresh information to users, a critical aspect of the University of California's research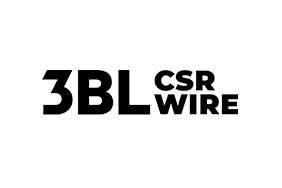 CSRwire
CSRwire
Trusted since 1999, 3BL CSRwire is a dedicated, real-time source for major news and updates pertaining to corporate social responsibility and sustainability. CSRwire is part of the 3BL network.

Explore the latest news below.
More from CSRwire