Published 01-12-12
Submitted by Ceres
Climate change creates enormous economic risks, but investors know it also represents one of the great financial opportunities of our time. And they are not waiting for governments to start moving on their own toward action.
That was the key message as 450 global investors controlling tens of trillions from four continents gathered today at the United Nations for the Investor Summit on Climate Risk & Energy Solutions.
"Climate change is certain to be a major factor in investments for the foreseeable future—perhaps the biggest investment factor of our lifetimes," said Kevin Parker, global head of Deutsche Asset Management. He announced that although the pace of climate policy momentum slowed in some countries, the trend nevertheless remained strongly positive with 45 new, carbon-reducing policies adopted globally in 2011 compared with only four negative policy actions. 
Investors signed onto an action plan calling for greater private investment in low-carbon technologies and tougher scrutiny of climate risks across their portfolios. Investors also announced new guidelines on how companies should be boosting their attention to climate risks and opportunities – and promised much closer scrutiny of companies that ignore them.
"Investors are acutely aware of climate impacts on the global economy and corporate bottom lines," said Jack Ehnes, CEO of the California State Teachers' Retirement System (CalSTRS), the nation's second largest public pension fund managing $146 billion in assets. "As a matter of fiduciary duty, we must elevate our attention and action on this huge issue. That means improving our own practices and making sure companies we own are doing the same."
Even with the tough words and record investments, there was strong agreement that bigger steps are needed – from investors, companies and government policymakers – to slow and eventually reduce pollution that is changing the earth's climate and triggering more extreme droughts, heat waves and other catastrophic events.
"Our global carbon footprint is growing and our climate is discernibly changing," said Mindy Lubber, president of Ceres, which organized the Summit along with the United Nations Foundation and the United Nations Office for Partnerships.  "We need leaps, not baby steps, in tackling this colossal threat. And we need them now, not next year."
Still, the Summit was chock-full of examples of strong investor focus on climate change, including:
Bloomberg New Energy Finance released new research data showing a record $260 billion in total clean energy investment in 2011, up five percent from $247 billion in 2010 and five times the total attained only seven years ago. Highlights of the '11 data include a 36 percent surge in total investment in solar power to $136.6 billion and the U.S. overtaking China for the first time since 2008 in total clean energy investment. US investment was a record $55.9 billion, up 35 percent, while China saw investment rise just one percent to $47.4 billion.
"The news that the US jumped back into the lead in clean energy investment last year will reassure those who worried that it was falling behind other countries. However before anyone in Washington celebrates too much, the US figure was achieved thanks in large part to support initiatives which have now expired," said Michael Liebreich, chief executive of Bloomberg New Energy Finance. "The performance of solar is even more remarkable when you consider that the price of photovoltaic modules fell by close to 50 percent during 2011, and now stands 75 percent lower than three years ago, in mid-2008."
Global investment consultant Mercer issued a new report showing how leading global investors, including the nation's largest public pension fund, CalPERS, are integrating climate change considerations into investment risk management and asset allocations. The report, "Through the Looking Glass: How Investors are Applying Results of the Climate Change Scenarios Study" comes on the heels of a Mercer report last year showing that climate change could contribute as much as 10% to portfolio risk over the next 20 years.
Summit attendees also learned that:
Renewable portfolio standards in 29 U.S. states represent a $400 billion investment opportunity, with much more possible if other states move in that direction.
GE's Ecomagination unit is growing at twice the rate of the rest of the company and has already earned $85 billion in revenues.
Deutsche Asset Management released, "2011: The Good, The Bad, and the Ugly" at the Summit. It described generally mixed results on climate investments and policy in 2011 but projected the long-term growth in cleaner energy markets to continue.
Positive trends included China and Germany's continued low-carbon leadership, the US Environmental Protection Agency's issuance of new rules on hazardous air pollutants, Australia's new carbon legislation, and Japan's commitment to supporting the deployment of more renewable energy.  Meanwhile, the international climate negotiations at Durban surprised the world by setting a schedule for negotiating a new "protocol" covering all countries, developed and developing, by 2015 – with binding targets to occur from 2020.  They further noted that clean energy infrastructure and Venture Capital/Private Equity investing were still strong in the first three quarters of 2011.
The Deutsche report also highlighted negative trends such as the weak performance of cleantech public equity stocks in 2011 and the expiration of several US federal renewable energy incentive programs, including the "highly successful" Treasury Grant Program that expired Dec. 31, 2011. The report noted that the TGP program, in 2½ years, leveraged nearly $23 billion in private sector investment for 22,000 projects in every state across a dozen clean energy industries.
"We've made enormous progress in just the past few years, but we need to keep up our continued engagement with companies and policymakers to help advance the transition to a sustainable global economy," said Anne Stausboll, chief executive officer of CalPERS, the nation's largest public pension fund. "As fiduciaries, it is our job to make sure investors, businesses and policymakers are responding aggressively and creatively to the risks and opportunities associated with climate change and other sustainability issues."
"We all have a role to play in moving this debate forward by addressing climate risks and opportunities in our portfolios. The New York State Common Retirement Fund is on board with this movement," said New York State Comptroller Thomas P. DiNapoli.
"It's essential—and entirely feasible – for investors to climate-proof their portfolios," added Ceres head Mindy Lubber, which directs the Investor Network on Climate Risk, a network of 100 institutional investors with collective assets totaling about $10 trillion. "Investors need diversified, sustainable strategies that maximize risk-adjusted returns in a volatile investment environment."
Climate-proofing portfolios can also result in attractive rates of return from climate and clean energy solutions, investors at the summit agreed. Speakers said government support for climate and clean energy investments is important, especially when it comes to scaling up clean-energy solutions to a level that will help prevent the damaging impacts of climate change going forward.
"The clean energy economy is coming—whether via severe crisis or, alternatively, via the unleashed human ingenuity that can forestall that crisis," Lubber of Ceres told the investors. "You in this room have a lot to say about which option we choose."
About Ceres and INCR
Ceres is an advocate for sustainability leadership. It leads a national coalition of investors, environmental groups and other public interest organizations working with companies to address sustainability challenges. Ceres also directs the Investor Network on Climate Risk (INCR), a network of 100 institutional investors with collective assets totaling about $10 trillion. For more information, visit http://www.ceres.org and http://www.incr.com.
About the United Nations Foundation
The UN Foundation was created in 1998 with entrepreneur and philanthropist Ted Turner's $1 billion gift. The UN Foundation builds and implements public-private partnerships to address the world's most pressing problems and works to broaden support for the UN through advocacy and outreach. For more information, visit www.unfoundation.org.
About the United Nations Office for Partnerships (UNOP)
The United Nations Office for Partnerships serves as a gateway for collaboration between the private sector, foundations, and the United Nations family. It promotes partnerships and alliances in furtherance of the Millennium Development Goals and provides support to new initiatives of the Secretary-General.  UNOP oversees the United Nations Fund for International Partnerships (UNFIP), the United Nations Democracy Fund (UNDEF), and partnership advisory services and outreach to a variety of entities.  For more information, visit http://www.un.org/partnerships/YAboutUs.htm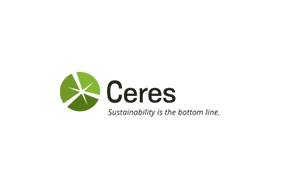 Ceres
Ceres
Our Mission: Ceres is transforming the economy to build a just and sustainable future for people and the planet. 
Ceres is a nonprofit organization working with the most influential capital market leaders to solve the world's greatest sustainability challenges. Through our powerful networks and global collaborations of investors, companies, and nonprofits, we drive action and inspire equitable market-based and policy solutions throughout the economy to build a just and sustainable future. For more information, visit ceres.org and follow @CeresNews. 
More from Ceres