Published 12-15-11
Submitted by Baxter International Inc.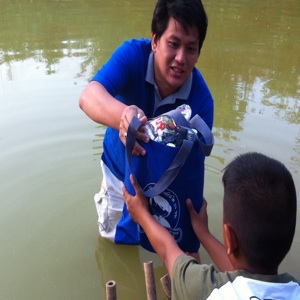 Wading through the water following the flooding in Thailand, a Baxter employee hands a survival pack to a local resident in need.
Baxter International Inc. (NYSE: BAX) demonstrated its commitment to volunteerism and product donation as well as to environmentally-conscious practices and corporate social responsibility through several recent initiatives and recognition. Baxter employees in the Asia Pacific region mobilized for a month of volunteering and giving back in their communities, and also responded quickly to the urgent need for peritoneal dialysis therapy and intravenous solutions in the aftermath of recent severe floods in Thailand. In addition, Baxter furthered its commitment to sustainable practices by building a new headquarters in Canada in accordance with Canadian Green Building Council LEED standards and was also recognized as a leader for the third year in the 2011 Green Rankings published by Newsweek magazine.
Baxter Employees Respond after Thailand Floods to Ensure Patients Have Access to Essential Supplies
When Thailand was hit by extreme rainfall and flooding in October and November, Baxter took quick and decisive action to ensure that the affected area's peritoneal dialysis (PD) patients still received delivery of PD therapy. Baxter also coordinated an emergency shipment of intravenous (IV) solutions to the country, provided survival kits to local residents and offered assistance to Baxter employees impacted by the disaster.
Peritoneal dialysis is the predominant home-dialysis therapy for patients with end-stage renal disease, or irreversible kidney failure. Patients who require PD therapy typically perform the procedure on a daily basis to filter wastes and excess fluids from the body. To ensure that the country's PD patients had access to the supplies needed for therapy regardless of where they were relocated, employees worked closely with distributors, PD centers, hospitals and the government.
In addition, after local IV manufacturing plants closed due to the high flood waters, the Thai government reached out to Baxter Thailand for emergency assistance. Baxter's teams from Thailand, China, Australia and the Philippines worked quickly to ship supplies of IV solutions to locations in need. In all, Baxter shipped 1.2 million containers of IV solutions, including 10,000 containers flown urgently through a partnership with Thai Airways.
Baxter also established a Flood Employee Assistance Program to provide aid to Baxter employees in Thailand who had been affected. Despite experiencing flooding in their own homes, employees made time to give to others less fortunate, including conducting a fundraiser to help buy food for PD patients staying in a temporary shelter, and by creating and distributing survival packs to the area's residents—even wading through the water to make the deliveries.
Baxter Recognized in Several Environmental and Sustainability Rankings
Baxter's dedication to incorporating green and sustainable practices into its business was recognized recently in various rankings. In the 2011 annual Green Rankings produced by Trucost and Jantzi-Sustainalytics and published in Newsweek magazine, Baxter ranked first in the healthcare category for the third time since its inception in 2009. On an overall basis, Baxter ranked fourth on the U.S. list and 24th on the global list. The rankings assess the largest publicly traded companies measured by revenue, market capitalization and number of employees, and on each company's environmental footprint and disclosure. Independent reviewers assess the quality of each company's environmental strategies, policies, transparency and performance.
Baxter also ranked ninth on the 2011 Corporate Social Responsibility Index from Boston College Center for Corporate Citizenship with Reputation Institute. Rankings are based on data collected by Reputation Institute's survey of online U.S. consumers about public perception of companies' corporate citizenship, governance and workplace practices.
Baxter was also awarded the Environmental Tracking (ET) Scope 3 Disclosure Leader award and ranked first and sixth in the ET North America 300 and ET Global 800 Carbon Rankings, respectively, based on Scope 3 greenhouse gas emissions and levels of transparency. These rankings are compiled by the Environmental Investment Organisation (EIO), an independent nonprofit research body that promotes eco-financial innovation to reduce global corporate greenhouse gas emissions. In addition, the company was ranked in the top 10 in the 2011 Climate Counts fifth Annual Company Scorecard Report. Climate Counts, a nonprofit dedicated to corporate climate responsibility and consumer awareness and action, based their results on a company's efforts to assess its climate footprint, reduce greenhouse gas emissions, support progress on climate legislation, and clearly communicate their efforts.
Asia Pacific Employees Give Back During Making a Meaningful Difference Month
Baxter employees in the Asia Pacific region coordinated significant volunteer efforts across 13 countries in October during the sixth annual Making a Meaningful Difference Month, an initiative that rallies employees to give back to the communities in which they live. This year's initiative commemorated Baxter's 80th anniversary and the company's commitment to advancing healthcare and sustainability. Employees in Australia, China, Hong Kong, India, Japan, Korea, Malaysia, New Zealand, the Philippines, Singapore, Taiwan, Thailand and Vietnam volunteered and raised funds for worthy causes, focusing primarily on issues affecting children, the economically disadvantaged and the disabled.
Baxter China organized 36 volunteers, including top executives, to spend time with students at the Fengjie Baxter Hope School, which the company has sponsored for five years. The children were excited to play games with the volunteers and participate in Junior Achievement classes and discussions about realizing their potential. Volunteers also donated books and stationery to the school library.
Other projects throughout Asia Pacific included organizing a fundraiser to purchase shoes for disadvantaged students in the Philippines; participating in a food donation drive to serve the homeless in Australia; facilitating companionship between peritoneal dialysis patients and patient role models in Thailand; and visiting elderly who live in an assisted-living facility in Singapore.
New Baxter Canadian Headquarters Built to LEED Specifications
Baxter Canada's new headquarters building in Mississauga, Ontario exemplifies the company's continuing commitment to incorporating high-performance, green design elements into its facilities. Completed in September, the 138,510 square-foot location was built in accordance with Leadership in Energy and Environmental Design (LEED) specifications and includes advanced lighting controls, rainwater harvesting, permeable paving and other energy- and water-conserving elements. The building aims to achieve a 50 percent water reduction in irrigation from an installed cistern, 43 percent water reduction after installing low-flow water fixtures, and 51 percent savings in energy consumption overall.
LEED is a voluntary, consensus-based national standard for developing high-performance buildings and in Canada is managed by the Canadian Green Building Council (CaGBC). Baxter achieved LEED certification in 2011 for its facilities in Vienna, Austria (Gold certification), as well as Rome, Italy (Silver certification). Additionally, Baxter's European headquarters in Zurich, Switzerland was built with eco-conscious elements such as water based cooling and heating and rooftop solar photovoltaic panels, resulting in an estimated 80 percent savings in energy use based on similar buildings of its size.
About Baxter
Baxter's commitment to sustainability spans more than three decades. The company is included in the Dow Jones Sustainability Index and has been recognized by Corporate Knights as one of the Global 100 Most Sustainable Corporations in the World and by Corporate Responsibility magazine as one of the 100 Best Corporate Citizens. Baxter is a member of the Center for Corporate Citizenship at Boston College, the Business Environmental Leadership Council of the Pew Center on Global Climate Change and the Ethics & Compliance Officer Association. Baxter endorses the Ceres principles and is an organizational stakeholder of the Global Reporting Initiative. Further information about Baxter's sustainability activities can be found at www.sustainability.baxter.com.
Baxter International Inc., through its subsidiaries, develops, manufactures and markets products that save and sustain the lives of people with hemophilia, immune disorders, infectious diseases, kidney disease, trauma, and other chronic and acute medical conditions.  As a global, diversified healthcare company, Baxter applies a unique combination of expertise in medical devices, pharmaceuticals and biotechnology to create products that advance patient care worldwide.

Baxter International Inc.
Baxter International Inc.
At Baxter, sustainability means creating lasting social, environmental and economic value by addressing the needs of the company's wide-ranging stakeholder base. The company's sustainability efforts support Baxter's mission to apply innovative science in the development of products and therapies that save and sustain patients' lives.
More from Baxter International Inc.