Published 11-29-11
Submitted by Earth Divas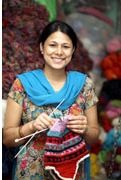 Women Change the World.
Shop Different.
Earth Divas announces the launch of Divas4Divas, a campaign mobilizing women to deploy holiday shopping as a powerful tool to lift women out of poverty in developing countries. The campaign encourages women consumers to exert their immense economic power to improve the lives of women and families around the world by patronizing fair-trade stores selling products crafted by women artisans.
"We want to inspire women around the world with a simple idea: Your shopping for the holidays can deliver significant benefit to women artisans living in poverty," said Ed Edmundson, founder of Earth Divas. "Increasingly, consumers want to know that their purchases are socially and environmentally responsible and bring value not only to themselves but also to the people who crafted them."
The Divas4Divas "pop-up" retail webpage makes it easy to find a variety of beautiful, fair-trade products made by women around the world. The creation of a vintage-inspired Diva4Divas badge will help spread the word through social media channels.
"We call on all women to join the Diva4Divas campaign by tweeting about it, posting the Divas4Divas badge on your blog, Facebook page and websites and shopping fair trade," said Jeanne Segal, chief evangelist for Divas4Divas. "Together, woman CAN change the world!"
Earth Divas is a social enterprise that returns 100 percent of its profits to women artisans in Nepal and India and a member of the Fair Trade Federation.
The National Retail Federation forecasts holiday retail sales to reach $465.6 billion this year and according to a study published in the Harvard Business Review, women control about $20 trillion in annual consumer spending globally and that figure could climb as high as $28 trillion by 2014.

Earth Divas
Earth Divas
Earth Divas is a fair trade certified company that works collaboratively with women-owned artisan groups in India and Nepal to create beautiful, natural-fiber handbags and accessories fit for the modern-day goddess. All profits earned by Earth Divas are paid directly to the artisans. Sustainable fashion at its best.
Find Earth Divas online and at Whole Foods Market, Vitamin Cottage as well as health food stores and eco-clothing boutiques throughout the US.
Empowering women sustainably since 2004.
More from Earth Divas