Published 11-15-11
Submitted by The Mosaic Company
/PRNewswire/ - The Mosaic Company (NYSE: MOS) today announced it has completed its second company-wide sustainability assessment and published a sustainability report summarizing progress on key initiatives in the areas of food, water, land, energy, air and people.
The report, available at http://www.mosaicco.com/sustainability/report/, measures Mosaic's progress on performance indicators established by the Global Reporting Initiative (GRI). As a leader in the crop nutrient industry, Mosaic is charting a global, comprehensive and proactive course for sustainability.
Mosaic's 2011 sustainability report showcases the pursuit of our mission to help the world grow the food it needs.
"I am particularly proud of this report because it reflects the responsibility that the Mosaic team feels towards our global communities, our employees and the environment, as well as our efforts to uphold the highest ethical standards," said Jim Prokopanko, Mosaic's president and CEO. "Mosaic is improving worldwide workplace safety, reducing our company's carbon footprint, and being a good steward of our water resources and ecosystems throughout our global network. Most importantly, we're helping farmers and communities grow enough food to live and thrive sustainably. Ultimately, these efforts align with Mosaic's objective to not only maximize shareholder value, but to do so with integrity. Our investors expect a high level of commitment to sustainability, and as a corporate citizen, we are focused on exceeding those expectations."
Among the report highlights, Mosaic has:
Reduced direct energy consumption in its U.S. operations by approximately 21 percent and greenhouse gas emissions by 11 percent;
Recycled or reused approximately 95 percent of all water used in its U.S. Phosphates operations and more than 80 percent in its Canadian Potash business unit;
Reduced its lost-time injury frequency rate by 33 percent since 2009;
Ensured the long-term protection of approximately 21,000 acres of sensitive habitat via proposed, committed or executed conservation easements; and
Planted more than 1.3 million trees as part of land reclamation efforts in 2010.
"Our 2011 sustainability report significantly expands on our inaugural report in 2009, demonstrating progress across the business, and our pledge for continual improvement to all of our stakeholders," Prokopanko said.
About The Mosaic Company
The Mosaic Company is one of the world's leading producers and marketers of concentrated phosphate and potash crop nutrients. Mosaic is a single source provider of phosphates and potash fertilizers and feed ingredients for the global agriculture industry. More information on the company is available at www.mosaicco.com. 
About the Global Reporting Initiative
The Global Reporting Initiative (GRI) is an independent, network-based organization that has pioneered the development of a widely used sustainability reporting framework and is committed to its continuous improvement and application worldwide. Learn more at www.globalreporting.org.
This press release contains forward-looking statements within the meaning of the Private Securities Litigation Reform Act of 1995. Such statements include, but are not limited to, statements about future financial and operating results. Such statements are based upon the current beliefs and expectations of The Mosaic Company's management and are subject to significant risks and uncertainties. These risks and uncertainties include but are not limited to the predictability and volatility of, and customer expectations about, agriculture, fertilizer, raw material, energy and transportation markets that are subject to competitive and other pressures and economic and credit market conditions; the level of inventories in the distribution channels for crop nutrients; changes in foreign currency and exchange rates; international trade risks; changes in government policy; changes in environmental and other governmental regulation, including greenhouse gas regulation and implementation of the U.S. Environmental Protection Agency's numeric water quality standards for the discharge of nutrients into Florida lakes and streams; further developments in the lawsuit involving the federal wetlands permit for the extension of the Company's South Fort Meade, Florida, mine into Hardee County, including orders, rulings, injunctions or other actions by the court or actions by the plaintiffs, the Army Corps of Engineers or others in relation to the lawsuit, or any actions the Company may identify and implement in an effort to mitigate the effects of the lawsuit; other difficulties or delays in receiving, or increased costs of, necessary governmental permits or approvals; further developments in the lawsuit involving the tolling agreement at the Company's Esterhazy, Saskatchewan, potash mine, including settlement or orders, rulings, injunctions or other actions by the court, the plaintiff or others in relation to the lawsuit; the effectiveness of our processes for managing our strategic priorities; adverse weather conditions affecting operations in Central Florida or the Gulf Coast of the United States, including potential hurricanes or excess rainfall; actual costs of various items differing from management's current estimates, including among others asset retirement, environmental remediation, reclamation or other environmental regulation or Canadian resource taxes and royalties; accidents and other disruptions involving Mosaic's operations, including brine inflows at its Esterhazy, Saskatchewan potash mine and other potential mine fires, floods, explosions, seismic events or releases of hazardous or volatile chemicals, as well as other risks and uncertainties reported from time to time in The Mosaic Company's reports filed with the Securities and Exchange Commission. Actual results may differ from those set forth in the forward-looking statements.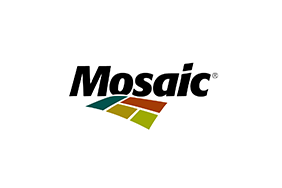 The Mosaic Company
The Mosaic Company
The Mosaic Company is the world's leading combined producer and marketer of concentrated phosphate and potash, two of the primary nutrients required to help the world grow the food it needs. Mosaic engages in every phase of crop nutrition, from the mining of resources to the production of crop nutrients, feed and industrial products for customers around the globe. Our customer base includes wholesalers, retail dealers and individual growers in more than 40 countries.
Headquartered in Plymouth, Minn., Mosaic employs approximately 8,000 people in eight countries. Our shares trade on the New York Stock Exchange under the ticker symbol MOS.
More from The Mosaic Company