Published 11-14-11
Submitted by Tiffany & Co.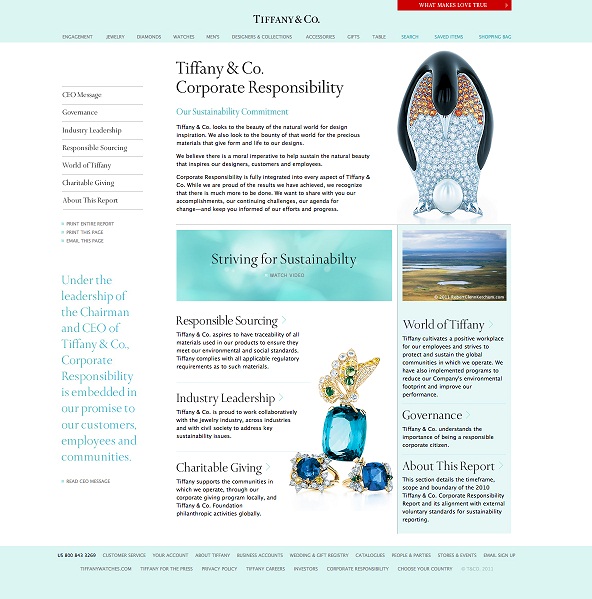 Tiffany & Co. Corporate Responsibility: Tiffany.com/sustainability
Tiffany & Co. today launched its first annual web-based Corporate Responsibility Report. The website (www.tiffany.com/sustainability, #tiffanycsr) details the Company's long history of environmental and social responsibility and Fiscal Year 2010 sustainability performance.
In voluntarily reporting on corporate responsibility performance—the accomplishments, as well as continuing challenges and agenda for change—Tiffany demonstrates its longstanding industry leadership and continued commitment to the environment and community.
"Our position as a leader in the luxury jewelry market gives us the opportunity and the responsibility to set an example for the industry and to conduct our business in a manner that is consistent with our core beliefs—protection of the environment, respect for human rights and support for the communities in which we do business," said Tiffany & Co. Chairman and CEO Michael J. Kowalski.
The report provides insight into Tiffany's standards and operations regarding the sourcing of precious materials. Website visitors learn that gold, silver and platinum used in Tiffany's workshops are sourced from responsibly mined metal deposits and recycled sources in the U.S. to minimize environmental and social risks. In addition, Tiffany works with nongovernmental organizations as well as the mining and jewelry industries to improve mining standards, and is working to protect areas such as Bristol Bay, Alaska.
Visitors also learn the specifics of Tiffany's diamond supply chain and how the company works to purchase diamonds either directly from a mine or a supplier that only sources from known mines. Believing that diamonds should benefit the economies and societies of diamond-producing countries, Tiffany has invested in manufacturing operations, as well as employee development and training programs at Tiffany & Co. cutting and polishing facilities in Belgium, Botswana, Mauritius, Namibia, South Africa and Vietnam.
Tiffany further supports the communities where it operates through The Tiffany & Co. Foundation and corporate giving programs. In 2010, Tiffany is proud to have donated close to 2% of pre-tax earnings to charitable purposes, demonstrating its commitment to philanthropic activities around the world.
Tiffany's conservation efforts extend to its packaging as well. The online report states that Tiffany Blue bags and boxes are manufactured with materials certified by the Forest Stewardship Council (FSC), an independent, nongovernmental organization established to promote the responsible management of the world's forests. Catalogues are also produced using over 99% FSC-certified materials.
Developed in accordance with the Global Reporting Initiative's voluntary sustainability reporting framework, the online report will be updated on an annual basis. In addition, Tiffany & Co. joined the United Nations Global Compact, a strategic policy initiative for businesses that are committed to aligning their operations and strategies in the areas of human rights, labor, environment and anti-corruption and uses the report to communicate on its progress. Future reports will show progress and year over year performance comparisons.
Because Tiffany & Co. recognizes the importance of data quality, PricewaterhouseCoopers LLP was engaged to provide limited assurance on select metrics set forth in the Corporate Responsibility Report.
For the full Corporate Responsibility report, and to learn about Tiffany & Co.'s commitment to sustainability, please visit www.tiffany.com/sustainability.
Tiffany & Co. operates jewelry stores and manufactures products through its subsidiary corporations. Its principal subsidiary is Tiffany and Company. The Company operates TIFFANY & CO. retail stores and boutiques in the Americas, Asia-Pacific, Japan and Europe and engages in direct selling through Internet, catalogue and business gift operations. For additional information, please visit tiffany.com or call the shareholder information line at 800-TIF-0110.
TIFFANY, TIFFANY & CO., T&CO. and the color Tiffany Blue are trademarks of Tiffany and Company and its affiliates.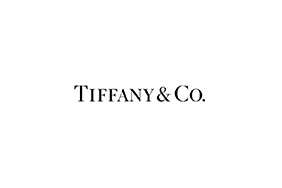 Tiffany & Co.
Tiffany & Co.
Since 1837, Tiffany & Co. has been the world's premier jeweler and America's house of design.
More from Tiffany & Co.