Published 11-03-11
Submitted by Rebuilding Together, Inc.
/PRNewswire-USNewswire/ - Rebuilding Together, the nation's leading nonprofit working to preserve affordable homeownership, announced the hire of Gary Deverman as Chief Development Officer.
Deverman comes to Rebuilding Together from the nonprofit, Building Healthier America, as Chief Executive Officer. Prior to that, Deverman was Executive Vice President of Shaping America's Health at the American Diabetes Association. Deverman brings extensive local, state and national community resource development experience to this position.
As Chief Development Officer, Deverman will oversee all development strategies. Deverman's significant background in strategic nonprofit development will further Rebuilding Together's position as the nation's leading organization working to provide safe and healthy homes for families in need.
"Rebuilding Together is pleased to announce the hiring of Gary Deverman," said President and CEO of Rebuilding Together, Gary A. Officer. "Gary's expertise and impressive record of success will allow us to continue building on the growth and performance of our organization."
Gary is a graduate of University of Illinois in economics with graduate work in adult education.
About Rebuilding Together
About Rebuilding Together Rebuilding Together is the nation's leading nonprofit organization working to preserve affordable homeownership and revitalize neighborhoods by providing extensive rehabilitation and modification services to those in need at no cost to those served. With the help of everyday citizen volunteers, skilled tradespeople, the support of local business and major corporate partners, Rebuilding Together affiliates in America's largest cities and smallest towns make life considerably better for thousands of low-income homeowners and the communities in which they live by completing 10,000 projects per year. Rebuilding Together has programs dedicated to energy efficiency, veterans' housing, aging in place and Gulf Coast reconstruction. For more information, visit www.RebuildingTogether.org. You can also follow Rebuilding Together on Twitter @rebldgtogthr or become a fan on Facebook at Facebook.com/RebuildingTogether.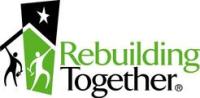 Rebuilding Together, Inc.
Rebuilding Together, Inc.
Rebuilding Together is the nation's largest non-profit organization whose mission is to preserve and revitalize houses and communities to assure that low-income homeowners, particularly those who are elderly and disabled, live in warmth, safety and independence. Through 2005 Rebuilding Together has rehabilitated over 96,120 houses, utilizing 2.5 million volunteers for a market value of $905 million.
More from Rebuilding Together, Inc.