Published 10-24-11
Submitted by Aflac Incorporated
/PRNewswire/ - Aflac, the number one provider of supplemental insurance in the United States, announced today that the company has been named to the 2011/2012 Dow Jones Sustainability Index (DJSI) North America list. This is the first time that Aflac has appeared on the prestigious list, which was first calculated in 2005.
Aflac scored above the industry average for Environmental Footprint, Codes of Conduct, Corporate Governance, Brand Management, Corporate Citizenship & Philanthropy, Labor Practices Indicators and Stakeholder Engagement. This is the first time Aflac has participated in the DJSI survey, and is one of only three U.S. insurers to appear on the North America list.
"We are very pleased that DJSI has acknowledged Aflac as a sustainability leader," Aflac Vice President of Facilities and Green Committee Chairman Alfred Blackmar said. "Sustainability is a challenge for any company, but when it comes to the well-being of those we serve, the planet we live on, and corporate governance, Aflac is resolute in the pursuit of excellence on behalf of our shareholders, customers and our community."
The DJSI index represents the top 20% of the largest 600 North American companies in the Dow Jones Global Total Stock Market Index based on long-term economic, environmental and social criteria. The underlying research methodology accounts for general as well as industry-specific sustainability trends and evaluates corporations based on a variety of criteria.
"Aflac has raised and donated more than $67 million for treatment and research of childhood cancer, so we take great pride in our robust corporate citizenship and philanthropy programs," said Buffy Swinehart, Aflac's manager of Cause Marketing and Philanthropy. "We are delighted to be recognized by the DJSI -- the gold standard for corporate sustainability -- as a leader in the insurance industry for citizenship and philanthropy in our first time participating in the survey."
In addition to raising funds for childhood cancer, Aflac has incorporated its iconic corporate symbol, the Aflac Duck, into all facets of its brand management, including philanthropy. Since 2001, the company has partnered with Macy's Department Stores to produce and sell an annual Aflac Holiday Duck, with all of the proceeds going to children's hospitals across the country. To date, Aflac has sold hundreds of thousands of the Holiday Duck, raising nearly $3 million.
ABOUT AFLAC
When a policyholder gets sick or hurt, Aflac pays cash benefits fast. For more than 55 years, Aflac insurance policies have helped provide a safety net and given policyholders the opportunity to focus on recovery, not financial stress. In the United States, Aflac is the number one provider of guaranteed-renewable insurance. In Japan, Aflac is the number one life insurance company in terms of individual policies in force. Aflac insurance products provide protection to more than 50 million people worldwide. For five consecutive years, Aflac has been recognized by Ethisphere magazine as one of the World's Most Ethical Companies and by Forbes magazine as one of America's Best-Managed Companies in the Insurance category. In 2011, Fortune magazine recognized Aflac as one of the 100 Best Companies to Work For in America for the 13th consecutive year. Also, Fortune magazine included Aflac on its list of Most Admired Companies for the 10th time in 2011. Aflac Incorporated is a Fortune 500 company listed on the New York Stock Exchange under the symbol AFL. To find out more about Aflac, visit aflac.com or aflacenespanol.com.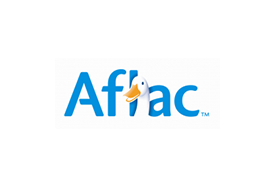 Aflac Incorporated
Aflac Incorporated
Aflac is a Fortune 500 company, providing financial protection to more than 50 million people worldwide. When a policyholder or insured gets sick or hurt, Aflac pays cash benefits fairly, promptly and directly to the insured. For more than six decades, Aflac voluntary insurance policies have given policyholders the opportunity to focus on recovery, not financial stress.
More from Aflac Incorporated