Published 10-17-11
Submitted by Avon Products, Inc.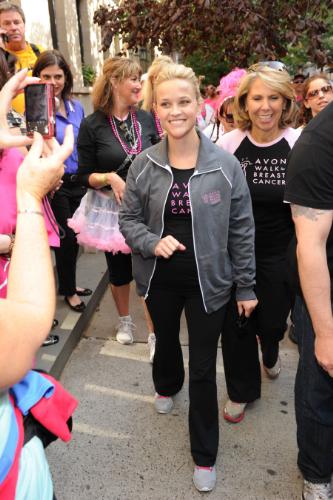 Reese Witherspoon at the Avon Walk
for Breast Cancer in New York City.
(PRNewsFoto/Avon Foundation for Women)
/PRNewswire/ - Today in New York, Avon Foundation for Women Honorary Chairperson Reese Witherspoon recognized Breast Cancer Awareness Month at the 2011 Global Breast Cancer Congress – where she launched a new Avon Foundation for Women-funded global breast cancer scholarship program – and at the Avon Walk for Breast Cancer – where she presented more than $9.1 million in grants to New York-area breast cancer programs.
At the closing session of the 2011 Breast Cancer Global Congress, Witherspoon announced the Avon Global Breast Cancer Clinical Scholars Program, which will fund scholarships for breast cancer specialists from outside the United States to receive advanced training at leading U.S. breast cancer centers. The Congress, a partnership between the Avon Foundation for Women and the U.S. Department of State, began on October 12 in Washington, DC, and convened nearly 150 participants from 57 countries who are global leaders in breast cancer research, detection, treatment and advocacy to discuss the latest trends in breast cancer incidence and mortality, screening, prevention and treatment.
"Just as you are all here to gain new knowledge about improved methods to fight breast cancer around the world, the Avon Global Breast Cancer Clinical Scholars will have a once in a lifetime global opportunity to share scientific knowledge about treating breast cancer," Witherspoon told the congressional delegates. "The scholars will learn from the very best doctors in the United States and will return home with advanced skills and new information that will improve both the treatment and care of women facing breast cancer in their countries."
Beginning in 2012, the Avon Global Scholars program will bring up to 50 outstanding doctors to the United States for an intensive 4-8 week training program and preceptorship at one of 12 Avon Foundation-funded breast cancer centers, including Avon Breast Cancer Centers of Excellence at Columbia University-NY Presbyterian Hospital, Johns Hopkins University, Northwestern University, Emory University and University of California San Francisco – San Francisco General Hospital. Areas of study will include breast cancer surgery, pathology, breast imaging (radiology), medical oncology, clinical trial design and community/public health. Submission of proposals and application forms for the Global Scholars Program will be accepted beginning November 1, 2011 at www.avonfoundation.org.
Following the announcement, Witherspoon walked along the Avon Walk route, ending at Pier 84 where she met with breast cancer survivors who had just completed the 39.3-mile, weekend-long fund-raising event. Then Witherspoon joined 3,500 Avon Walk participants, and thousands of their friends and families, at the event's closing ceremony.
The Avon Walk New York raised more than $8.4 million to advance access to care and finding a cure for breast cancer, which is added to the more than $422 million raised by the Avon Walks since 2003. The Walk attracted 3,500 participants from 42 states, Washington, D.C., and six countries -- including Bermuda, Canada, Cayman Islands, Denmark and Switzerland -- along with 430 men and 444 breast cancer survivors. To ensure the funds raised immediately benefit the community, Witherspoon presented more than $9.1 million in grants to ten New York-area breast cancer organizations; more grants are slated to be awarded throughout the year to breast cancer programs nationwide. More details on the Avon Walk New York and a full list of beneficiaries is available at www.avonwalk.org/press.
"I'm absolutely amazed at what you all just did," Witherspoon told the cheering crowd. "Walking all those miles, raising all that money and sleeping in those cool pink tents!  All of you came here this weekend to make sure there are more survivors in our world, and the money you raised and the awareness you spread will help save lives."
Since its launch in 2003, the Avon Walk for Breast Cancer series has raised more than $422 million through the dedication of 163,000 participating women and men from across the country, including thousands of Avon employees and Sales Representatives. The Avon Walk New York is the eighth event in 2011; the last Avon Walk of the season takes place next weekend in Charlotte, NC (October 22-23). Registration is open for the nine 2012 Avon Walks for Breast Cancer season at www.avonwalk.org.
To view the multimedia assets associated with this release, please click: http://www.multivu.com/mnr/46209-reese-witherspoon-announces-avon-global-breast-cancer-scholars-program.
About the Avon Foundation for Women
The Avon Foundation for Women, the world's largest corporate-affiliated philanthropy focused on issues that matter most to women, was founded in 1955 to improve the lives of women. Through 2010, Avon global philanthropy has donated more than $800 million in more than 50 countries for causes most important to women. Today, Avon philanthropy focuses its funding on breast cancer research and access to care through the Avon Breast Cancer Crusade, which has donated more than $700 million around the world, and efforts to reduce domestic and gender violence through its Speak Out Against Domestic Violence program. Avon also responds generously to provide support for relief and recovery efforts in times of major natural disasters and emergencies.

Avon Products, Inc.
Avon Products, Inc.
Avon Products, Inc. recognized the beauty of "corporate responsibility" nearly a century before the term became part of the cultural lexicon. From the very beginning, in 1886, forward-thinking Avon founder David H. McConnell committed his company "to meet fully the obligations of corporate citizenship by contributing to the well-being of society and the environment in which it functions" - words that still guide the company more than 125 years later.
Avon is committed to the mission to "do well by doing good," managing its business enterprise to the highest standards while leveraging its unique capacity to mobilize and engage people to be agents of change in their lives, communities and the world.
Avon's Corporate Responsibility reflects the three pillars of Avon's corporate mission and drives the focus of the company's corporate responsibility efforts and achievements:
More from Avon Products, Inc.