Published 10-13-11
Submitted by 3BL CSRwire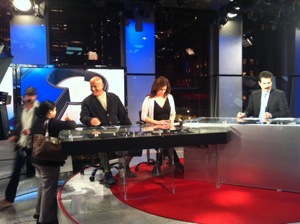 (Left) Joe Sibilia, CSRwire CEO, debates 'Occupy Wall Street' with (right) John Stossel of the FOX Business Network along with (center) Erica Payne from the Agenda Project on 'Stossel'.
'Occupy Wall Street: Who Are They And What Do They Want?' was a lead topic on CSRwire Talkback last week, and the conversation continues this week with CSRwire CEO Joe Sibilia taking the stage with John Stossel and Erica Payne from the Agenda Project for Stossel's namesake program on FOX.
The show to air Thursday, October 13th, will address the current state of Occupy Wall Street: Why are the protestors angry and what is the role of business?
Addressing CSR and 'Occupy', Sibilia says, "A corporation has to be designed for the common good. Business has the innovation and the capacity to solve social and environmental problems. Business can be a solution, not a problem to what's happening to the quality of life."
As "The 99%" continues to draw the lines between Wall Street and the economic and environmental crisis the nation faces, socially responsible capitalism may well be the way forward.
Supported by Payne, Sibilia added, "The Occupy Wall Street protests are a reflection of the deeply-rooted frustration felt by people across the country and the world. It is also a reflection of the ethos of corporate social responsibility, which we have been a part of for the last 25 years."
Stay tuned for more on 'Stossel' airing Thursday, October 13th at 10 p.m. EST.
Stossel's "Occupy Wall Street" program will air on the FOX Business Network Thursday, October 13th at 10 p.m. EST. 'Stossel' re-airs Saturdays and Sundays at 9 p.m. and midnight EST.
About John Stossel
John Stossel joined FOX Business and FOX News in October 2009. His show, 'Stossel', airs on the FOX Business Network on Thursdays at 10 p.m. EST. Re-airing on Saturdays and Sundays at 9 p.m. and midnight EST.
He is The New York Times best-selling author of Give Me A Break and Myths, Lies and Downright Stupidity. His "John Stossel's Take" commentaries take a skeptical look at a wide array of issues, such as education, the economy, parenting and more.
About Joe Sibilia
Joe Sibilia is CEO of CSRwire and co-author of Street Smart Sustainability: The Entrepreneur's Guide to Profitably Greening Your Organization's DNA.
Joe is available for interviews and speaking engagements. To discuss scheduling, contact Natalie Thomas, below.
About CSRwire
CSRwire is the leading global source of corporate social responsibility (CSR) and sustainability news. Founded in 1999 to advance the movement towards a more economically-just and environmentally-sustainable society and away from single bottom line capitalism, CSRwire has paved the way for new standards of corporate citizenship, earning the international respect of thought leaders, business leaders, academics, philanthropists, activists and the media community. Follow CSRwire on CSRwire.com, Facebook, Linkedin and Twitter.
Editor's Note: View the October 13th program here.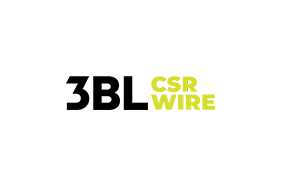 3BL CSRwire
3BL CSRwire
Respected and relied on by journalists, bloggers, business leaders and academics around the world, 3BL CSRwire is a dedicated, real-time source for major news and updates from within the worlds of ESG, corporate social responsibility and sustainability.
3BL CSRwire offers a-la-carte press release distribution to a global network of influential stakeholders and mainstream audiences—perfect for organizations just getting started in CSR or for those looking to get the most out of their corporate communications.
More from 3BL CSRwire