Published 10-12-11
Submitted by Points of Light
Twenty-five-year-old Illinois pre-kindergarten teacher Andrea de Avila's BIG idea to transform her school's courtyard roof into a garden and play area for an early childhood program was awarded the $25,000 grand prize grant from the BE BIG Fund as part of the Scholastic Clifford BE BIG In Your Community Contest. Andrea's vision will come to life with the support of Chicago Cares, a HandsOn Network affiliate. Ten additional contest entries were selected as first place prize winners and 19 second places winners will be awarded grants to help implement their BE BIG ideas to improve their communities with the help HandsOn Network, the volunteer activation division of Points of Light Institute.
The national "BE BIG in Your Community Contest" is a signature part of Scholastic's ongoing Clifford The Big Red Dog BE BIG! Campaign sponsored by American Family Insurance. The contest invited participants to submit an idea that demonstrates Clifford's Big Ideas (Share, Help Others, Be Kind, Be Responsible, Play Fair, Be a Good Friend, Believe in Yourself, Have Respect, Work Together and Be Truthful) for a chance to win a community grant to be used to implement the winning proposals. Since its inception in 2009, the contest has generated more than 2,500 entries from more than 60,000 children, parents, teachers and community leaders ranging in age from 2 to 70. Scholastic Media is a division of Scholastic Inc., a global children's publishing, education and media company.
"We are excited to celebrate young, influential change agents like Andrea," said Michelle Nunn, CEO of Points of Light Institute. "By joining forces with Scholastic, we hope to inspire and engage young people and families around the world to make service and civic engagement a priority in their everyday lives." 
De Avila says she was inspired to apply for a BE BIG grant in order to provide a safe space for outdoor play and learning for her school's students. By encouraging participation in the creation and maintenance of an eco-friendly garden, de Avila's BIG idea will also foster an appreciation for caring for the environment and community. The project will depend on the support of local volunteers, who will assist in developing the play area and planting the garden.
"Andrea and her fellow teachers saw in the BE BIG Contest an opportunity to serve her school and its students," said Deborah Forte, president of Scholastic Media and executive vice president of Scholastic Inc. "Clifford's BIG ideas are inspiring people of all ages; Scholastic is delighted that so many people are committing to improve the lives of others in innovative ways, while taking pride in service to their communities."
The 10 additional first place prize winning ideas will each be awarded a $2,500 community grant. Nineteen second place prize winning ideas – one from each state in American Family Insurance's 19-state business territory – will also receive grants totaling $25,000. The 10 first place prize winners are:
The winning BIG ideas were selected by a panel of judges based on four criteria: feasibility, creativity, sustainability and impact. A complete list of finalists, and profiles about their BIG ideas, can be found at www.scholastic.com/cliffordbebig.
About Points of Light Institute
Points of Light Institute inspires, equips and mobilizes people to take action that changes the world. The Institute has a global focus to redefine volunteerism and civic engagement for the 21st century, putting people at the center of community problem solving. We are organized to innovate, incubate and activate new ideas that help people act upon their power to make a difference. Points of Light Institute operates three divisions that share our mission: HandsOn Network, generationOn and AmeriCorps Alums. For more information, visit www.PointsofLight.org.
About HandsOn Network
The volunteer-activation arm of Points of Light Institute, Hands on Network includes 250 community action centers that deliver 30 million hours of volunteer service each year and extend to 16 countries around the world. These centers focus on helping people plug into volunteer opportunities in their local communities, partnering with more than 70,000 corporate, faith and nonprofit organizations to manage volunteer resources, and developing the leadership capacity of volunteers. Annually, the network delivers approximately 30 million hours of volunteer service valued at $626 million. For more information, please visit www.HandsOnNetwork.org.
About Scholastic
Scholastic Corporation (NASDAQ: SCHL) is the world's largest publisher and distributor of children's books and a leader in educational technology and related services and children's media. Scholastic creates quality books, print and technology-based learning materials and programs, magazines, multi-media and other products that help children learn both at school and at home. The Company distributes its products and services worldwide through a variety of channels, including school-based book clubs and book fairs, retail stores, schools, libraries, on-air, and online at www.scholastic.com.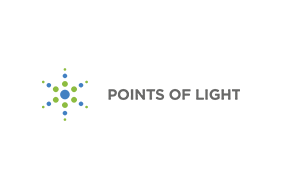 Points of Light
Points of Light
Points of Light is a nonpartisan, global nonprofit organization that inspires, equips and mobilizes millions of people to take action that changes the world. We envision a world in which every individual discovers the power to make a difference, creating healthy communities in vibrant, participatory societies. Through 177 affiliates across 38 countries, and in partnership with thousands of nonprofits and corporations, Points of Light engages 5 million volunteers in 16 million hours of service each year. We bring the power of people to bear where it's needed most.
More from Points of Light