Published 10-10-11
Submitted by B Lab
Governor Brown signed Assembly Bill 361 today to spur the creation of high quality jobs in California through benefit corporations. The legislation, introduced by Assembly member Jared Huffman (D-San Rafael), creates a new class of corporation in California called benefit corporations that are legally required to pursue the creation of a material positive impact on society and the environment, while meeting higher standards of accountability and transparency. Current law requires corporations to prioritize the financial interests of shareholder over the interests of workers, communities, and the environment.
The California legislation is unique, providing the strongest consumer and investor protection through the most rigorous transparency provisions among the states that have so far enacted benefit corporation legislation. California, the largest economy in the U.S. and considered the home of entrepreneurial activity using sustainability as a driver of innovation, becomes the biggest state, and the sixth overall, to pass benefit corporation legislation. 
Benefit Corporations are identical to existing California corporations except that a benefit corporation is required to: 1) have a corporate purpose to create a material positive impact on society and the environment; 2) redefine fiduciary duty to require consideration of the interests of employees, community and the environment when making decision; and 3) publicly report annually on its overall social and environmental performance using a comprehensive, credible, independent, and transparent third party standard.
New Jersey, Virginia, and Hawaii passed similar legislation earlier this year, joining Vermont and Maryland who did so in spring 2010. Benefit corporation legislation is on the Governor's desk in New York and has also been introduced in Michigan, Pennsylvania, and North Carolina. Legislation has enjoyed strong bi-partisan support in every state.
"Entrepreneurs, investors and consumers are calling for this type of legislation," said Assembly member Huffman. "They believe this is the start of something transformational. AB 361 rolls out the welcome mat for businesses and investors ready to create high quality jobs in California and make economic and social contributions that will improve the quality of life in communities across to our state for years to come."
The California bill had significant business support (full list below), including that of more than 200 individual California businesses, including Patagonia and RSF Social Finance, 12 business associations, including the Silicon Valley Leadership Group and the U.S. Green Building Council, standards organizations like GreenSeal, and more than 3,000 California citizens, all interested in creating better choices for the growing number of entrepreneurs and investors who seek to create businesses that create both social and shareholder value.
"California is the seat of innovation; now California entrepreneurs are free to innovate to create value for society, not just shareholders," said Jay Coen Gilbert, co-founder of B Lab, one of the sponsors of the legislation. "The enactment of benefit corporation law will give entrepreneurs the legal protection they need to maintain their mission and attract needed capital to grow."
"This is an important and much needed step forward to grow our economy and create more jobs which can also provide greater social and environmental benefit," says David Levine, co-founder of the American Sustainable Business Council who members organizations represent over 100,000 businesses.
The bill was sponsored by the American Sustainable Business Council, New Voice of Business, and B Lab; and the effort to pass AB 361 was led by a legal working group co-chaired by John Montgomery from Montgomery & Hansen LLP, Donald Simon from Wendel Rosen Black & Dean LLP, and Jonathan Storper from Hanson Bridgett LLP.
B Lab: is a nonprofit organization dedicated to using the power of business to solve social and environmental problems. B Lab drives systemic change through three interrelated initiatives: 1) building a community of Certified B Corporations to make it easier for all of us to tell the difference between "good companies" and just good marketing; 2) accelerating the growth of the impact investing asset class through use of B Lab's GIIRS impact rating system by institutional investors; and 3) promoting supportive public policies, including creation of a new corporate form and tax, procurement, and investment incentives for sustainable business. For more information, check www.bcorporation.net.
Assembly member Jared Huffman (D-San Rafael): represents the 6th Assembly District, which encompasses southern Sonoma County and all of Marin County. First elected in 2006, Huffman chairs the Assembly Water, Parks and Wildlife Committee and also serves as Co-Chair of the Legislative Environmental Caucus.
American Sustainable Business Council: is a growing coalition of business networks and businesses committed to advancing a new vision, framework and policies to support a vibrant, equitable and sustainable economy. The Council brings the business perspective, experience and strength to stimulate our economy, benefit our communities, and preserve our environment. Today, the organizations that have joined in this partnership represent over 65,000 businesses and social enterprises and more than 150,000 entrepreneurs, owners, executives, investors and business professionals and other individuals. www.asbcouncil.org
New Voice of Business: is a non-profit organization that promotes economic, social and environmental sustainability in the United States. Its mission is to inform, engage, and mobilize an influential network of business people – a unified, new voice of business to advocate for a sustainable economy and encourage triple bottom line business practices. New Voice advocates for policy change that makes it easier and more profitable for business to operate sustainably. For more information please visit: www.newvoiceofbusiness.org.
Supporters
Business Organizations
American Sustainable Business Council; Bay Area Council; Build it Green; California Association of Micro Enterprise Opportunity; Green America; Green Chamber of Commerce; New Voice of Business; Silicon Valley Leadership Group; Social Venture Network; Small Business California; US Green Building Council – California Advocacy Committee
Individual Businesses
Abacus Wealth Partners; Academies for Social Entrepreneurship; Accountable Develop; Aquamantra; AGSJ; Alan Briskin Management Consultants; Alter Eco Fair Trade; American Lung Association in California; AnewAmerica Community Corporation; Bay Point Benefits; Beacon Management Consulting; Beam Inc.; Beck with Associates; Bike station/Mobis Transportation Alternatives; Birkenstock; Blitz Bazaar; Blueprint Research & Design; BP Stewart & Co., Contracting; Bridge the Gap Consulting Inc.; Brion & Associates; CAMEO; Canal Alliance; Cannourish; CAP Global; Caratnet; Care2; Catalyst Coaching & Training; Center for Dynamic Governance; Chapman University; Chosen Futures; Clean Fund LLC; CleanFish; Common Sense Counseling; Communications Inc.; CORE Foods; Creative Management; Dana Smirin; Detour Agency; Dharma Merchant Services; Direct Dental; DNAGlobalNetwork.com; Dragonfly Designs; Dzambuling Imports; Elemental Herbs; Ellen Weinreb Sustainability Recruiting; Emerge; Enlightened Brand Incorporated; Environmental & Public Health Consulting; Equinox Landscape; Eurous Global Executive Leadership; Evergreen Lodge; Everson Financial; Exygy Web & Mobile; Fox Acupuncture; Give Something Back Business Products; Global Alliance for Incinerator Alternatives (GAIA); GoodGuide, Inc.; Great Place to Work Institute; Green Age 360; Green Design Systems; Green Retirement Plans, Inc.; GREENLAB CREATIVE; Guayakí Sustainable Rainforest Products; Hanson Bridgett LLP; Harrington Investments Inc.; Heller Consulting; Herriford Consulting; IdeaEncore Network; Image Integration; Imprint Capital; Indigenous Designs Corporation; Inquiring Systems, Inc.; Inspiring Results; Institute for Social Entrepreneurship; Integral Partnerships LLC; Integrative Psychophysical Therapy; Johnson & Associates; Jungwirth, Blackburn and Associates; KC Building; KINeSYS Inc.; Lake Royal Apartments; Latham Film LLC; Leadership & Strategy for Sustainable Systems; Living City Partners; LO*OP Center, Inc.; Longsplice Investments; Mal Warwick Associates| Donordigital; Mark Leibowitz Photography, Inc.; Marti Spiegelman MFA; Mendocino Wine Group, LLC (dba Parducci Wine Cellar, Paul Dolan Vineyards, etc.); Meridian University; Merlone Geier Partners; Method Home Products Inc.; Mindful Investors; Minerva Consulting; MJ Everson Financial; Nancy Southern & Associates; Natural Logic, Inc.; Nest Collective; New Avenue; New Foundry Ventures; New Harvest Capital; New Leaf Paper; New Paradigm Digest; New Resource Bank; NZ Consulting, Conscious Business; Opticos Design, Inc.; Oxford Leadership Academy USA; Partnership Capital Growth Advisors; Patagonia; Planet Cents; Planning for Sustainable Communities; Presidio Graduate School; Progressive Wealth Management; Project: Liftoff; Public Works, LLC; Quantum Intech, Inc.; Raphael Medicine & Therapies; Raymond H Katz, DMD; ReliaTech; Renesch Advisory Services; REthink Development; Revolution Foods; Rimon Law Group; RippleQ; RSF Social Finance; SABEResPODER; Salesforce.com Foundation; Sara Ellis Conant Coaching & Consulting; Sergio Lub Handcrafted Jewelry, Inc.; ShareExchange; Silicon Valley Innovation Associates; Solar Works; Sparked; Spirit Rising Productions; Sun Light & Power; Sustainable Enterprise Conference; Sustainable World Coalition; SVT Group; Swanton Berry Farm; TGNA; The Ballroom; The Clarity Project; The Green Riders; The Redwood Grove Group; The Rosebud Agency; The Sanders Partnership; The Terry Mandel Collaborative; The Vianova Group; TomZanders.com LLC; Tracking the Wisdom; Traditional Medicinals; Transportation Power, Inc.; Transpower; Turner Real Estate; VeeV Spirits; Veritable Vegetable; Wendel Rosen; Wespay; West Company; WildEarth Guardians; Wise Solutions, Inc.; WorkLore; World Centric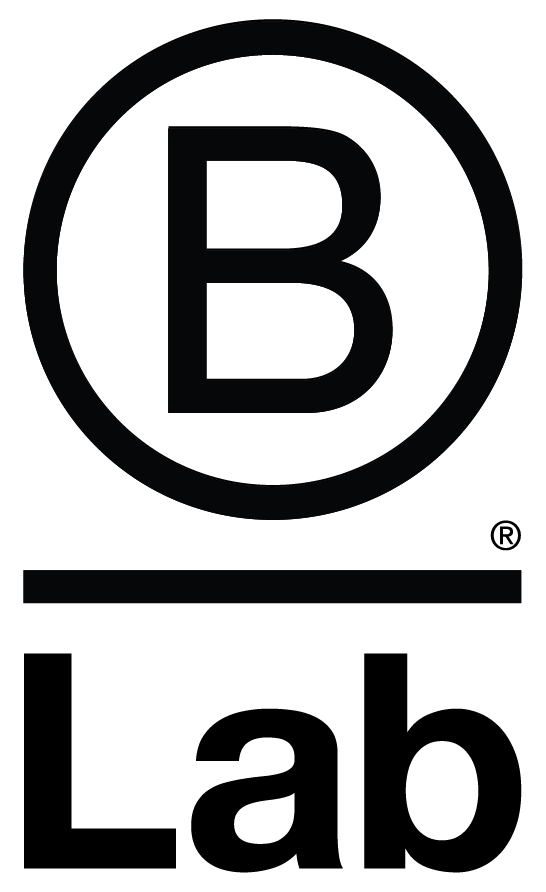 B Lab
B Lab
B Lab is a nonprofit organization that serves a global movement to redefine success in business. It's vision is that one day all companies will compete not only to be the best in the world, but best for the world.
B Lab drives this systemic change through a number of interrelated initiatives: 1) building a community of Certified B Corporations who lead this movement and make it easier to tell the difference between "good companies" and good marketing; 2) passing benefit corporation legislation to create a new kind of corporation legally required to create value for society, not just shareholders; 3) helping investors invest for impact through use of the B Analytics data platform; and 4) helping businesses measure, compare and improve their social and environmental performance through use of the B Impact Assessment as a free powerful educational tool.
More from B Lab