Published 09-29-11
Submitted by CA Technologies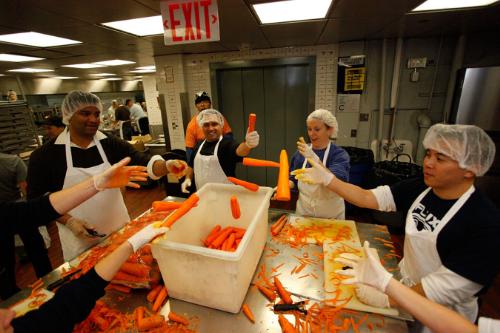 CA Technologies employees join CA Together in Action program to support employee volunteer month. (PRNewsFoto/CA Technologies, Chris Vultaggio)
/PRNewswire/ - CA Technologies (NASDAQ: CA) today announced the kickoff of CA Together in Action, its annual community affairs program promoting volunteerism to its employees across the globe.
For the sixth year in a row, employees will join together worldwide during the month of October to support a wide range of nonprofit projects, from cleaning up parks and beaches and mentoring children to building affordable housing and feeding the hungry.
"Philanthropy and volunteerism have always been a key part of who we are at CA Technologies, and CA Together in Action underscores our commitment to making a difference in the communities where we work and live," said Bill Hughes, Chief Communications Officer. "Participation continues to grow each year and so does the impact we have as our employees roll up their sleeves and give their time. It is gratifying to see their enthusiasm and commitment as we kickoff this year's program worldwide."
Since its inception in 2005, CA Together in Action has provided employees with the opportunity to take time from their business day to volunteer in a variety of activities that benefit their local communities.
Last year, employees set a program record with over 1,600 volunteers participating in more than 90 community projects around the world, representing over 5,800 volunteer hours given to help local organizations. Cumulatively, CA Technologies employees have donated more than 25,000 hours of volunteer service through the program.
"We are thrilled to welcome back another enthusiastic group of CA Technologies employees to assist with the beautification of Western Pennsylvania Conservancy Community Gardens," said Lynn McGuire-Olzak, volunteer coordinator at the Western Pennsylvania Conservancy. "Since 2008, CA Technologies volunteers have supported our mission of protecting and restoring our natural surroundings, and we are excited to be a part of CA Together in Action."
"Since we started our program over 25 years ago, we have experienced many situations that have enlightened our lives and above all, the lives of dozens of families in need," says Laura Barboza, president for Bolha de Sabao Children's School in Sao Paulo, Brazil. "This is a day-to-day challenge, a delicate effort that involves the sincere dedication of many people. But we are not miracle makers and we need support and help from others. We are honored to be apart of CA Together in Action, and the joy they bring to our children is the best reward we can give to all the volunteers."
This year, CA Technologies anticipates an even higher level of involvement across the globe. Some of the organizations CA Together in Action supports include:
International:
Brazil – Bolha de Sabao Children's School
England – Lavender Court, Mencap Horsemoor Centre, Ragston Road Allotments, Stabmonk Park Millennium Green and YMCA
Germany – Global Technology Preparatory School
India – Dr. Reddy's Foundation, Goonj, ITMR Blood Bank, Missionaries of Charity and Youth for Seva
Japan – Sakura-gawa
Mexico – San Miguel de Allende
Puerto Rico – Hogar Cuna San Cristobal
Singapore – MILK/Beyond Social Services
United States:
California – Golden Gate National Parks Conservancy
Connecticut – Charities of Hope Florida – Lowry Park Zoo (Tampa)
Georgia – Atlanta Community Food Bank
Illinois – Feed My Starving Children, Greater Chicago Food Depository, Habitat for Humanity of Dupage County and Impact 4 Good
Massachusetts – Audubon's Drumlin Farm Sanctuary and Boys & Girls Clubs of MetroWest
Michigan – Gleaners Community Food Bank
New Jersey – Friends of Princeton Nursery Lands Mapleton Preserve/D&R Canal State Park
New York – Cohen Children's Medical Center of NY, EAC Inc., Global Technology Preparatory School, God's Love We Deliver, Grenville Baker Boys & Girls Club, Habitat for Humanity of Suffolk County, Hospital for Special Surgery, Island Harvest, Long Island Blood Services, Robert Moses State Park and The Courtney Sipes Memorial Foundation
North Carolina – Food bank of Central & Eastern North Carolina (Cary)
Pennsylvania – Western Pennsylvania Conservancy
Texas – Austin Parks Foundation and North Texas Food Bank (Dallas)
Virginia – Walker Nature Education Center
Washington – Bellevue Botanical Garden
About CA Together
CA Technologies is fully committed to advancing social, environmental, and economic sustainability. Our Community Affairs programs are key to our efforts, helping to make the most of talent and potential regardless of societal disadvantages. CA Together, our global community affairs program, is driven by a core philanthropic focus of improving the lives of underserved children and communities around the world. We do this by supporting programs in the areas of education, technology, health and community and the advancement of women in IT.
About CA Technologies
CA Technologies (NASDAQ: CA) is an IT management software and solutions company with expertise across all IT environments – from Mainframe and distributed, to virtual and cloud. CA Technologies manages and secures IT environments and enables customers to deliver more flexible IT services. CA Technologies innovative products and services provide the insight and control essential for IT organizations to power business agility. The majority of the Global Fortune 500 relies on CA Technologies to manage evolving IT ecosystems. For additional information, visit www.ca.com.
Follow CA Technologies
Legal Notices
Copyright © 2010 CA. All Rights Reserved. One CA Plaza, Islandia, N.Y. 11749. All other trademarks, trade names, service marks, and logos referenced herein belong to their respective companies.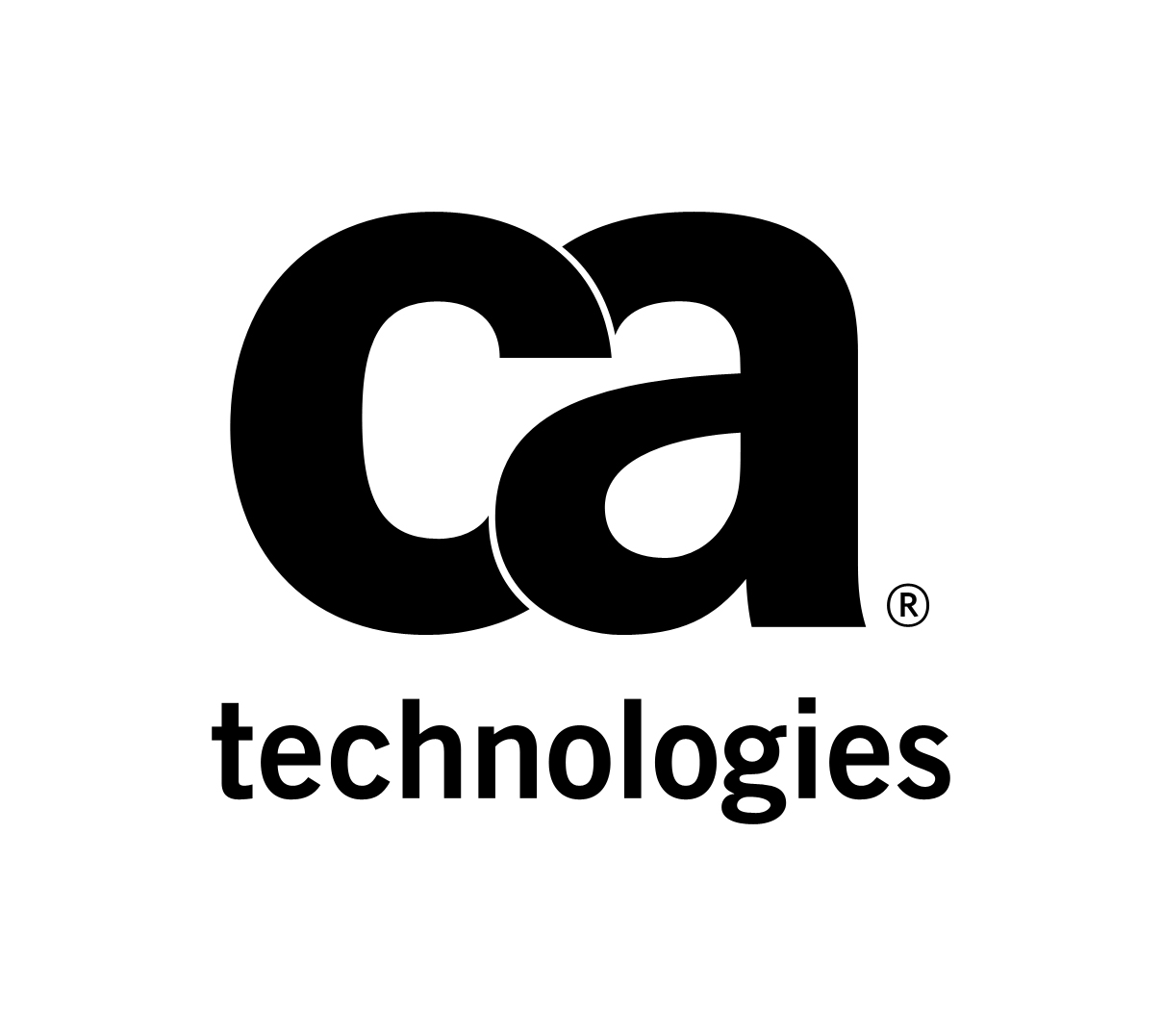 CA Technologies
CA Technologies
CA Technologies (NASDAQ: CA) provides IT management solutions that help customers manage and secure complex IT environments to support agile business services. Organizations leverage CA Technologies software and SaaS solutions to accelerate innovation, transform infrastructure and secure data and identities, from the data center to the cloud. Learn more about CA Technologies at ca.com.
About CA Together: CA Technologies is a global corporation with a local commitment. The company works to improve the quality of life in communities where its employees live and work worldwide and is fully committed to advancing social, environmental and economic sustainability. CA Together, the company's Corporate Social Responsibility program, is driven by the core philanthropic focus of improving the lives of underserved children and communities around the world. CA Technologies does this by supporting organizations, programs and initiatives that enrich the lives and well-being of others with a primary focus on Science, Technology, Engineering and Math (STEM) education. CA Together activities encompass employee volunteerism and matching gifts; in-kind donations of CA Technologies products and services; and wide-ranging partnerships and philanthropic support to community organizations worldwide.
More from CA Technologies