Published 09-22-11
Submitted by Ceres
Download the report (http://www.ceres.org/resources/reports/proxy-voting-for-sustainability/view)
Ceres today announced the release of Proxy Voting for Sustainability, a resource guide to help global investors respond to environmental, social and governance, or "ESG," issues that are increasingly the subject of shareholder resolutions filed with U.S. publicly held corporations.
The first-of-its-kind report lays out four concise sets of principles on governance, social issues, general sustainability and environmental performance to guide investors' voting on specific resolutions addressing these topics.
The report provides sample language for investors who are considering new proxy voting guideline language to address particular sustainability issues, including climate change, water availability, ESG-driven executive compensation and board of director governance. It includes more than 75 specific best practice examples of proxy guidelines compiled from leading public pension funds, asset managers, socially responsible investment funds, labor unions and foundations.
"This report will help investors track the vast array of sustainability-focused shareholder resolutions that are filed each year," said Jack Ehnes, CEO of the California State Teachers Retirement System (CalSTRS), the country's second largest public pension fund. "By providing best practices and a set of guiding principles, it will help investors vote their proxies consistently and responsibly on issues impacting the long-term financial health of companies."
"Investors can no longer afford to ignore or abstain from taking a position on increasing environmental and social challenges companies are facing, including climate change, water scarcity and human rights," said Mindy Lubber, president of Ceres and director of the $10 trillion Investor Network on Climate Risk. "Shareholders have a fiduciary responsibility to vote their proxies on these issues, but in too many instances it isn't happening due to weak voting guidelines."
Sustainability-focused shareholder resolutions have been proliferating in recent years, according to the Institutional Shareholder Services (ISS), which tracked more than 720 resolutions filed on environmental and social issues with U.S. corporations over the past two years. Average support has also been steadily increasing, and reached 20 percent in 2011. [Ceres has tracked a subset of roughly 200 of these proposals specifically related to climate, energy and water concerns over the same time period.]
The report states that "although there has been much progress in support for both governance and sustainability resolutions put forward by shareholders since 2004, the largest asset managers often fail to take advantage of this opportunity to promote key governance and sustainability reforms at large public companies, including the types of reforms that may have averted the recent financial crisis."
Ceres reviewed the proxy voting guidelines of large asset managers in the U.S. and found that many institutions' guidelines are not detailed or comprehensive enough to guide voting on specific governance and sustainability issues.   However, some institutional investors like the Florida and Connecticut state retirement systems, CalSTRS, PaxWorld Management, Calvert, Northern Trust and the AFL-CIO, have developed partial proxy voting guidelines on sustainability-focused resolutions. Among the specific best practice guidelines highlighted in the report's appendix:
Water Availability: Florida's state retirement system will support resolutions seeking disclosure about a company's water supply dependency or preparation of reports pertaining to sustainable water supplies for a company's operations.
Greenhouse Gas Emissions: Connecticut's state retirement system will vote for resolutions requesting company disclosure on greenhouse gas emissions from their operations and products.
Policy Lobbying: Calvert will ordinarily support resolutions asking companies to disclose budgets dedicated to public policy lobbying activities.
Board independence: The AFL-CIO, Florida retirement system and other investors support resolutions seeking stronger composition of independent board members on corporate boards.
"Proxy voting is the sleeping giant of the investment world: an enormously powerful tool if used thoughtfully to shape corporate behavior, but one that most investors overlook," said Julie Fox Gorte, senior vice president for sustainable investing at PaxWorld Management. "This report is an essential tool for investors to harness that giant in service to sustainability."
"Environmental, social and governance factors can affect the risk and return performance of investment portfolios to varying degrees across companies, sectors, regions and asset classes," added Anne Simpson, senior portfolio manager of the California Public Employees' Retirement System (CalPERS), the nation's largest public pension fund. "Proxy voting rights must be diligently exercised as an aspect of fiduciary duty; therefore, calling for the need to have in place robust voting guidelines is paramount."
About Ceres
Ceres leads a national coalition of investors, environmental organizations and other public interest groups working with companies and investors to address sustainability challenges such as global climate change and water scarcity.  Ceres directs the Investor Network on Climate Risk, a network of 100 institutional investors with about $10 trillion in assets. For more information, visit www.ceres.org or www.ceres.org/incr.
Follow Ceres on: Twitter | Facebook | Linkedin | RSS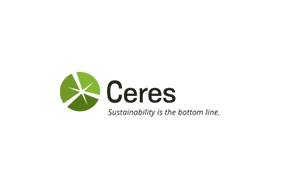 Ceres
Ceres
Ceres is a sustainability nonprofit organization working with the most influential investors and companies to build leadership and drive solutions throughout the economy. Through powerful networks and advocacy, Ceres tackles the world's biggest sustainability challenges, including climate change, water scarcity and pollution, and human rights abuses.
More from Ceres