Published 09-09-11
Submitted by PepsiCo
/PRNewswire/ - PepsiCo, Inc. (NYSE: PEP) today announced its inclusion in the 2011 Dow Jones Sustainability Indexes (DJSI). PepsiCo is ranked as the number one company in the DJSI Food and Beverage Supersector, the only company based in the United States to earn a top ranking in the 19 supersectors assessed. PepsiCo was also named the beverage sector leader for the third consecutive year.
PepsiCo has now been named a member of the Dow Jones Sustainability North America Index six times and the World Index five times. The DJSI is comprised of companies across all industries that outperform their peers in numerous sustainability metrics, including economic, environmental and social criteria such as corporate governance, environmental reporting, corporate citizenship and philanthropy, and talent attraction and retention.
"Great companies are built to succeed today, tomorrow and well into the future," said Indra Nooyi, PepsiCo Chairman and Chief Executive Officer. "Our commitment to balancing excellent operating performance with sustainable business practices is a big reason PepsiCo has become one of the world's top performing food and beverage companies."  
PepsiCo has made major strides in its Performance with Purpose journey with the establishment of goals and commitments across the areas of Human, Environmental and Talent Sustainability. The company's progress against these commitments is discussed at http://www.pepsico.com/annual10/performance/promise-of-pepsico.html. In addition, in-depth reports measuring PepsiCo's global performance in areas such as water, sustainable agriculture, and health and wellness can be found at http://www.pepsico.com/Purpose/Sustainability-Reporting.html.  
Launched in 1999, DJSI is the first global investment index tracking the financial performance of the leading sustainability-driven companies worldwide. The DJSI World Index identifies companies that exemplify leadership in sustainability among the leading 10 percent of the world's top 2,500 companies in the Dow Jones Global Total Stock Market Index in terms of economic, environmental and social criteria. The DJSI North America Index covers the leading 20% in terms of sustainability of the 600 biggest North American companies.
More information on the results of the DJSI 2011 SAM Corporate Sustainability Assessment can be found at http://www.sustainability-indexes.com.
About PepsiCo
PepsiCo offers the world's largest portfolio of billion-dollar food and beverage brands, including 19 different product lines that generate more than $1 billion in annual retail sales each. Our main businesses -- Quaker, Tropicana, Gatorade, Frito-Lay, and Pepsi Cola -- also make hundreds of other enjoyable foods and beverages that are respected household names throughout the world. With net revenues of approximately $60 billion, PepsiCo's people are united by our unique commitment to sustainable growth by investing in a healthier future for people and our planet, which we believe also means a more successful future for PepsiCo. We call this commitment Performance with Purpose: PepsiCo's promise to provide a wide range of foods and beverages for local tastes; to find innovative ways to minimize our impact on the environment, including by conserving energy and water usage, and reducing packaging volume; to provide a great workplace for our associates; and to respect, support, and invest in the local communities where we operate. For more information, please visit www.pepsico.com.
Follow PepsiCo: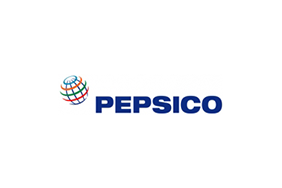 PepsiCo
PepsiCo
PepsiCo products are enjoyed by consumers one billion times a day in more than 200 countries and territories around the world. PepsiCo generated more than $66 billion in net revenue in 2014, driven by a complementary food and beverage portfolio that includes Frito-Lay, Gatorade, Pepsi-Cola, Quaker and Tropicana. PepsiCo's product portfolio includes a wide range of enjoyable foods and beverages, including 22 brands that generate more than $1 billion each in estimated annual retail sales.
At the heart of PepsiCo is Performance with Purpose - our vision to deliver financial performance over the long term by integrating sustainability into its business strategy, leaving a positive imprint on society and the environment. We do this in part by offering a wide range of products; increasing the number of our nutritious foods and beverages; reducing our environmental impacts; and supporting our employees and the communities where we do business; all of which will help position the company for long-term sustainable growth. For more information, visit www.pepsico.com.
More from PepsiCo