Published 09-07-11
Submitted by Ceres
The professional Certificate in Corporate Sustainability, launched this year by the University of New Hampshire and New Hampshire Businesses for Social Responsibility (NHBSR), has announced its agenda and instructor list for the program's three-day Institute, which will occur October 4-6, 2011 at the UNH Campus in Durham. The certificate program is directed toward mid-level and senior professionals seeking to increase knowledge and functional skills in the practices and principles of corporate sustainability. Further information and registration is found at www.sustainabilitycertificate.org.
The Institute focuses on tools, techniques and solutions for implementing environmentally and socially responsible business practices. Topics include Developing a Corporate Sustainability Strategy, Incorporating Environmental Issues into Decision-Making and CSR Reporting.
Kristen Lang, Manager of Corporate Programs at Ceres, will co-instruct Communicating with your Stakeholders with Nelson Barber, associate professor of Marketing at the University of New Hampshire. 
"Ms. Lang's experience working with corporations around the globe helping them more effectively communicate their sustainability strategies and accomplishments will be enormously helpful to our participants," said Alyson Genovese, project coordinator for the Certificate in Corporate Sustainability. "The Certificate in Corporate Sustainability is bringing the best and the brightest in sustainability to offer practical tools and solutions for our participants. We are thrilled to have Kristen involved." 
After completion of the three-day Institute, students will conduct an independent, mentor-supported workplace project. The program offers continuing education credit for professionals. Participants may register at www.sustainabilitycertificate.org - space is limited.
New Hampshire Businesses for Social Responsibility (NHBSR) builds and supports a network of businesses in the state and region committed to adopting socially responsible business practices, recognizing that people, principles and profits are inseparably linked. More information can be found at www.nhbsr.org.
The University of New Hampshire, founded in 1866, is a world-class public research university with the feel of a New England liberal arts college. A land, sea and space-grant university, UNH is the state's flagship public institution, enrolling 11,800 undergraduate and 2,400 graduate students. Home to the oldest endowed sustainability program in U.S. higher education, the UNH Sustainability Academy, UNH is an award-winning leader in integrating sustainability across curriculum, operations, research and engagement. Learn more at www.sustainableunh.unh.edu.
Ceres leads a national coalition of major investors, environmental organizations and other public interest groups working with companies to address sustainability challenges such as global climate change and water scarcity. Its mission is integrating sustainability into day-to-day business practices for the health of the planet and its people. www.ceres.org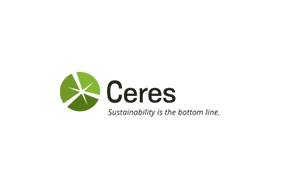 Ceres
Ceres
Ceres is a sustainability nonprofit organization working with the most influential investors and companies to build leadership and drive solutions throughout the economy. Through powerful networks and advocacy, Ceres tackles the world's biggest sustainability challenges, including climate change, water scarcity and pollution, and human rights abuses.
More from Ceres