Published 08-03-11
Submitted by Bioneers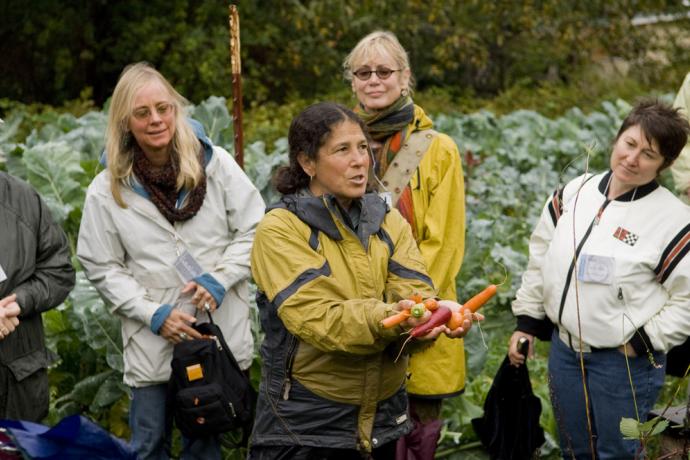 As always, the 2011 Bioneers conference will highlight the growing edges of the global movement to transform our food systems.
One major theme is Food and Education. Keynotes will include Karen Brown, Creative Director of the Center for Ecoliteracy, on "Revolutionizing K-12 Education with Sustainability in Mind," and Anim Steel, Director of National Programs at Boston's famed The Food Project, on "The Real Food Challenge" that's re-directing $1 billion of college food purchases away from industrial agriculture towards local, fair, sustainable and humane sources.
Three one-day intensives will present in-depth learning experiences. The Agricultural Institute of Marin and Marin Agricultural Land Trust will lead an inspiring and insightful field trip to several leading Bay Area farms. The Center for Ecoliteracy will present "Schools and Food: Invitation to a Revolution" about how K-12 schools are developing resources and strategies for improving school meals, supporting wellness and achievement, and understanding culture, health and the environment. The Cultural Conservancy will presents "Native Traditional Ecological Knowledge," a highly interactive day including traditional foods, among other topics.
The Center for Ecoliteracy will lead an interactive session on "Teaching Sustainable Living Through Food" showing how K-12 students can learn about the web of ecological relationships through food. Joined by Kirk Bergstrom of WorldLink's Nourish Project, they will lead an interactive dialogue and showcase inspiring resources for teachers, including the PBS film Nourish: Food + Community and its companion curriculum.
Several programs will address solutions for bringing the next generations into food systems work.
"Growing Growers: The 100,000 New Farmers Challenge" will present the inspiring vanguard of a new generation of young farmers, including Sarita Role Schaffer, co-founder of GrowFood, an NGO that connects new farmers to internships, apprenticeships and hands-on education in the U.S. and 54 other countries; Severine von Tscharner Fleming, farmer and organizer in New York's Hudson Valley, producer of The Greenhorns about new generations of young farmers; and Tyler Webb, Generation Organic farmer from Vermont.
"The Rural + Urban Youth Food Revolution: Growing Soil, Community and a Healthy Future," co-sponsored by Generation Organic, will feature young farmers and urban activists revolutionizing how we eat and think about our relationship to food and the environment in both city and country. It will include Hai Vo, Real Food Challenge student leader and Brower Youth Award winner; Doron Comerchero, founder of Food What?!, and Casey Knapp, Generation Organic farmer from NY.
"Seeding Leaders: Young Leaders for Food Justice" will present dedicated young leaders of the food justice movement working to educate people about healthy food as a human right. They're empowering communities to create food access while mobilizing students to exercise their power to change the system by bringing real food to college campuses. It will feature Nikki Henderson, Executive Director of People's Grocery in Oakland, CA; Yonatan Landau, co-founder of the Cooperative Food Empowerment Directive (CoFed), building sustainable campus food cooperatives; and Hai Vo, Real Food Challenge student leader.
"The Organic Premium: Good For the Body, Good for the Planet" will feature Dr. Elaine Ingham, Chief Scientist for the Rodale Institute on the latest scientific field trials comparing organic and conventional farming systems show that organic agriculture can play an important role in mitigating climate change by capturing atmospheric CO2 and storing it in the soil as carbon.
"Genetic Engineering: The Battle for Safe Food, Public Health and Environmental Sovereignty" will host the nation's top two leaders on genetically engineered crops, Andrew Kimbrell, Executive Director of the Center for Food safety, who has taken the USDA to the supreme Court to force it to uphold even its own weak standards; and Jeffrey Smith, founder of the Institute for Responsible Technology and author of Seeds of Deception and Genetic Roulette.
"Colony Collapse Disorder" will be the subject of a solutions-based session with Gunther Hauk, legendary master biodynamic farmer and holistic beekeeper; Kate Frey, pollinator-friendly garden designer; and Barbara Schlumberger of Melissa gardens, a honeybee sanctuary.
The Buckminster Fuller Institute will host a session featuring John Edel, Director of the Chicago Sustainable Manufacturing Center and of Plant-Chicago, an extraordinary urban vertical farm.
"Farm to Pharmacy: Revolutionary Grassroots Healthcare Models" will show how communities can have access to nontoxic, affordable, locally produced natural medicines and therapies, and cash crops to support organic farmers. It will feature David Crow, renowned herbalist and acupuncturist, founder of Floracopeia, Inc and author of In Search of the Medicine Buddha; and William Siff, founder of Goldthread, a Massachusetts medicinal herb farm, apothecary, distillery and education center.
The Wisdom at the End of a Hoe Food and Farming Banquet is a don't-miss for those who want to savor a local food feast created by Native American chef extraordinaire Lois Ellen Frank. The Banquet will honor The Center for Food Safety, leading the legal battles for safe food while promoting policies for a sustainable and healthy food system.
For a complete list of Restorative Food and Farming programs at the conference, go to:
http://www.bioneers.org/conference/2011/food-and-farming.

Bioneers
Bioneers
Bioneers is inspiring a shift to live on Earth in ways that honor the web of life, each other and future generations. Founded in 1990, Bioneers promotes practical environmental solutions and innovative social strategies for restoring Earth's imperiled ecosystems and healing our human communities.
We move our mission into action through the following programs: the acclaimed annual Bioneers Conference, in its 22nd year in 2011; Beaming Bioneers, a companion program of community-based satellite conferences across the US; the Bioneers Youth Program; the award-winning national and international radio series, Bioneers: Revolution from the Heart of Nature; film festival and third party documentaries; our website; the Bioneers anthology book series; and 6 year round programs; 1. Public Education and Media Outreach, 2. Education for Action, 3. Localization, 4. Bioneers Global , 5. Moonrise – Women's Leadership and Restoring the Feminine, 6. Becoming Native to Place – Indigeneity. In addition, Bioneers acts as a key source for journalists.
More from Bioneers