Published 07-18-11
Submitted by Corporate Citizenship
Corporate Citizenship, the global full service sustainability consulting firm, and part of Bell Pottinger Group, has appointed Karin Mortensen Laljani as Managing Director. With an extensive track record, Karin brings with her a wealth of international experience in sustainability, development and management of complex marketing strategies, innovation, business development and operating effectively in multicultural organizations. Karin's focus is to drive sustainability into the marketing function and influence organizations to change the way they are approaching environmental and social issues as part of business strategy.
Most recently she has been working as Managing Director with Aegis Media Plc for Clownfish Ltd, working with a wide range of clients to help develop sustainable strategies and communications. Projects have included work with Unilever, MTV, Kellogg's and Carrefour. Prior to this she spent over 15 years in senior roles, including Senior-Vice President Market Strategy & Sustainability at InterfaceFLOR in Europe, a global leader in the manufacture of environmentally responsible modular floor coverings, and as head of global e-Commerce at British blue chip, ICI Plc.
David Logan and Amanda Jordan, Co-chairs of Corporate Citizenship said, "Karin joins Corporate Citizenship at an exciting time in our history. Our business has gone from strength to strength since our successful merger four years ago. We have seen continued growth from our European market, and a rapid increase in the US and other parts of the globe. We expect this trend to continue. As our clients progress on their sustainability journey our business has evolved to include greater focus on long-term sustainability strategies and crucially engagement and embedding of responsible behaviors and thinking across the business from the board room to the shop floor. Karin's past success in guiding companies that are now considered among the leaders in sustainable business makes her an invaluable addition to our team."
Paul Bell, Chief Executive Bell Pottinger Group adds, "Reputation is key to success and at Bell Pottinger we believe that today, more than ever, understanding, implementing and communicating a strong sustainability strategy is a fundamental part of this. Corporate Citizenship brings invaluable, specialist, insight, and expertise to our Group, and we are delighted that Karin is joining to lead the company at a time of such great opportunity."
Karin will join the existing team of Directors, which includes the founders of the business, all of whom will remain actively involved in the senior management team and running of the business.
Karin has co-authored the book, Sustainable Communications, published in May 2009 and is currently writing her second book. She is a Trustee of tve a film production company working with partners globally to make and distribute films that inspire change, and a member of the UK Institute of Directors and Danish Society of Economists.
About Corporate Citizenship
Corporate Citizenship is a management consulting company that offers clients around the world breadth and depth of experience in corporate responsibility. Since 1997, we have advised leading, multinational corporations on how to enhance and align their citizenship and traditional business activities to create strategic business value. Our clients include multinational companies like Abbott, Chevron, Citi, Lafarge, Pearson, PepsiCo, Unilever, and Vodafone. For more information, please visit www.corporate-citizenship.com.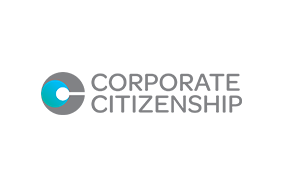 Corporate Citizenship
Corporate Citizenship
Corporate Citizenship is a full service corporate responsibility management consulting company, with offices in the UK, US and Singapore. Since 1997, we have advised leading, multinational corporations on how to enhance and align their citizenship and traditional business activities to create strategic business value. Our knowledgeable team have unrivaled breadth of experience and expertise to help clients achieve greater, long-term, sustainable success.
Our services include strategy, community investment/corporate giving, reporting, assurance, stakeholder engagement, management of environmental risk, and economic impact. Our clients are international and domestic companies from many industries including Unilever, Abbott, HSBC, Verizon, National Grid, State Street and Diageo.
We also manage the LBG, on behalf of it corporate members. LBG is the global standard for measuring community investment, and forms the basis for the community investment reporting sections of other global indices such as DJSI, GRI, and the BITC CR Index. Over 300 companies around the world use the LBG Model and participate in LBG benchmarking groups to share and drive best practice in corporate community involvement.
Contact us on +44(0)207 861 1616 (UK)/+1 212 226 3702 (US) or alternatively, visit our website www.corporate-citizenship.com and www.lbg-online.net.
More from Corporate Citizenship