Published 06-30-11
Submitted by Baxter International Inc.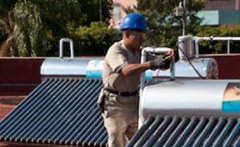 Above: Maintenance mechanic Juan Trejo installs solar panels at Baxter's manufacturing facility in Cuernavaca, Mexico. Below: Following the Haiti earthquake in 2010, Baxter donated critical products through its partners to aid victims. (Photo: A. Wright)
Baxter International Inc. (NYSE: BAX) today released its 2010 Sustainability Report, marking the 12th consecutive year the company has released a report about its social, economic and environmental performance. The report features progress toward the company's sustainability priorities and goals and its commitment to addressing global sustainability challenges through a range of initiatives.
"The initiatives and performance detailed in our annual sustainability report demonstrate our values, leadership and commitment," said Robert L. Parkinson, Jr., Baxter's chairman and chief executive officer. "As a responsible, global healthcare company, our efforts align with and support our mission of saving and sustaining lives."
Initiatives highlighted in the 2010 report include:
Decreasing water use by 10 percent in absolute terms and 31 percent indexed to revenue compared to 2005, exceeding Baxter's 2010 water-reduction goal of 20 percent indexed to revenue.

Decreasing net greenhouse gas (GHG) emissions from operations by 7 percent in absolute terms and 29 percent indexed to revenue compared to 2005, exceeding its GHG-reduction goal of 20 percent indexed to revenue.

Providing nearly $80 million in company cash contributions, product donations and grants from The Baxter International Foundation to address critical global needs.
Baxter's sustainability priorities reflect issues of key concern to Baxter and its stakeholders and areas where the company is uniquely positioned to have a positive impact. Long-term performance goals aligned with each priority provide measurable targets and help assess performance. Baxter's sustainability priorities include creating an inclusive workplace, strengthening access to healthcare, and a range of environmental initiatives such as reducing GHG emissions, waste generation and water usage.
Baxter's 2010 Sustainability Report, which is aligned with the Global Reporting Initiative guidelines, is available at http://sustainability.baxter.com.
Dialyzer Receives Carbon Trust Certification
In recognition of its efforts to advance sustainable manufacturing practices, Baxter recently received certification from the Carbon Trust Footprinting Certification Company for its new XENIUM+ synthetic dialyzer. The certification is based on a verification of carbon footprint analyses and a commitment by Baxter to continue to decrease the carbon footprint of XENIUM+ during the next two years. XENIUM+ is the second medical product to receive this certification. In 2009, Baxter's FLEXBUMIN [Albumin (Human)], the first and only albumin therapy in a flexible, plastic container, was the first.
"Baxter's calculation of the carbon impact of these products across their lifecycle allows the company to communicate such data to customers and other stakeholders, and develop robust strategies to further reduce emissions," said Sujeesh Krishnan, Carbon Trust U.S. Head of Footprinting.
Dialyzers are filters used in hemodialysis to cleanse the blood of patients with kidney failure, whose kidneys can no longer perform this life-sustaining function. The XENIUM+ dialyzer is on average 22 percent lighter than earlier versions, which offers the potential for reduced fuel consumption in shipping and biohazard waste removal. XENIUM+ dialyzers also use approximately one-third less cardboard in their packaging, reducing natural resource use and waste removal requirements. Also, all materials used in XENIUM+ are free of bisphenol-A.
The verification assessed the carbon emissions released during the manufacture, distribution, use and disposal of XENIUM+ dialyzers compared to previous XENIUM dialyzers. The analyses were conducted in accordance with the British Standards Institution PAS 2050 Standard for product carbon footprinting.
Currently XENIUM+ dialyzers are commercially available in Italy, France and Sweden. Additional country launches are planned in 2011 and 2012, depending on market needs and timing of regulatory approvals.
Baxter Recognized by Novation as Environmental Excellence Supplier of the Year
Baxter was named the 2011 Environmental Excellence Supplier of the Year by Novation, a leading healthcare supply contracting company in the United States, for its commitment to sustainability in both its internal operations and external activities. Novation selected Baxter for this award based on its energy and waste conservation, manufacturing principles and corporate sustainability programs.
"Baxter is among the suppliers that consistently provide products and services that meet or exceed member expectations," said Pete Allen, senior vice president, sourcing operations, Novation. "Its focus on cost-effective, quality products and services makes the company a strong partner in the fight to keep member hospitals financially sound."
Founded in 1998, Novation is a leading healthcare supply contracting company for more than 25,000 members of VHA Inc. and the University HealthSystem Consortium (UHC), two national healthcare alliances, and 5,500 members of Provista, LLC, representing 28,000 sites.
Engaging Employees in their Communities, Environment
Baxter encourages employees to volunteer their time and expertise in their communities, and recognizes them for their efforts. During 2010, more than 7,850 Baxter employees volunteered more than 163,000 hours, an increase from 2009. Baxter encourages employees to volunteer with organizations that match their personal interests and help address local healthcare, education and environmental concerns.
During the company's third annual Baxter World Environment Week, held the first week of June to correspond with the United Nation's World Environment Day, Baxter employees worldwide sponsored events that promote earth-friendly activities and sustainable living. For example, employees from Baxter's United Kingdom facilities held a "Make-A-Pledge" campaign where employees made personal commitments to help the environment. The global event demonstrates the integration of sustainability into Baxter's culture and how the company's collective efforts can make a positive impact on local and global communities. In 2010, Baxter employees worldwide recorded more than 13,000 volunteer hours on local environmental projects.
About Baxter
Baxter's commitment to sustainability spans more than three decades. The company is included in the Dow Jones Sustainability Index and has been recognized by Corporate Knights as one of the Global 100 Most Sustainable Corporations in the World and by Corporate Responsibility magazine as one of the 100 Best Corporate Citizens. Baxter also ranked first in the healthcare category of Newsweek's annual Green Rankings since the list's inception in 2009. Baxter is a member of the Center for Corporate Citizenship at Boston College, the Business Environmental Leadership Council of the Pew Center on Global Climate Change and the Ethics & Compliance Officer Association. Baxter endorses the Ceres principles and is an organizational stakeholder of the Global Reporting Initiative. Further information about Baxter's sustainability activities can be found at www.sustainability.baxter.com.
Baxter International Inc. (NYSE:BAX), through its subsidiaries, develops, manufactures and markets products that save and sustain the lives of people with hemophilia, immune disorders, infectious diseases, kidney disease, trauma, and other chronic and acute medical conditions. As a global, diversified healthcare company, Baxter applies a unique combination of expertise in medical devices, pharmaceuticals and biotechnology to create products that advance patient care worldwide.

Baxter International Inc.
Baxter International Inc.
At Baxter, sustainability means creating lasting social, environmental and economic value by addressing the needs of the company's wide-ranging stakeholder base. The company's sustainability efforts support Baxter's mission to apply innovative science in the development of products and therapies that save and sustain patients' lives.
More from Baxter International Inc.