Published 05-02-11
Submitted by SAP
SAP AG (NYSE: SAP) today released its quarterly sustainability update. The company shared that it has saved approximately EUR 170 million between 2008 and today as a result of focused sustainability initiatives. The report also details preliminary, unaudited greenhouse gas (GHG) emissions for the first quarter ending March 31, 2011, which totaled 111 kilotonnes (not including Sybase), an increase of six percent compared to the first quarter of 2010.
Over the past four years, the company has made significant strides to reduce emissions and in turn realized EUR 170 million in accumulated financial savings in comparison to a "business as usual" extrapolation. Leveraging its own software to measure, report and reduce its carbon footprint, SAP can attribute the emissions decrease and savings to a variety of focused efforts, including investments in energy and carbon efficiency projects, changes in employee behavior and the use of electricity from renewable sources.
The report also details that emissions for the first quarter of 2011 rose by six percent compared with the first quarter of 2010. This can be attributed to a five percent increase in the number of employees in combination with increased air travel activities. SAP also realized areas of improvement this quarter - for example, decreased emissions from heating and other stationary combustion in its facilities by 24 percent. Despite the six percent year-over-year quarterly increase, the company is still on track to meet its year-end emissions target of 465 kilotonnes (not including Sybase) - in line with its long-term strategy to reduce GHG emissions to year-2000 levels by 2020.
"SAP continues to deliver on the sustainability business case," said Peter Graf, chief sustainability officer, SAP AG. "On one side, our sustainability solutions help our customers run better and ourselves enter into new software markets. On the other side, our own operations run more cost efficiently while we are positively impacting employee motivation. I am proud that we are able to deliver quantifiable benefits to SAP and the environment - as demonstrated today."
For more information, visit the Sustainability newsroom and for the complete quarterly update including emissions data, access the 2010 SAP Sustainability Report at www.sapsustainabilityreport.com. Follow SAP Twitter at @sustainableSAP and @sapnews.
About SAP
As market leader in enterprise application software, SAP (NYSE: SAP) helps companies of all sizes and industries run better. From back office to boardroom, warehouse to storefront, desktop to mobile device - SAP empowers people and organizations to work together more efficiently and use business insight more effectively to stay ahead of the competition. SAP applications and services enable more than 170,000 customers (includes customers from the acquisition of Sybase) to operate profitably, adapt continuously, and grow sustainably. For more information, visit www.sap.com.
Any statements contained in this document that are not historical facts are forward-looking statements as defined in the U.S. Private Securities Litigation Reform Act of 1995. Words such as "anticipate," "believe," "estimate," "expect," "forecast," "intend," "may," "plan," "project," "predict," "should" and "will" and similar expressions as they relate to SAP are intended to identify such forward-looking statements. SAP undertakes no obligation to publicly update or revise any forward-looking statements. All forward-looking statements are subject to various risks and uncertainties that could cause actual results to differ materially from expectations. The factors that could affect SAP's future financial results are discussed more fully in SAP's filings with the U.S. Securities and Exchange Commission ("SEC"), including SAP's most recent Annual Report on Form 20-F filed with the SEC. Readers are cautioned not to place undue reliance on these forward-looking statements, which speak only as of their dates.
Copyright © 2011 SAP AG. All rights reserved.
SAP, R/3, mySAP, mySAP.com, xApps, xApp, SAP NetWeaver and other SAP products and services mentioned herein as well as their respective logos are trademarks or registered trademarks of SAP AG in Germany and in several other countries all over the world. All other product and service names mentioned are the trademarks of their respective companies. Data contained in this document serve informational purposes only. National product specifications may vary.
Note to editors:
To preview and download broadcast-standard stock footage and press photos digitally, please visit www.sap.com/photos. On this platform, you can find high resolution material for your media channels. To view video stories on diverse topics, visit www.sap-tv.com. From this site, you can embed videos into your own Web pages, share video via e-mail links and subscribe to RSS feeds from SAP TV.
Follow SAP on Twitter at @sapnews.
For customers interested in learning more about SAP products:
Global Customer Center: +49 180 534-34-24
United States Only: 1 (800) 872-1SAP (1-800-872-1727)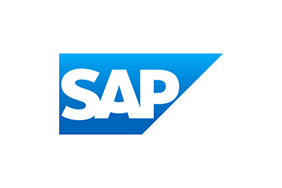 SAP
SAP
SAP's strategy is to help every business run as an intelligent, sustainable enterprise. As a market leader in enterprise application software, we help companies of all sizes and in all industries run at their best: SAP customers generate 87% of total global commerce. Our machine learning, Internet of Things (IoT), and advanced analytics technologies help turn customers' businesses into intelligent enterprises. SAP helps give people and organizations deep business insight and fosters collaboration that helps them stay ahead of their competition. We simplify technology for companies so they can consume our software the way they want – without disruption. Our end-to-end suite of applications and services enables business and public customers across 25 industries globally to operate profitably, adapt continuously, and make a difference. With a global network of customers, partners, employees, and thought leaders, SAP helps the world run better and improve people's lives.
More from SAP