Published 04-12-11
Submitted by WorldBlu, Inc.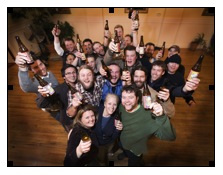 Above: Employees at New Belgium Brewery, a Fort-Collins, Colorado-based democratic workplace
Below: 1-800-GOT-JUNK? employees engage in a team "huddle"
Fifty-two organizations have been recognized for the fifth annual "WorldBlu List of Most Democratic Workplaces™ 2011," a global certification given by WorldBlu, a company specializing in organizational democracy.
The announcement came as part of the fifth annual "Democracy in the Workplace Day" on April 12th. For-profit and non-profit organizations from across the U.S., Canada, Mexico, the UK, India, the Netherlands, Denmark, Haiti and Malaysia made the WorldBlu List from a diversity of industries including aerospace, technology, manufacturing, healthcare, telecommunications, retail, services and energy, ranging in size from five to over 80,000 employees and representing over $15 billion in combined annual revenue.
Well-known companies to make the WorldBlu List include Groupon, Zappos.com, HCL Technologies, 1-800-GOT-JUNK?, New Belgium Brewery, 3i Infotech, DaVita, Great Harvest Bread Company and WD-40 Company.
Since first launching the WorldBlu List of Most Democratic Workplaces in 2007, the number of organizations certified has grown steadily from 34 to 52, with combined annual revenues increasing from just $3 billion to over $15 billion. WorldBlu has now either certified organizational members or has individual members in 55 countries worldwide, up from just four countries when it first began.
Organizations from the for-profit and non-profit sectors that have been in operation for at least one full year and have five or more employees can apply for WorldBlu certification.
The standard for certification is high, and requires a large number of employees to complete a survey evaluating their organization's practice of ten democratic principles, such as transparency, dialogue and listening, integrity, accountability and choice on a leadership, individual, and systems and processes level. WorldBlu developed the survey tool based on a decade of research into what makes a world-class democratic organization. Not all organizations that apply receive certification.
This year's WorldBlu List contains eight organizations that sustained their place on the WorldBlu List for their fifth consecutive year since the certification process began in 2007. They include: AIESEC International, Axiom News, Betterworld Telecom, Beyond Borders, Great Harvest Bread Company, Guayaki Yerba Mate, Orpheus Chamber Orchestra and Taking IT Global.
"One out of four Americans feel like they work in a dictatorship, yet 80 percent of employees feel that if they had more freedom at work, their overall performance would improve," comments WorldBlu Founder and CEO, Traci Fenton. "WorldBlu-certified organizations model how more freedom "" rather than fear and control in the workplace "" increases innovation and employee engagement, as well as boosting the bottom-line."
Why Democracy in the Workplace
Mike Ferretti, CEO of Great Harvest Bread Company, a five-time WorldBlu List awardee company with over 230 franchises operating in the US says, "We're into our third decade in business and truly believe the democratic principles we follow have kept Great Harvest relevant and agile."
"Businesses that are open to organizational democracy are usually nimble, resourceful and actively maximizing their human potential," comments Kim Jordan, CEO of Fort Collins-based New Belgium Brewery, which has over 350 employees and boasts a 97 percent retention rate. "When people feel knowledgeable about the process and that their views are respected and heard, then you have created a community where good ideas and talent can flourish without restraint."
Groupon, named "the fastest growing company ever" by Forbes, is celebrating the first time it has made the WorldBlu List. "At Groupon, we operate using the same democratic values that our Founding Fathers did when they gave the right to vote to every man, woman, and child," explains Andrew Mason, Founder and CEO.
"DaVita is honored to once again be recognized as the only healthcare and FORTUNE 500 company on WorldBlu's List of Most Democratic Workplaces," said Kent Thiry, chairman and CEO of DaVita. "At DaVita, we are proud to be a community first and a company second."
Namasté Solar, based in Boulder, CO, has nearly 60 employees and has sustained over 300 percent growth in the past three years. They attribute much of their rapid growth since inception in 2005 to their democratic decision-making model. "Namasté Solar implements conscientious and democratic business practices because we recognize the interconnectedness of all stakeholders and all individuals, and have experienced firsthand how this fundamental integrity can translate into financial viability, consumer loyalty, community recognition and support," comments Blake Jones, co-founder and CEO.
Best Practices in Organizational Democracy
WorldBlu-certified organizations make use of a variety of unique practices that are distinctly democratic and contribute to profitability, high performance and employee engagement.
At Zappos.com, headquartered in Henderson, NV, all employees are invited to contribute their thoughts and voice about the organization's democratic design to their annual "culture book." All submissions are unedited (except for typos), and distributed to employees, vendors and even customers. They believe this level of transparency and authenticity contributes directly to their social as well as financial bottom-line. Thousands of people from around the world have flocked to tour Zappos.com to experience their democratic workplace. During one tour, a guest even proposed to his girlfriend, and six months later they were married in the Zappos office.
DaVita Inc., a $6 billion healthcare company located in Denver, CO, understands that open and transparent communications is key to maintaining a democratic workplace. They have regular two-way dialogue between executives and more than 35,000 teammates (employees) across the country. Their communication forums include local Town Hall meetings and a bi-monthly "Voice of the Village" call, to which all teammates are invited and more than 3,000 teammates regularly attend. On the call, questions are fielded by the CEO, the COO, the Chief Medical Officer, as well as other leaders from core business areas.
Brainpark, based in San Francisco, CA, has periodic reviews of their senior management that include the option of removing the company's CEO through a vote if they are not adequately performing their roles.
In sharp contrast to massive lay-offs globally, HCL, a $5 billion company based in Nodia, India, with nearly 80,000 employees located in 25 countries worldwide, took a different approach. Employees were told that the company had to save $100 million during the recession in order to avoid lay-offs, so they came up with 76 ideas as to how the company could save money, totaling $260 million in savings. By being transparent with employees as to the financial picture of the company, HCL was able to leverage the ideas of its employees to turn the recession into an opportunity "" and as a result not one employee was let go. HCL has since tripled its revenue and income and doubled its overall market capitalization.
In Vancouver, Canada, at 1-800-GOT-JUNK?'s daily "Huddles," there is an activity called "Missing Systems and Opportunities" where employees can bring up what they believe is a missing system within the workplace. Someone else in the room is then expected to take ownership of finding a solution. Alternately, individuals can identify opportunities that they see and ownership for the opportunity can be claimed the same way. By addressing these issues in an open venue, it creates public accountability for everyone to work towards improving the workplace experience overall.
Dreamhost, based just outside of Los Angeles, California, knows how to give real power to their people. After a recent service outage, they authorized their support technicians to provide service credits to individual customers based on their own judgment.
At I Love Rewards, based in the US and Canada, their "MasterPlan" vision document isn't created in the C-suite, it's drafted, reviewed and updated annually by employees, the Board of Directors, and even clients. When faced with a recent expansion opportunity, in order to maintain their democratic culture, I Love Rewards created an internal committee of old and new employees called "Culture Up The Office" to spearhead scaling up the culture. One result of their democratic workplace is a 108 percent increase in gross billings.
At Dialog, an Austin, Texas-based marketing consultancy, they have figured out how to fire people and still have them maintain a sense of dignity. Dialog offers the terminated employee the opportunity to come back and meet with them once the dust settles and the emotional feelings around losing their job have subsided. They call this process "cleaning the files." All employees also vote if they want a company on their client roster "" or not.
At social media firm NixonMcInnes, based in Brighton, England, they have two open seats at company board meetings which any employee is invited to fill in order to avoid a culture of secrecy and to boost overall participation and voice. Happiness is measured in the company daily by employees dropping tennis balls in one of several buckets to indicate how happy they are as they leave the office that day, with the results visible to everyone, prompting conversations about how people are feeling. An employee-elected 'rewards team' scrutinizes and approves all applications for pay rises (right up to the CEO). Despite the difficult financial climate in the UK, the company is achieving double-digit revenue growth.
Before the explosion of social media, Billings, MT-based Great Harvest Bread was harnessing technology to allow bakery owners to communicate online, 24/7. The Great Harvest "social network" is called "The Breadboard" and the company has been using it for decades to facilitate conversations, great ideas, criticism, and solutions. In contrast to other franchises, Great Harvest is a "freedom-centered" franchise where bakery owners speak system-wide without fear of censorship.
At The Happy at Work Project, a consulting and training firm focused on employee happiness based just outside of Copenhagen, Denmark, all employees are free to pick the projects they want to work on with the rule that if you don't want to work on something, you're not allowed to.
Future Considerations, based in Madison, WI and London, England, first applied for WorldBlu certification in 2009 and did not receive it. They used their results, however, to help transition the organization into a more democratic workplace. They reapplied for certification in 2010 and received it and are now in the process of becoming 100 percent employee-owned.
The Grammy® Award-winning Orpheus Chamber Orchestra, based in New York City, is completely conductorless and rotates leadership amongst orchestra members.
At Integritive, a 15-person website development and marketing agency based in Asheville, NC, any employee can call a "pow-wow" meeting with any other person on the team to talk about something that may be bothering them or that they need to discuss. Everyone is free to choose their own job title and amend it as often as they'd like, and there is complete flextime so employees can create and modify their work schedules as needed.
Axiom News, headquartered in Peterborough, Canada, understands that newsrooms are traditionally quite hierarchical with a multitude of editors for each journalist. However, due to its democratic design, all stories instead are peer reviewed for proofreading and the writer makes the final edits, as opposed to in a traditional newsroom where that would be the editor's role.
At Menlo Innovations, based in Ann Arbor, MI, the company encourages transparency, knowledge sharing, and feedback by having each team member share a computer with another team member while they work together on projects. They then rotate partners weekly.
Organizational democracy isn't just practiced at brick and mortar companies either. At American Support, a 100 percent virtual customer service company, all employees have access to one another's quarterly goals and Key Performance Indicators. With this practice, they not only foster transparency within and across departments, they also reinforce alignment from the organizational level to the individual level. As a result, American Support has tripled in size during the last two years and expects continued growth.
Non-profit Haiti Partners, which is based in Vero Beach, FL, and Port-au-Prince, Haiti, uses a horizontal structure and participatory approach to decision-making and is teaching their internal model externally to organizations throughout Haiti in order to help combat the poverty, injustice and misery faced by the overwhelming majority of people there.
"Democratic organizations operate on the principles of freedom rather than fear and control," explains Fenton. "They understand that a democratic design, rather than the traditional pyramid structure that still characterizes most workplaces, will be a key to their ability to attract and retain top talent, particularly Gen Y top candidates in this new, Democratic Age."
Several of the organizations not only operate democratically, they also have developed software enabling other companies to do so. Rypple, based in Toronto, Canada, lets employees take control of their professional development with an easy way to get anonymous feedback, recognition for achievements and receive continuous coaching from their managers.
Brainpark produces an "intelligent" software platform that heightens transparency by learning from the social interactions of a company to connect people and resources around relevant tasks. Podio is a flexible online management platform designed to empower individuals and teams to design work streams in a way that works best for them.
Calgary, Canada-based Chaordix has developed technology that enables organizations to adopt crowd-sourcing for a competitive advantage, inviting crowds to submit, discuss, vote on, and often refine and rank contributions through the web. This empowers employees, partners and customers to be co-creation agents for new products and services, and help solve problems. Clients include IBM, PwC and Orange.
The Link School, a small high school based in Buena Vista, Colorado, models the future of education. It uses consensus-based democracy, where all staff as well as students have an equal input in core decisions. From the small daily decisions to big decisions such as staff hiring, every member of the community must be on board before they move forward. Students are listened to and their vote matters as well. A "thumbs down" vote from the students can stop a project or potential new hire in its tracks, causing the staff to really think through and thoroughly communicate their ideas to the community.
All of the WorldBlu List organizations practice open-book management techniques and some companies, such as Future Considerations and Nixon McInnes, both headquartered in the UK, and The Happy at Work Project, based in Denmark, are also transparent about employee salaries. At Namasté Solar, no employee earns more than twice what any other employee earns. For Glassdoor.com, which hosts an on-line forum where people can anonymously share and review salary levels for thousands of companies, this practice also reflects a central value of the company.
"Organizational democracy is inevitable," comments Fenton. "The Internet, the demands of Generations X and Y to have a voice in the workplace, and the Gallup Organization's report that nearly two-thirds of US workers are disengaged at work are causing businesses to rethink their management models and embrace a more democratic style. The companies that choose organizational democracy will lead their industries, boost their bottom-lines, and ultimately build a more democratic world."
WorldBlu LIVE: Spreading Freedom at Work, an annual two-day event for leaders of democratic workplaces from around the globe, will be held May 19-20th in San Francisco at the St. Regis Hotel. There are over 30 confirmed speakers, including Dan Jessup, Head of Talent at Groupon, Gary Ridge, CEO of WD-40 Company, John Foster, Head of Talent at Hulu, Rob Richman, Product Manager at Zappos Insights, Traci Fenton, CEO of WorldBlu, Glen Lubbert, CEO of Mojo Interactive, Daniel Debow, CEO of Rypple and Vishen Lakhiani, Founder of MindValley. The overall program will explore the WorldBlu 10 Principles of Democratic Designâ"¢ as well as topics such as how to start or transition to a democratic workplace, how to scale up democratically, open-book management and salary transparency, "confessions" of democratic CEOs, how to build more democratic schools, leading technology for democratic workplaces, and more.
WorldBlu has offices throughout the US and UK and specializes in organizational democracy and freedom-centered leadership. Founded in 1997, WorldBlu's vision is to see one billion people working in free and democratic workplaces worldwide. For more information, visit the WorldBlu website at http://www.worldblu.com or http://www.worldblulive.com.
(Note to editors: Ms. Traci Fenton is available for interviews. Contact information is at the top of the release. The complete list of certified organizations follows.)
The WorldBlu List of Most Democratic Workplaces™ 2011: (A list, not a ranking.)
1-800-GOT-JUNK? "" Vancouver, Canada
3i Infotech "" Mumbai, India
AIESEC International "" Rotterdam, Netherlands
American Support "" Chapel Hill, NC*
Axiom News "" Ontario, Canada
BetterWorld "" Telecom Reston, VA
Beyond Borders "" Washington DC
Brainpark "" Alamo, CA
Bucket Brigade "" Milwaukee, WI*
The Bump Network "" La Jolla, CA*
Chaordix "" Calgary, Canada
Chroma Technology "" Corp Bellows Falls, VT
DaVita "" Denver, CO
Dialog "" Austin, TX
DreamHost "" Brea, CA
Explore Communications "" Denver, CO
Future Considerations "" London, UK and Madison, WI
Glassdoor "" Sausalito, CA
Great Harvest Bread Company "" Dillon, MT
Greenleaf Book Group "" Austin, TX*
Groupon "" Chicago, IL*
Guayaki Yerba Mate "" Sebastopol, CA
Haiti Partners "" Port au Prince, Haiti
HCL Technologies "" Noida, India
Hulu "" Los Angeles, CA*
I Love Rewards "" San Francisco, CA
Innovation Partners International "" Washington, DC
Integritive "" Asheville, NC*
LEARN "" Laval, Canada*
Menlo Innovations "" Ann Arbor, MI
Messiah Village "" Mechanicsburg, PA
MindValley "" Kuala Lumpur, Malaysia
Mojo Interactive "" Orlando, FL*
Namaste Solar "" Boulder, CO
Nearsoft "" Hermosillo, Mexico
New Belgium Brewing Company "" Fort Collins, CO
NixonMcInnes "" Brighton, UK
Orpheus Chamber Orchestra "" New York, NY
Podio "" Copenhagen, Denmark*
Productivity Associates "" San Diego, CA*
Rabbit "" London, UK*
Rypple "" Toronto, Canada
Statsit "" Kuala Lumpur, Malaysia
sweetriot "" New York, NY
TakingITGlobal "" Toronto, Canada
The Happy at Work Project (Projekt Arbejdsglæde) "" Copenhagen, Denmark*
The Link School "" Buena Vista, CO
Total Debt Freedom "" Markham, Canada*
Tracer "" Milwaukee, WI
Valtech "" Copenhagen, Denmark*
WD-40 Company "" San Diego, CA*
Zappos.com "" Las Vegas, NV
* = indicates the first year an organization has received WorldBlu certification.

WorldBlu, Inc.
WorldBlu, Inc.
WorldBlu, Inc. is a Atlanta-based leadership and business design studio specializing in organizational democracy and freedom-centered leadership. Founded in 2003, WorldBlu works with CEOs and executive teams to design, develop, and lead the most successful democratic companies in the world. Each year it publishes the WorldBlu List of Most Democratic Workplaces. For more information, visit the WorldBlu website at www.worldblu.com.
More from WorldBlu, Inc.