Published 03-29-11
Submitted by Baxter International Inc.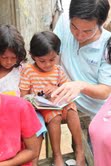 Baxter employees contributed
books and shelving for a children's
library for the indigenous community
in Malaysia known as Orang Asli.
Baxter International Inc. and The Baxter International Foundation, the philanthropic arm of Baxter, today announced their combined 2010 charitable giving of nearly $80 million, including support of math and science education. The company was also recently recognized by the U.S. Customs-Trade Partnership Against Terrorism program, U.S. Environmental Protection Agency's SmartWay® and Fortune 500 Green Power Challenge programs, as well as on the Global 100 Most Sustainable Corporations and 100 Best Corporate Citizens lists.
Baxter and its Foundation Contribute Nearly $80 Million in 2010
In 2010, combined giving from Baxter and The Baxter International Foundation, the philanthropic arm of Baxter, totaled nearly $80 million. In addition, employees recorded more than 163,000 hours volunteering within their communities. Most of those hours were civic engagement, such as organizing food drives and building homes through Habitat for Humanity, and local education needs such as mentoring students in science education and teaching through Junior Achievement. Employees at each Baxter site select local volunteer activities to undertake and organizations to support that are the most relevant and have the highest impact in their community.
Financial giving focused on increasing access to healthcare, helping developing nations and countries in crisis, and addressing other critical community needs globally, comprised of:

$48.1 million from donations of Baxter products through donor partners and the company's U.S. patient assistance programs. Product donations helped 84 countries in need, including donation of nearly 250,000 intravenous (IV) solutions and sets used to administer the solutions to help meet the hydration needs of people affected by the earthquake and cholera outbreak in central Haiti;
$27.2 million from Baxter's businesses and facilities to address critical local needs in more than 37 countries. For example, Baxter contributed funds and volunteer time to help build a water storage tank that will supply running water to 20 families in the indigenous community in Malaysia known as Orang Asli. Also, in Mexico, Baxter partnered with La Casa De Los Mil Colores, a non-profit organization dedicated to helping indigenous people, to financially support patients with critical medical needs; and
$4.1 million from The Baxter International Foundation, including nearly $1.6 million in grants to organizations outside of the U.S. and nearly $2 million in grants to U.S.-based organizations including nearly $750,000 through the Foundation's Dollars for Doers and Matching Gifts programs that support employees' philanthropic efforts. Grants awarded in 2010 fulfilled needs in local communities to increase access to healthcare education, mental health, and other healthcare services for children, the uninsured, veterans, and the elderly. A full listing of The Baxter International Foundation grants awarded in 2010 is available at www.baxter.com/grants.
Baxter Expands its Efforts to Green its Supply Chain
As part of Baxter's strategy to decrease the environmental impact of its product transport and reduce its carbon footprint, Baxter is one of a select number of companies who participate in the U.S. Environmental Protection Agency's (EPA) SmartWay® program as both a Carrier Partner and a Shipper Partner. SmartWay is a partnership between the EPA and industry to help reduce air pollution and greenhouse gas emissions through cleaner, more fuel efficient transportation options.
Baxter became a SmartWay Carrier Partner in 2009 with its own U.S. Renal truck fleet, and achieved the highest possible score of 1.25, acknowledging the company's commitment to utilizing commercially available fuel-saving strategies and actively evaluating emerging technologies that help reduce the environmental impact of its fleet. In January 2011, Baxter was also accepted into the SmartWay Partnership as a Shipper.
By participating in this initiative, Baxter will contribute to the savings the SmartWay Partnership has achieved since its inception in 2004 including 1.5 billion gallons of fuel, $3.6 billion in fuel costs, 14.7 million metric tons of carbon dioxide, 215,000 tons of oxides of nitrogen and 8,000 tons of particulate matter.
In March 2011, Baxter was also recognized as a Tier III Partner in the U.S. Customs-Trade Partnership Against Terrorism (C-TPAT) program. C-TPAT is a joint U.S. government-business initiative that builds cooperative relationships to enhance security throughout the import supply chain. As a C-TPAT participant since August 2009, Baxter has committed to maintaining the Tier III security criteria as well as ongoing enhancements to the security of its global supply chain.
Tier III is the highest level an importer can achieve in the C-TPAT program. Currently, only approximately 3 percent of the more than 10,000 program participants have achieved Tier III status. Baxter's internal C-TPAT steering committee remains committed to monitor and enhance its supply chain practices and implement process improvements as needed.
School Breaks Ground to Provide Latinos with Healthcare Education
With start-up funding and hands-on support provided by several partners including Baxter, Chicago's first charter health science career academy - the Instituto Health Sciences Career Academy (IHSCA) - broke ground on February 18, 2011 to build its new, state-of-the-art facility, slated to open in late 2011. The school will provide up to 600 mostly Latino students with an opportunity to receive a college-preparatory math and science education that will enable them to enter healthcare careers.
The IHSCA emphasizes math and science and offers job shadowing and internship programs in an effort to prepare students for success. The new 100,000 square-foot educational center will house nine laboratories outfitted for varying science experiments. Baxter scientists, researchers and other employee volunteers lecture, sponsor lab tours and provide valuable career advice to students throughout the year.
The school is the third to receive Baxter's support as part of the Science@Work: Expanding Minds with Real-World Science program, a multi-year partnership with the Chicago Public Schools to support teacher training and student development in healthcare and biotechnology. For more information, please see www.baxter.com/press_room/features/2011/science_at_work_instituto.html.
Baxter Recognized Among Leading Sustainability Rankings
For the seventh consecutive year, Baxter has been recognized as one of the Global 100 Most Sustainable Corporations by Corporate Knights, an independent Canadian-based media company focused on prompting and reinforcing sustainable development. Baxter is one of two healthcare companies globally, and the only U.S. healthcare company, to have been recognized in the Global 100 each year since the list was first published in 2005. The aim of the list is to highlight the global corporations that have been most proactive in managing environmental, social and governance (ESG) issues. The Global 100 was announced on January 29, 2011 during the World Economic Forum in Davos, Switzerland. For more information, see www.global100.org.
Based on its corporate social responsibility performance, Baxter has been included for the 10th year in Corporate Responsibility magazine's 100 Best Corporate Citizens list. Released March 3, the annual survey draws from U.S. firms in the Russell 1000 Index and is based on more than 320 data points of publicly-available information in seven categories: environment, climate change, human rights, philanthropy, employee relations, financial performance, and governance. For more information, see www.thecro.com.
Baxter's purchase of more than 51 million kilowatt-hours (kWh) of green power ranked the company 23rd among participating corporations in the U.S. Environmental Protection Agency's (EPA) Fortune 500 Green Power Challenge. Green power purchases help reduce the environmental impacts of electricity use and support the development of new renewable generation capacity nationwide. Organizations can meet EPA purchase requirements using any combination of renewable energy certificates, on-site generation, and utility green power products. For more information, see www.epa.gov/greenpower/toplists/fortune500.htm.
About Baxter
Baxter's commitment to sustainability spans more than three decades. The company is included in the Dow Jones Sustainability Index and has been recognized by Corporate Knights as one of the Global 100 Most Sustainable Corporations in the World and by Corporate Responsibility magazine as one of the 100 Best Corporate Citizens. Baxter also ranked first in the healthcare category of Newsweek's annual Green Rankings since the list's inception in 2009. Baxter is a member of the Center for Corporate Citizenship at Boston College, the Business Environmental Leadership Council of the Pew Center on Global Climate Change and the Ethics & Compliance Officer Association. Baxter endorses the Ceres principles and is an organizational stakeholder of the Global Reporting Initiative. Further information about Baxter's sustainability activities can be found at www.sustainability.baxter.com.
Baxter International Inc. (NYSE:BAX), through its subsidiaries, develops, manufactures and markets products that save and sustain the lives of people with hemophilia, immune disorders, infectious diseases, kidney disease, trauma, and other chronic and acute medical conditions. As a global, diversified healthcare company, Baxter applies a unique combination of expertise in medical devices, pharmaceuticals and biotechnology to create products that advance patient care worldwide.

Baxter International Inc.
Baxter International Inc.
At Baxter, sustainability means creating lasting social, environmental and economic value by addressing the needs of the company's wide-ranging stakeholder base. The company's sustainability efforts support Baxter's mission to apply innovative science in the development of products and therapies that save and sustain patients' lives.
More from Baxter International Inc.