Published 03-16-11
Submitted by CSRHub
Today CSRHUB (http://www.csrhub.com) released a major update of its corporate social responsibility (CSR) ratings tool. Registered users and subscribers can now purchase reports on about 4,000 of the companies CSRHUB covers. Previously, they could see sustainability scores on around 5,000 companies in more than 60 countries, but did not have access to in-depth individual company reports.

CSRHUB has also added a number of new data sources, including the Intangible Value Assessment and Global Compact + scores from the RiskMetrics division of MSCI. With MSCI, we now have ratings data from six of the top Socially Responsible Investing (SRI) or Environmental Social & Governance (ESG) analysis firms in the world. The list includes ASSET4 (Thomson Reuters), GovernanceMetrics International (Corporate Library), IW Financial, MSCI, Trucost, and Vigeo. CSRHUB now has more than 100 different ratings inputs for its database and a total of more than 1.6 million data points to support its scores.
In this update, CSRHUB also expanded and improved the ability for subscribers to export information into XML spreadsheets. The new interface includes a table that allows those who are using the system for benchmarking by industry to tie CSRHUB's 135 industry groups into the NAICS industry code system and a map that connects CSRHUB's twelve subcategories to the six pillars used by the Global Reporting Initiative (GRI).
The site still offers free basic ratings, and its free registration process allows users to create a custom profile, store their settings, and share lists of companies with others. Corporate subscribers pay $50 per month to access twelve categories of data, many of the original data details that underlie the system, and more customization and data export options. Individual users and academic researchers can subscribe at a discounted rate of $10 per month.
CSRHUB is a B Corporation and a GRI Organizational Stakeholder. CSRHUB also supports TriplePundit and the New York CSR Meetup. For more information, please contact CSRHUB's CEO, Bahar Gidwani, at bahar@csrhub.com.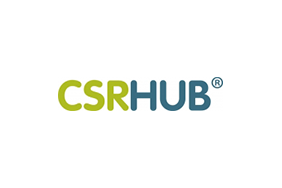 CSRHub
CSRHub
CSRHub provides access to the world's largest corporate social responsibility and sustainability ratings and information, covering over 13,700+ companies from 135 industries in 127 countries. By aggregating and normalizing the information from 370 data sources, CSRHub has created a broad, consistent rating system and a searchable database that links millions of rating elements back to their source. Managers, researchers and activists use CSRHub to benchmark company performance, learn how stakeholders evaluate company CSR practices, and seek ways to improve corporate sustainability performance.
CSRHub is a B Corporation, an Organizational Stakeholder (OS) with the Global Reporting Initiative (GRI), a silver partner with CDP (Carbon Disclosure Project), and an Advisory Council Member of Sustainability Accounting Standards Board (SASB).
More from CSRHub