Published 03-03-11
Submitted by Owens Corning
/PRNewswire/ - Owens Corning (NYSE: OC), a world leader in building materials and glass fiber reinforcements, has been named to Corporate Responsibility Magazine's 12th annual list of the "100 Best Corporate Citizens™." The company's ranking of 68th on the 2011 list was announced Wednesday afternoon as part of an event hosted at the New York Stock Exchange.
Recognized as the world's leading corporate responsibility ranking based on public information, the Corporate Responsibility Magazine rankings are based on 320 data points of disclosure on performance in seven categories: environment, climate change, employee relations, human rights, governance, financial performance, and philanthropy.
"Owens Corning is honored to again be named to the '100 Best Corporate Citizens list,'" said Chief Sustainability Officer Frank O'Brien-Bernini. "This recognition is particularly meaningful because it reflects our company's continued progress and dedication to economic growth, social progress and environmental stewardship as we deliver sustainable solutions for our building materials and composites customers around the world."
This marks the second consecutive year that Owens Corning has achieved a Top 100 ranking in the Best Corporate Citizens list. The company advanced 26 positions on the list this year from its 2010 ranking of 94th.
The 2011 rankings were calculated by IW Financial, an industry leader in market data and analysis. The complete Top 100 list is available at www.thecro.com.
About Owens Corning
Owens Corning (NYSE: OC) is a leading global producer of residential and commercial building materials, glass-fiber reinforcements and engineered materials for composite systems. A Fortune® 500 Company for 56 consecutive years, Owens Corning is committed to driving sustainability by delivering solutions, transforming markets and enhancing lives. Founded in 1938, Owens Corning is a market-leading innovator of glass-fiber technology with sales of $5.0 billion in 2010 and about 15,000 employees in 28 countries on five continents. Additional information is available at www.owenscorning.com.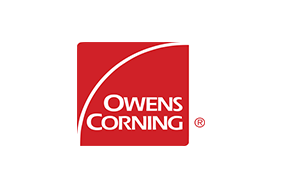 Owens Corning
Owens Corning
Owens Corning (NYSE: OC) develops, manufactures and markets insulation, roofing, and fiberglass composites. Global in scope and human in scale, the company's market-leading businesses use their deep expertise in materials, manufacturing and building science to develop products and systems that save energy and improve comfort in commercial and residential buildings. Through its glass reinforcements business, the company makes thousands of products lighter, stronger and more durable. Ultimately, Owens Corning people and products make the world a better place. Based in Toledo, Ohio, Owens Corning posted 2014 sales of $5.3 billion and employs about 15,000 people in 26 countries. It has been a Fortune 500® company for 61 consecutive years. For more information, please visit www.owenscorning.com.
More from Owens Corning