Published 03-03-11
Submitted by Five Talents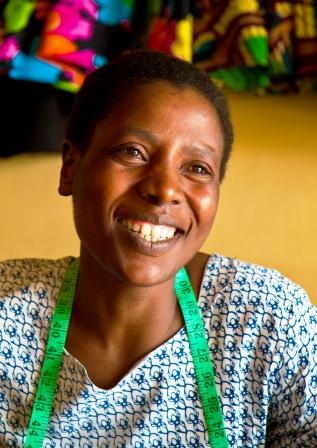 A Five Talents Uganda client
Five Talents UK, a dynamic microfinance charity, has secured several corporate partnerships which have had a transformative effect.
Paul Taylor, CEO of Parragon Publishing says, "We chose to support Five Talents UK because we knew that our funding would make a big difference."
Parragon has focused their support on the Five Talents UK's microfinance programme in Tanzania. Staff at the Parragon worldwide offices have visited the work and through staff participation now feel part of something bigger.
Staff from The Fair Investment Company, another UK corporate partner with Five Talents UK, climbed Ben Nevis last year. They also hosted a lunchtime update in their offices and one of the Directors traveled to Tanzania to see the work for himself.
Five Talents UK welcomes corporate partnerships as a means of introducing people to a positive message about poverty alleviation, which transforms both the giver and the recipient. Microfinance is an enterprise solution to poverty, where the economically active poor are equipped with business training and the opportunity to take a small loan to build a family business. Loans start as low as £25 per person, and are repaid over 6 months with a small amount of interest.
Tom Sanderson, CEO of Five Talents UK, says, "The dignity and self-esteem that arises from building a business, earning a profit and repaying a loan is a true form of self-help. It is sustainable and effective and we would love other companies to help us expand these programmes."
Five Talents UK is exhibiting at the Responsible Partnerships Exhibition at the Business Design Centre in London from 17-18 March 2011. Feel free to come and discuss further or contact our office on:
Tel. + 44 (0) 203 326 0426
info@fivetalents.org.uk
www.fivetalents.org.uk
About Five Talents UK
Five Talents UK aims to fight poverty in the developing world by creating jobs. This is achieved by providing business training, small loans and savings programmes. The loans start as low as £25 - each one helping an entrepreneur to start or build a small business.
Five Talents UK is a registered charity in England and Wales (No. 1113969) which currently supports 21,353 people (60% of who are women) through microfinance partners in 11 countries in the developing world as follows: Uganda, Kenya, Dominican Republic, Philippines, India, Tanzania, Sudan, Indonesia, Peru, Bolivia and Burundi.
Five Talents UK is the microfinance initiative of the worldwide Anglican Church, working with local microfinance partners. Microfinance is increasingly acknowledged to be a highly effective contribution to the UN Millennium Development Goals for poverty reduction. Microfinance develops local economies and encourages independence rather than dependency on grants.
Since 1999 Five Talents has raised over £1.5 million to fund micro-credit programmes and to provide training in business skills, including basic book-keeping, planning, appraisal, marketing and stewardship. Loan repayment rates by project are in the range of 85-100%, with businesses established ranging from farming, dressmaking, and retailing to hair-dressing and brick-making. Each loan can impact as many as 10 people once family members and employees are taken into account. Five Talents aims to reach 70,000 entrepreneurs with savings and loan programmes in 14 countries in the developing world by the end of 2012.
Five Talents UK, whose Patron is the Archbishop of Canterbury, was founded at the Lambeth Conference of Anglican church leaders in 1998, created as a long term response to help the poor in developing countries. Five Talents works with the local church in communities to gather, train and financially equip entrepreneurs. Five Talents was established in the USA in 1999 and in the UK in 2005. The name is taken from the parable of the talents (Matthew 25:14-30) in which the "good and faithful servant" takes the Master's five talents and through effort and initiative gains five more.
Five Talents' partners provide services to local communities irrespective of religion or tribe, based on need not creed.

Five Talents
Five Talents
Five Talents is a non-profit organization working in 12 low-income countries through a network of 14 programmes, helping to alleviate poverty in a sustainable way. We partner with indigenous organisations linked with the local church to deliver innovative savings, micro-credit programmes and practical business training to the local community.
More from Five Talents