Published 02-25-11
Submitted by Points of Light
The Volunteerism ROI Tracker, a turnkey social/business impact measurement and benchmarking initiative for employee volunteer programs, will be expanding in 2011 with the generous support of the AT&T Foundation.
Launched last year by HandsOn Network and True Impact, The ROI Tracker has already gathered social and business return on investment (ROI) data from more than 8,900 volunteer activities at 21 companies including: Boeing, Deloitte, General Electric, Pfizer, and UPS.
As an initiative participant, organizations will receive a customized, confidential report that:
Quantifies the social and business impacts of your volunteerism, including on social value, sales, recruiting, skill development, satisfaction, and stakeholder relations


Anonymously benchmarks your results against peer companies


Identifies practical, real-time opportunities for you to increase social and business ROI (useful at any point in a program's lifecycle, including launch, expansion, or contraction)


Requires virtually no administration by volunteer managers-the process collects impact data directly from your volunteers using automated, web-based surveys-and works with any existing volunteer management system
For further details on participating, including features, benefits, and costs for companies and nonprofits of all sizes, and testimonials from participants, click here.
The Corporate Service Council of HandsOn Network, the largest volunteer network in the nation, originated the measurement initiative. John Rice, Vice Chairman of GE and current Chair of the Council, said, "The council is comprised of companies that are among America's most socially responsible. We have challenged ourselves to measure the value of corporate volunteering. This is an important step toward validating our commitment to volunteerism and encouraging others to join in as well. Together, we can leverage corporate resources to create meaningful and sustainable social value."
"Now, more than ever, companies are looking for ways to focus and measure the results of their philanthropic investments and social contributions," said Michelle Nunn, CEO of Points of Light Institute and Co-Founder of HandsOn Network. "At the same time, they seek tools to help them manage their volunteerism in ways that maximize both community and business impact. This exciting measurement initiative delivers on both those needs."
To participate in the study or learn more, please contact Kim Walker at roi@PointsOfLight.org or 404-979-2724.
About HandsOn Network
HandsOn Network, the volunteer-focused arm of Points of Light Institute, is the largest volunteer network in the nation and includes more than 250 HandsOn Action Centers in 16 countries. HandsOn includes a powerful network of more than 70,000 corporate, faith and nonprofit organizations that are answering the call to serve and creating meaningful change in their communities. Annually, the network delivers approximately 30 million hours of volunteer service valued at about $600 million. For more information, please visit www.handsonnetwork.org.
About True Impact LLC
True Impact (www.trueimpact.com) is a leading provider of web-based measurement tools and support services to help organizations measure the social, financial, and environmental return on investment (ROI) of their programs and activities. Typically applied to community investment, environmental, human resource, or other corporate citizenship initiatives, True Impact's web-based tools and "triple bottom line" evaluations have been adopted by clients such as Allstate, Deloitte, Home Depot, PNC Bank, Verizon, and their nonprofit partners.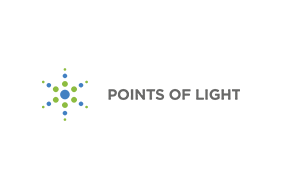 Points of Light
Points of Light
Points of Light is a nonpartisan, global nonprofit organization that inspires, equips and mobilizes millions of people to take action that changes the world. We envision a world in which every individual discovers the power to make a difference, creating healthy communities in vibrant, participatory societies. Through 177 affiliates across 38 countries, and in partnership with thousands of nonprofits and corporations, Points of Light engages 5 million volunteers in 16 million hours of service each year. We bring the power of people to bear where it's needed most.
More from Points of Light