Published 02-23-11
Submitted by Points of Light

An AmeriCorps alum's online petition urging the U.S. Congress to save the program has now been signed by more than 80,000 supporters. And there are hundreds of alumni scheduled to visit Members of Congress in their home districts for the national effort, "Save Service District Day," this Friday, February 25.
AmeriCorps is threatened with elimination after a Saturday morning vote by the House of Representatives to kill the program.
AmeriCorps Alums are asking that the U.S. Senate reject the bill passed Saturday by the House of Representatives that would eliminate funding for the bipartisan national service program. AmeriCorps has placed more than 600,000 men and women in service opportunities in their communities since 1994.
The online petition, created by AmeriCorps alum, Caleb Jonas, demands that Congress honor the bipartisan Edward M. Kennedy Serve America Act. Jonas, a 26-year-old student and former AmeriCorps*VISTA member, created the petition to fight back for national service.
"AmeriCorps has long enjoyed bipartisan support," Jonas said. "President George H .W. Bush laid the foundation for the program. President Bill Clinton championed it, and President George W. Bush proudly expanded it. In 2009, more than a third of House Republicans and more than half of Senate Republicans voted to quadruple the number of AmeriCorps members as part of the Serve America Act."
More than 85,000 Americans are currently in service as AmeriCorps volunteers. Studies show that AmeriCorps members make significant measurable impacts in the communities they serve, while becoming more informed and engaged citizens. More AmeriCorps facts can be found here.
"AmeriCorps is a program that our country cannot afford to go without," said Julie Murphy, Government Relations Director for AmeriCorps Alums. "Thousands of members each year provide critical services to the most vulnerable people in America's communities. After serving, AmeriCorps alums continue on as volunteers and leaders well after their term is up."
President Obama called ""¦on all Americans to stand up and do what they can to serve their communities, shape our history and enrich both their own lives and the lives of others across this country," upon the passage of the Serve America Act on March 31, 2009. Since the President's call, more individuals than ever before have applied for AmeriCorps service, and a record number of organizations have requested AmeriCorps placements.
"America has always been a nation of volunteers," said Jonas. "With so many families struggling to make ends meet, AmeriCorps members are more important now than they have ever been before. Cutting funding to this program would devastate the food shelves, homeless shelters, and mentoring programs that depend on AmeriCorps members to serve the needs of their clients.
"On behalf of the 80,000 Americans who signed the petition, the 85,000 Americans currently in service, the 637,000 AmeriCorps Alumni, and the millions of Americans whose lives are touched by AmeriCorps each year, I call on Congress to protect and expand AmeriCorps in the years to come."
To read the petition and track signatures in real time:
http://www.change.org/petitions/save-americorps
To see the targeted offices for Save Service District Day:
http://www.saveservice.org
For interviews and exclusive quotes:
Julie Murphy, Government Relations Director - AmeriCorps Alums
(703) 489-8592 (direct mobile)
Note to editors: Photos available.
AmeriCorps Alums creates a force for change in America by empowering national service alumni with the tools and resources they need for a lifetime of civic leadership. Providing everything from service and organizing tools to networking opportunities and national recognition, AmeriCorps Alums has more than 50 local chapters working to create change and strengthen communities. For more information, visit www.americorpsalums.org.
Caleb Jonas, Former AmeriCorps*VISTA Member and Americorps*VISTA Program Director
(651) 271-7461 (direct mobile)
Caleb Jonas, 26, is a graduate student pursuing a joint degree at Harvard and Stanford. After graduating from college, Jonas spent a year in service as an AmeriCorps*VISTA member at the Saint Paul Public Schools Foundation, working to build a coalition of tutoring programs to improve student outcomes. From there, he went on to direct the City of Saint Paul AmeriCorps*VISTA Program. In this position, Caleb oversaw the work of 20 AmeriCorps members who dedicated a year of their lives to improving educational opportunities for at-risk and low-income youth.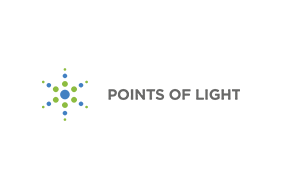 Points of Light
Points of Light
Points of Light is a nonpartisan, global nonprofit organization that inspires, equips and mobilizes millions of people to take action that changes the world. We envision a world in which every individual discovers the power to make a difference, creating healthy communities in vibrant, participatory societies. Through 177 affiliates across 38 countries, and in partnership with thousands of nonprofits and corporations, Points of Light engages 5 million volunteers in 16 million hours of service each year. We bring the power of people to bear where it's needed most.
More from Points of Light