Published 02-10-11
Submitted by Net Impact
A growing number of graduates and working professionals want to use their business careers to make a difference in social and environmental issues. But what are these professionals to do when faced with the reality that there simply aren't enough corporate social responsibility (CSR) and sustainability titles to go around? Corporate Careers That Make a Difference, released by Net Impact and the Center for Corporate Citizenship at Boston College, answers this question with more than 80 pages of practical advice, including dozens of success stories from the field.
"More and more people want to make a positive impact on the world through the work they do," says Liz Maw, Executive Director of Net Impact, "but there are so few resources to help them turn this aspiration into a successful career. This guide fills that gap by exploring the diversity of opportunities available in corporate citizenship, and providing hands-on advice for long-term success."

The guide looks beyond the typical focus on dedicated job titles like Director of CSR, and instead encourages readers to explore the many functional roles in a company from which corporate responsibility and sustainability work can be done. "Corporate Careers That Make a Difference clearly demonstrates that almost anyone can have an impact, no matter where in the company they work," Maw says. "In fact, seemingly conventional departments also provide significant opportunities for change."
Distilling the insight of working professionals from a wide range of industries and companies like Microsoft, Johnson & Johnson, Herman Miller, and others, the guide offers readers a first-hand account of the many opportunities open to those interested in corporate responsibility and sustainability, and provides a practical framework for career development.
Corporate Careers That Make a Difference was made possible through a generous grant from the GE Foundation, and is available from http://www.netimpact.org/corpcareersguide as a member benefit of Net Impact.

About Net Impact
Net Impact is a global organization of students and professionals using business to improve the world. The organization offers a portfolio of programs and initiatives to educate, equip, and inspire over 20,000 members to make a positive impact through business. Spanning six continents, Net Impact's membership is one of the most influential networks of students and professionals in existence today and includes current and emerging leaders in corporate social responsibility, social entrepreneurship, nonprofit management, international development, and environmental sustainability. Learn more at www.netimpact.org.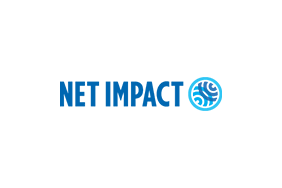 Net Impact
Net Impact
Net Impact is a global nonprofit inspiring a new generation to use their careers to tackle the world's toughest social and environmental problems. We empower student and professional leaders to act locally through our vibrant chapter network and connect globally online and through our flagship conference. By 2020, we will mobilize a million new leaders to drive positive change in the workplace and the world. For more information, please visit netimpact.org.
More from Net Impact