Published 02-02-11
Submitted by Keep America Beautiful
Alcoa Foundation joins forces with national nonprofit Keep America Beautiful (KAB) to educate the next generation of recyclers through RecycleMania, an intense university-based competition that runs from February 6 to April 2, 2011. Rounding out the partnership are additional activities to promote recycling on individual and institutional levels.

13 universities "won" a portion of 50,000 recycling bins.


For every download of Alcoa's Aluminate™ recycling app, $1 is donated towards a $50,000 grant for KAB's recycling programs.


Recorded webinars will reach more than 400 members of the College and University Recycling Coalition (CURC), NGOs and other community-based groups with insights into recycling different waste streams.


Best practices for recycling will be on display and at work as colleges and universities compete to see who can reduce, reuse and recycle the most waste.
"Alcoa shares our goal of increasing recycling through greater access and participation," said Matthew M. McKenna, president and CEO of Keep America Beautiful. "We're thankful for this generous donation in support of RecycleMania and improved recycling on campuses nationwide."
RecycleMania aims to change behavior about recycling and raise awareness about waste reduction programs on campuses. In 2010, 607 participating colleges and universities participated in the challenge, and collected more than 84.5 million pounds of recyclables and compostable organics. This prevented the release of 137,500 metric tons of carbon dioxide equivalent into the atmosphere.
Over the 10-week competition, colleges and universities will vie for top awards in nine categories to see who recycles the most on a per capita basis, who produces the least amount of waste, and who recycles the largest percentage of their overall waste.
"By supporting KAB and RecycleMania, we want to educate students, professors and the entire campus community about the importance of recycling and inspire people to take that extra step in the dorm, at the library and after class," said Paula Davis, Alcoa Foundation President.
Alcoa Foundation sponsored 50,000 recycling bins and helped kick off the challenge by awarding 13 universities across the U.S. with stackable, six-gallon bins appropriate for use in student housing and offices. The schools were selected based on their ability to develop a strategic plan to collect the most recyclable materials.
The recipients are:

Carnegie Mellon University (Penn.)


Clemson University (S.C.)


Florida A&M University (Fla.)


Franklin College (Ind.)


Howard University (D.C.)


Kansas State University (Kan.)


The Ohio State University (Ohio)


University of Evansville (Ind.)


The University of Tennessee (Tenn.)


The University of Texas-Arlington (Texas)


The University of Texas-San Antonio (Texas)


Temple University (Penn.)


Trinity University (Texas)
The KAB partnership further reinforces Alcoa and Alcoa Foundation's commitment to increasing recycling across communities. Alcoa set a goal to increase recycling rates in America to 75 percent by 2015. Since 2008, Alcoa has distributed more than 100,000 recycling bins, launched the Make an Impact program to help families live more sustainably, developed the free Aluminate™ recycling app, and in the last five years, invested nearly $3.5 million in community-based recycling programs.
About Alcoa Foundation
Alcoa Foundation is one of the largest corporate foundations in the U.S., with assets of approximately US $420 million. In addition to addressing local needs in communities where Alcoa operates, Alcoa Foundation is focused on promoting environmental stewardship, enabling economic and social sustainability, and preparing tomorrow's leaders through education and learning. Alcoa Foundation was founded more than 50 years ago and has invested more than US $515 million since 1952. Alcoa employees share their energy, passion and purpose to make a difference in our communities through the Alcoa Volunteers Program, which last year recorded 650,000 hours of service to 9,000 charitable organizations. Their time was matched with US $4 million in Alcoa volunteer grants. More information can be found at www.alcoa.com/foundation.
About Alcoa Recycling
Aluminum is infinitely recyclable and close to 75 percent of all the aluminum ever produced is still in use today. Alcoa operates one of the largest used beverage can (UBC) recycling facilities in the world near Knoxville, Tenn. Alcoa and the Aluminum Association have a goal of increasing the recycling rate of aluminum cans in the U.S. to 75 percent by the year 2015. More information can be found at www.alcoarecycling.com.
About Keep America Beautiful
Keep America Beautiful, Inc., established in 1953, is the nation's largest volunteer-based community action and education organization. With a network of over 1,200 affiliate and participating organizations, Keep America Beautiful forms public-private partnerships and programs that engage individuals to take greater responsibility for improving their community environments. For additional information, visit www.kab.org.
About RecycleMania
RecycleMania was launched in 2001 as a friendly challenge between Ohio University and Miami University to increase recycling on their campuses. The contest has expanded rapidly in nine years' time from two schools in 2001 to 607 colleges and universities in 2010 spanning 49 states, the District of Columbia, and Canada. Over a 10-week period, campuses compete to see which institution can collect the largest amount of recyclables per capita, the largest amount of total recyclables, the least amount of trash per capita, or have the highest recycling rate. For complete competition background and details, visit the RecycleMania website at www.recyclemaniacs.org.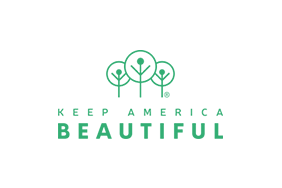 Keep America Beautiful
Keep America Beautiful
Keep America Beautiful is the nation's leading nonprofit that brings people together to build and sustain vibrant communities. With a powerful national network of community-based affiliates, we work with millions of volunteers who take action in their communities to transform public spaces into beautiful places. Through our programs and public-private partnerships, we engage individuals to take greater responsibility for improving their community's environment.
For more information, visit kab.org, follow us on Twitter, like us on Facebook, discover us on Pinterest, or view us on YouTube.
More from Keep America Beautiful